This afternoon Marketplace will have an American Futures report on Redlands, California. This smallish town still styles much of its identity around its orange-growing industry, even though its remaining groves are a tiny fraction of those that made this area the center of world navel-orange production through the mid-1900s.
I expect that the report will include some comments from Bob Knight, who now actively farms some of Redlands's groves and has been leading efforts to develop better business models for the industry and prepare for the seemingly unstoppable spread of an insect-borne disease that has ravaged much of Florida's citrus groves. At top you see one of Knight's groves, with small younger trees, in the Crafton district on the east side of Redlands. At the end of this post you'll see him — on the left, in brown shirt — leading the visiting Marketplace and Atlantic team through an old-growth grove in San Timoteo Canyon, on the south side of town.
Next week we'll hear more from Knight and others about the pest problem. For now, courtesy of Marketplace, here are some clips from his original interview that give a flavor of how he thinks about the role of this old industry in a growing town.

1) Two kinds of oranges. Knight explains the difference to Kai Ryssdal.
2) How the orange industry shaped the culture of this area. Why it relies less on migrant workers than other crops.
3) The economics of orange-growing. Why fruits costs more than ever, and farmers get less than ever — and what they can do about it.
4) Why he came back. After 20 years in New York and around the world.
5) How people in this small town think of themselves.
Below you see Knight making these comments and showing off his trees. Listen in this afternoon for more from him and others.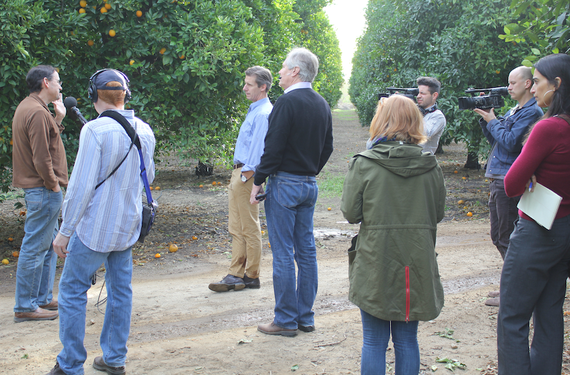 Photos by Deborah Fallows.