Since our first visit in the fall of 2013, Deb and I have reported frequently on the grit, vision, resilience, and apparently indomitable drive of the roughly 1300 people who live in the little city of Eastport, Maine. For reference, I did a 2014 magazine story on Eastport called "The Little Town That Might"; we did a visit and report with Marketplace radio around the same time; Deb and I, with John Tierney, did a long series of web posts, all collected here; and this past fall Deb and I returned for an update on some of the buffets Eastport had suffered from shifts in the political and economic landscape many thousands of miles away from their Down East locale. For instance: warfare in Syria had disrupted the port business in Maine, through a causal chain explained here. And the collapse of a breakwater badly affected the cruise ship and tourism industries on which the town was placing many hopes.
This past week Eastport got a much-needed dose of very good news. The Arnold Development group of Kansas City specializes in the kind of walkable, environmentally sustainable, mixed-use and downtown-residential developments that make a huge difference in making cities feel "livable." And this month Arnold has announced an $18 million undertaking, with partners in Eastport, to renovate the most imposing structure in the city's downtown.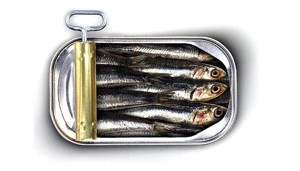 This is the now-derelict works of what was once the Seacoast Canning Company, a factory that produced tin cans during Eastport's early 20th-century heyday as a world capital of the sardine industry. Ever seen old pictures of roll-top sardine tins? This building is where millions of them came from.
---
Back in 2005, three of the Eastport leaders we've written about frequently—Nancy Asante, Linda Godfrey, and Meg McGarvey, working together as Dirigamus LLC—bought the old factory, which had fallen into disuse, and began developing plans for its redevelopment as a downtown center for retail, entertainment, office-space, and other purposes. [Dirigamus is of course Latin for "we lead." Maine's state motto is Dirigo, "I lead."] Nearly four years ago the Bangor Daily News ran a story about their ambitions, obstacles, and progress. Deb and I have heard off and on about the project since about that time. Thus this past week we were delighted to hear through the Maine media that the deal had come through.
Eastport's own Quoddy Tides was first with the news. Today the Bangor Daily Newshas a story on details of the deal. Another account is in Mainebiz. The redeveloped site will be called 15 Sea Street; a fuller description of the ambitions behind it is here.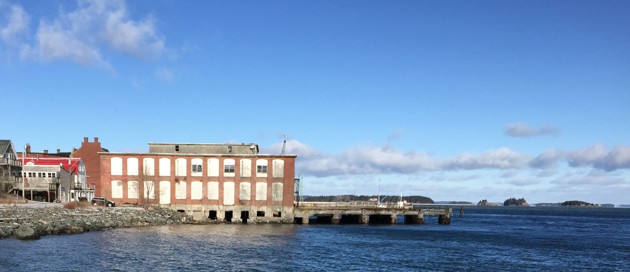 And the future plans: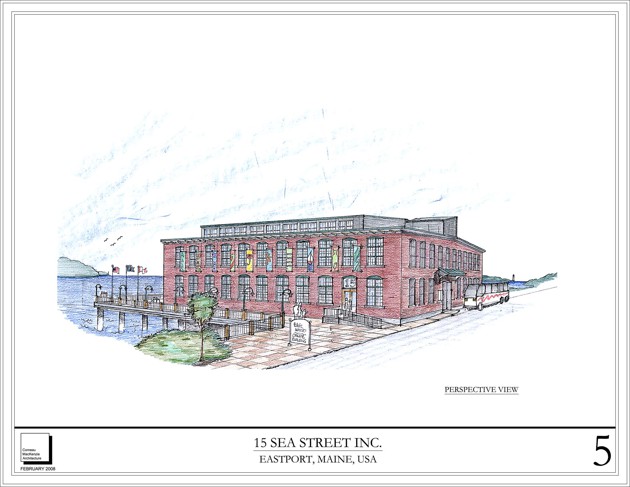 From Arnold Development's site: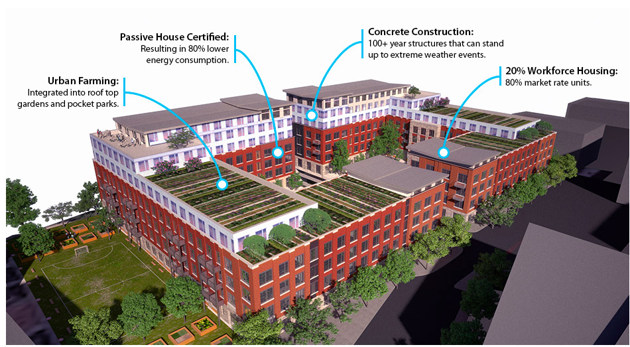 Of course plans aren't realities; there's a long road ahead; and [whatever other cautionary note you'd like to add]. But completing this deal is a major achievement, and we've learned never to underestimate any of the people who have committed themselves to Eastport's rebirth.