I bumped into James Ragland, almost literally, in the entry space of the elegant Columbus public library. The library can be a meeting place of sorts, intentional or serendipitous, as was this near-collision. The library's CEO, Patrick Losinski, had told me about the Cristo Rey Columbus High School when, as if on cue, the school's development director Ragland rounded the corner. Ragland was at the library to work out some of the ways the school and library might cooperate, one of the many collaborations underway between the school and city institutions like the art museum and universities.
The school had barely opened that early September week, welcoming back the inaugural class, now tenth graders, who had been lodged in temporary quarters last year while the building was under renovation, as well as the new ninth graders. Ragland invited me to visit the school, and I was there the next morning.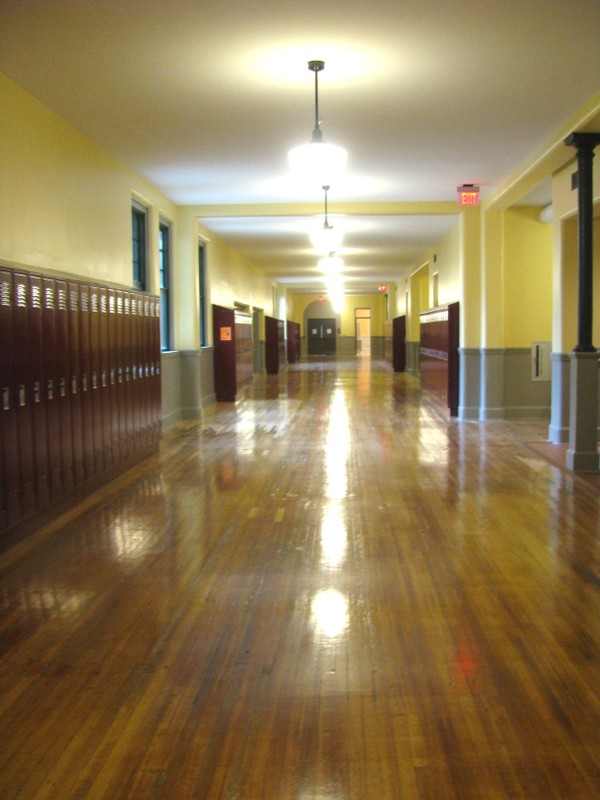 The school's new home, formerly the Ohio School for the Deaf, which had moved to a bigger campus out toward the suburbs, was right next door to the library. The building had some of that new-car smell. The old wooden floors were polished to a radiant gleam; the paint was fresh; the big windows were sparkling; the rows of student lockers were unscratched. A massive 20 million dollar renovation was still underway, now focusing on the upper-floor science labs and arts studios. The majority of its funding came from a creative combination of state and federal tax credits for historic building preservation and new job creation. Most of the rest came as a loan from the local Catholic diocese.
The mission of the schools, as James Ragland described it, is to break the cycle of poverty through education. Here's what this big statement means in practical and human terms.
Let's start at the end. In 2014, 100 percent of Cristo Rey graduates network-wide were accepted to college. In recent graduating classes, 90 percent have enrolled in college, and the college graduation rate is nearly twice that rate of students from a similar economic background.
Now let's go to the beginning of the Cristo Rey Columbus High School story. Staff began recruiting the inaugural class with a vengeance. They fanned out to libraries, recreation centers, and churches. They set up booths at fairs and festivals. They visited schools all over town. When I asked a few tenth graders how they had arrived at Cristo Rey, one girl said that Cristo Rey reps had been visiting her charter school for two years, since she was in seventh grade. Another said he actually found five other schools he preferred, but his mom kept finding reasons to reject them until he finally gave into her choice, Cristo Rey. By the school's second year, word had gotten around. The first entering class was 85 students; the second was 117.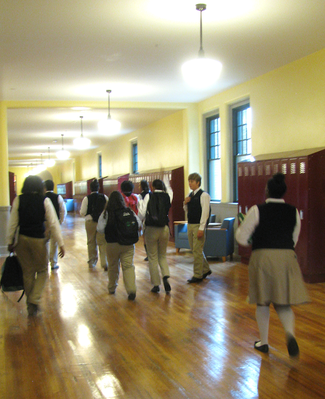 Who are the Cristo Rey students? They are financially needy; the average family annual income of Cristo Rey students networkwide is about $35,000. At Cristo Rey Columbus, 83 percent of the students are eligible for free or reduced lunch, a common proxy for the poverty level. Sixty percent of the 188 students in Columbus this year are African American; 25 percent Latino; the rest a variety. They come from all faiths. Ragland and Principal Cathy Thomas strip away the sterility that comes with reporting statistics by telling their students' stories: Of last year's ninth graders, three had parents who died, two of them from violence. Some students are from two-parent intact families. Others have parents who are incarcerated. Some live with grandparents, others in foster homes. Others go in and out of homelessness. Some are in non-English speaking households. "We reflect America," says James Ragland.
And now the kicker: How does the Cristo Rey business model work? Here are the words of founder John P. Foley, S.J. of the Cristo Rey schools, "If you can afford to come here, then you can't come." Here is the reality of the numbers: Start-up per-student costs for the Cristo Rey Columbus school are about $18,000 per year. Once the school reaches enrollment capacity, that will drop to about $12,000-13,000.
Cristo Rey found a creative way to fund most of the tuition. First, in Columbus, $5000 per student per year is potentially available from Ohio's school-choice voucher program; if a student's home school is designated as a "failing school," that money can "follow the student" to a school of choice. Right now, 59 percent of Cristo Rey Columbus students are voucher eligible, a number the school expects will rise once the troubled Columbus City School system completes its audit and more schools will likely be classified as "failing". (For more on some of the troubles of Columbus Public Schools, read here and here)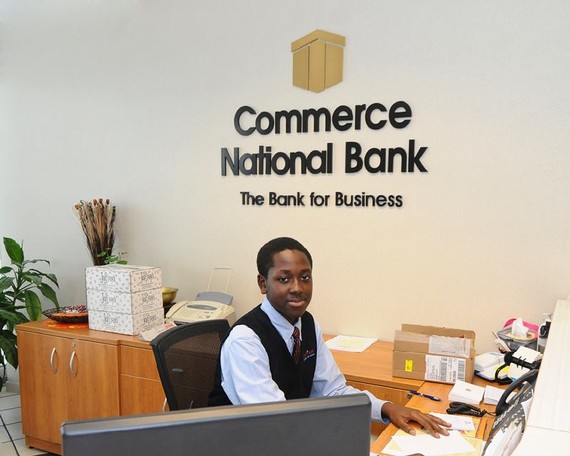 Now enters the second piece of the business model, the hallmark Cristo Rey Professional Work Study Program. Each student works five days per month (one day a week, and two days every fourth week) at a paid position in one of Columbus's partner companies or institutions. Student earnings, about $6500 per year, are applied directly toward tuition. Unmet differences come from donations, fundraising, grants, etc. Families are asked to contribute as well, even if it is just a token amount. The school also expects "sweat equity" from families, as Ragland calls it, which means volunteer work of a variety of sorts.
But make no mistake: The work-study program is much more than kids going to work one day a week. Many of Cristo Rey's partners have established creative, far-reaching programs. Nationwide Children's Hospital provides the students preventative medical services at the school every Friday. The PNC bank offers a financial-literacy course for the students and their families. Other programs are in process: The library is partnering with the school to create ESL and literacy programs for the families; Franklin University and the school are talking about continuing-education programs for the students' parents.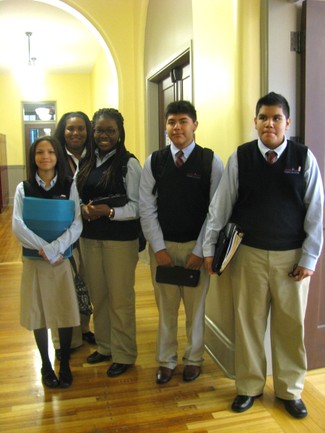 Carolyn Flahive, who directs the work-study program, and Amanda Detry, who plays the critical hands-on roll of matchmaker, give a sense of what the program means to the students. Students are prepped for interviews (look people in the eye), guided hands-on with dressing professionally (how to tie a tie), introduced to the places they'll work and given basic training and expectations of the actual jobs, taught to ask questions (using the register of language you use at work and school). Businesses know that Cristo Rey expects daily time sheets, evaluations, identifying where the kids need more help, and site visits from the school. Sometimes companies go well beyond this, maybe out of their way to bring a student into staff meetings or arrange a meal with the executives.
Kaveion Martin, who finally gave in to his mother's wishes to attend Cristo Rey, worked at an insurance company. I asked him about his experience. "WE LOVE EACH OTHER," he practically shouts. "I love them and they love me!" It's easy to imagine that is true. He says his favorite duty is mail delivery, because he can see and learn about every part of the company. Emily Morales, another tenth grader, said her dad brags on her professional job all the time.
Some kids translate their school year work into summer jobs. Others become more realistic about the opportunities in their futures. Vanessa Mora said that since she was working in a hospital, she's been thinking about becoming a doctor or a nurse. When I asked Kaveion what his dream job would be, he immediately said professional football player. (An answer I have heard from countless high school boys around the country, by the way.) And if that might not work out? I asked. "I'd like to own my own business," he said, "Or maybe be a civil engineer."
In trying to probe a bit into the possible problems at the school, I asked Ragland about their fears for the kids. He shot back, "We don't use the word 'fear'. We prefer 'opportunity'." I think I understood what this means through several examples: If you "fear" that kids may come to school with unwashed clothes, you take that opportunity to plan for getting some washers and dryers into the school. If you fear the kids will lack confidence, you give them an opportunity to gain some. For example, in the school's "ambassador" program, each classroom has a student designated to stand up and greet any visitor to the classroom. I must admit I was taken by surprise in the first class I visited, when a tall, handsome boy popped out of his seat, came over immediately to say hello, and started to explain what was going on in the classroom. After Ragland and I walked out, and I was talking about the impressive young man, he said quietly, "If I were to tell you about his homelife, you would cry."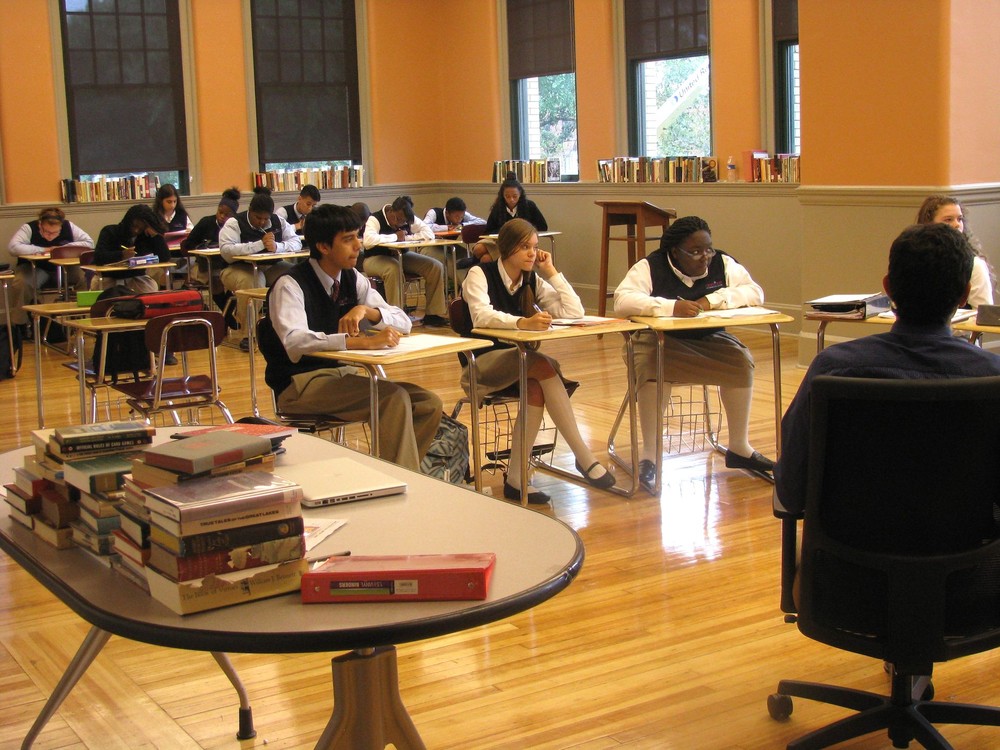 Cristo Rey's "culture of positivity" is consistent and relentless. Says Ragland of the students, "The majority of their day is with us. The message is delivered in context from the janitor on down (sic) to the president." And of course, the role and place of the teachers is paramount. They are hand-picked for their teaching, and they are identified for their strong match of character to the beliefs and culture of the school. Principal Cathy Thomas says of the teachers that "their behavior is witness for the kids." The school offers generous packages to their teachers, including small classes, good pay, professional development, and retraining. The students notice. When I asked some students about the best parts of their school, teachers came up as the number one answer: "They don't let you slide. They push me. They get on us constantly to do what we can."
In year two, Cristo Rey Columbus High School is a work in progress. The entire school staff, the students, the families, the town's businesses and institutions–all are invested in it. To me, one of the best examples of how it is working so far came from the second-year students themselves. When I was chatting for a while with three of them, one began to get fidgety and started sliding down in his seat. The student next to him began subtly nudging him and giving him The Look, which I immediately recognized to mean "Sit up straight! Look her in the eye!" To me, this is a sign that the students are buying into the system and already, something is working.