During our American Futures tour around the country, we have visited all kinds of schools. There are specialized schools of privilege, like the public boarding schools in Greenville, South Carolina and Columbus, Mississippi. There are schools that target particular technical or career skills like in Camden County, Georgia, or Fresno, California. There are small town schools striving to cover all the bases, like in Eastport, Maine, Ajo, Arizona, and Winters, California. And there are schools focused on the underserved like in Columbus, Ohio.
Cajon High School (Cajon is pronounced ca-HONE), in San Bernardino, California, is yet another kind of school—a challenged school in a bankrupt city. This month, about 600 seniors will graduate from Cajon, bound for colleges from the Ivy League to the California state systems. They'll also head to the military, or to jobs at places like the local Target or a Stater Bros. supermarket. (For more about the prospects for San Bernardino's schools, see this item yesterday by my husband Jim.)
Cajon is a Title I school, which means it receives supplemental funds to help right the balance for its low-income and at-risk student population. Some 85 percent of the 2,800 Cajon students qualify for free or reduced-price lunches. The school's student body is 60 percent Hispanic, 19 percent White, and 16 percent African American.

Ethics code for Cajon High students (Deborah Fallows)
The educational-performance numbers have shown improvement: Over last five years, the Cajon dropout rate declined from 14 percent in the graduating class of 2010 to 3.5 percent in 2014. In the same five years, graduation rates rose from 83 percent to 93 percent. The suspension rate in 2014 was high at Cajon: 10.4 percent, compared with 7.8 percent citywide and 4.4 percent statewide.
---
After I spent a few days at Cajon this spring, an impression kept running through my mind: This school is changing lives, and sometimes even saving lives, one student at a time.The Cajon High School I saw is on a labor-intensive mission, involving many programs coming from many angles aimed at many different students' wants or needs. Beyond the academics and besides the usual high school list of sports and clubs and other activities, I also saw and heard about some more unusual ones.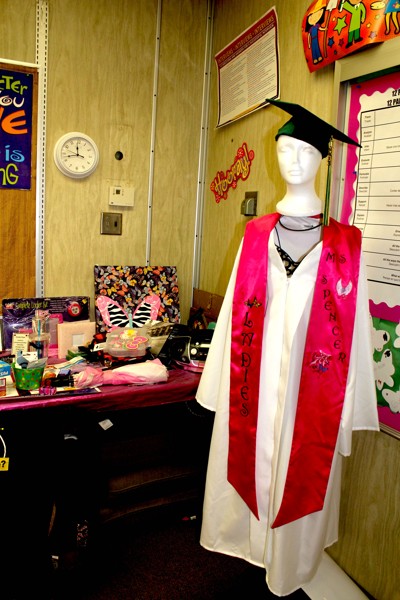 For instance, the school features a variety of programs to keep kids in school and graduating. Cal Safe provides daycare on site for students with infants. Credit Recovery guides students to make up credits that have been lost somehow along the way. For some of the most troubled students, creative holistic solutions are there; the Ladies Club asks its girls to commit to graduate, with the promise of a pink sash draping the commencement robe waiting for those who succeed. The program is shaped around a butterfly concept, helping girls through "I am wonderful" classes to emerge with self-esteem. An "angel closet" provides clothing for the girls; snacks provide enticement to show up as well as nutrition; old-fashioned-seeming teas and a Thanksgiving dinner provide a backdrop of social graces.Some programs are run by the students themselves: Best Buddies for students helping mentally disabled students; the Link Crew, for mentorships between upperclassmen and entering 9th graders; University Prep Club for older students to work with younger ones on college-prep skills and calendars.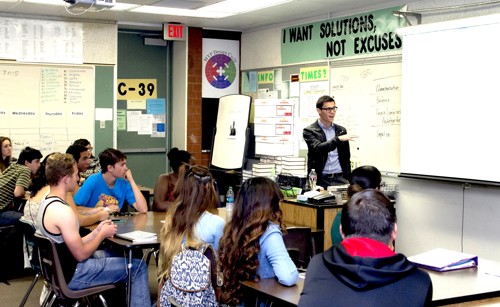 Other programs are run by alumni. Corinne Gilbertson, a 2008 Cajon graduate who founded a recent-alumni mentoring group, got a quick and enthusiastic response from other recent grads when she put out a call for them to work as mentors for current students. They were "super interested" she said, because they loved their alma mater, were worried about some things they saw as the loss of hopes and dreams for current students, and wanted to let the kids know they can have a future, without limits, to be anything.The school also sponsors programs for the whole family, including a food bank, ESL classes for parents as well as students, and computer classes for adults. The California National Guard runs a Cadet Corps on campus.
---
And then there is AVID. That's the acronym for Advancement Via Individual Determination, a nationwide program of specially trained teachers to get students ready for college. "Get ready" means inculcating the students, most of whom will be the first in their families to go to college, with a frame of mind that puts college on their radar and hones their skills to both get them to college and be successful there.
The AVID program is a two-way street for the students; they receive intense one-by-one attention from their AVID teacher (and as it turns out, from each other) and they commit to a complete package of reading, writing, talking, and thinking for their AVID class work, as well as taking some advanced-level high school courses, like AP courses.
This rote description doesn't begin to do justice to what I saw in the AVID class at Cajon High School and what I heard from the dozen or so students who talked with me. I learned about AVID from the program's teacher, Chris Peters, or "Peters" as the students all seem to call him. (I have known Chris and his parents since he was a little boy growing up in Washington, D.C.)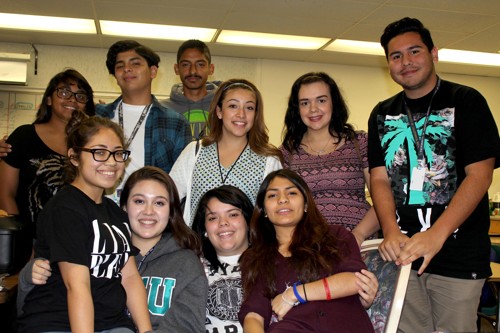 The best commentary on the impact of AVID comes from the students themselves. They talked and talked as though they would never stop. As I have found with other groups of high schoolers I've talked with, from Mississippi to Maine, the kids are surprisingly candid and trusting, and illustrate their thoughts with details that are not always flattering. From the conversation at Cajon, three themes struck me:Discovering and Appreciating a Support NetworkThe students talked about their home lives, and then the value to them of finding a "family" with their AVID class. I sometimes have paraphrased the context for clarity, but the words and phrases come from the students. Here are views from five of them:
• Before this advisory period, I didn't know the importance of a support system. I was gonna drop out, be on the street. In my home, there is selling drugs, alcoholism. All the drama. Something's wrong. I'm tired of being a peacemaker.• We're like a family. In class, we're more of a family. I never would have thought of it.• Peters is on your case all the time. Motivating. One on one understanding. A father figure.• I was bullied by my dad. He couldn't stop. I had to learn everything by myself. At 5, I had a lot of responsibility, raising my siblings.• Peters motivates us every day.
Dreaming DreamsThe students were aware of their pioneering places in their families, as the first to head toward college. They were brimming with ambitions they had set for themselves, and they were comfortable and eager to talk about them. Here are the ambitions from ten AVID students:
• The program pushes us to explore yourself, make something of yourself. I want to find a cure for cancer. Or cardiology. Or neurology.• I'll be the first to go to college. I want to change the pattern of the family, to create a new era (for her younger sisters).• I want to do neonatal nursing.• My family wanted me to work at (name of the grocery store), without anything more.• I want to be a certified medical assistant. I want an MA in psychology. I want to be a counselor and a CPA.• I want to do criminal psychology. At home, I hear "I will kill you," and they think that is pretty much OK. What makes people think that is OK? The cops come by our house all the time. I know I can do better. I will try so hard.• I want to do social work. My dad did drugs. I want to get others out of that.• I want to do police work. When the police come by, my family tries to cover for my uncles. I realize the police are there to protect people and the community. I was put there (in my family) for a reason. I'm not left off the hook.• I want to do computer engineering. My parents came illegally to the U.S. They heard about the Dream Act on the news, and a social worker helped us with the process. I have a permit to stay and study.• I want to do criminal justice.
How to Reach the Dreams
AVID helps kids take the steps and learn the habits they need to get where they want to be:
• I want to be the first in my family to go to college. But I didn't know anything about anything. When my parents heard about this program, they said, "What's it about? Looks like more work."  I do extra stuff at school, community service, I'm setting the bar for my younger siblings. No excuses.• We went on a trip to 13 colleges in 4 days. On a chartered bus. I bonded with my friends.• (Upon seeing a university campus) "Oh My God! They're beautiful! I'm home!"• Peters pushes us to where we want to be in the future.• Peters pushes and fights; there is always a solution.
---
And how do lives look several years out, once the students have graduated and gone on to pursue those dreams? The Cajon High School website has posted comments from AVID graduates about their last several years. The graduates mentioned some themes that were reminiscent of what current students said, others wrote about new discoveries. Here is how I would describe themes from the comments:The Drive to See the WorldSo many entries pointed to the importance of getting out of the town, San Bernardino, where they grew up.  They wrote about the difficulties of getting away and the invaluable lessons they learned when they did—and how it would shape their understanding of the town if they decided to come back.The Powerful Push/Pull of FamilyThere are two strong contradictory themes here: the difficult home situations that drive students away, and the resistance many families show to the idea of their children leaving.It's All About MoneyMoney is a prominent obstacle. Lack of it is the first stopper. Managing money when it comes their way is the second.The Appreciation for Attention, Standards, and SkillsAll the students, whether in real time or in hindsight,  valued the personal attention. They appreciated the deeply ingrained life habits and lessons, which many remarked have gotten them through rocky experiences.Here, in the AVID graduates' own words:
• From a graduate of '07: AVID was a true blessing for me. I really cannot imagine where my life would have gone without this stable program and caring teachers to help direct me. With the direction of Mr. Peters I was able to get my grades up and get into a four year university after graduation. I decided to attend Cal State University, Northridge and ended up graduating with a bachelors in Sociology last May, 2012. My parents were not very supportive with my decision to move over an hour away from home to attend college when there was CSUSB right next door; because of this I had to figure out a way to pay for college and living expenses on my own. In all honesty I can say that it was not always easy and I worked sometimes two or three jobs to support my choice of going away for school, but in the end I got much more out of the experience. It made me stronger, wiser, independent and proud of myself. Not only that, but now a days my parents respect my College was a great experience, yet extremely busy and tiring.• From a graduate of '09: I thought I had it all planned out, but things do fall apart or obstacles do get in the way, but I was taught to get back up and try again. Avid taught and helped me a lot. Thanks to Mr. Peters and Mr. Kelley, I got the help/guidance to college. All the Socratic seminars taught me to not be afraid to ask questions or speak up in a room of 200 people. There were times, when I needed help or advice on what to do and Mr. Peters was always there to help. So don't be afraid to ask him because he will not turn you away….School may seem hard, but if you put all your effort, time, and hard work in, it will be worth it in the end.• From a graduate of '07: School came easy to me and i slacked off as much as i could, but Peters was right there to keep me in line though. I attended CPP for a semester and got extremely bored with it and I didn't want to even be in college. I decided to give CSUSB a chance and I loved it, But i quickly got bored of that too. I decided i wanted to join the Army and left for basic training 1 month later. People may look at me and see a huge failure but i see it as the exact opposite. I have been in for about 5 1/2 years now and visited multiple countries and done some pretty badass stuff and also some stupid stuff. I am currently working on a degree while in the military and I will be finished very soon…Thank you Peters for always being there and not giving up on any of us no matter the stuff we told you or how unmotivated we were.• From a graduate of '09: I am currently attending San Jose State University. I am majoring in Computer Engineering and minoring in math and I will be starting my fifth year in the fall. I am currently working two jobs to support myself and life is starting to get better. I had a rough year last year with the passing of both my grandfather and dad which set me back for graduation but I know its just an obstacle that I must get through…When I was in AVID Mr. Peters would always tell me that I had the ability to get through many obstacles even with the odds against me and I truly believe that this is just another one that I must get through. I am also currently looking for an internship in order to get a hands on experience on what Computer Engineers actually go through on a day to day basis…I should graduate in a year depending on class availability with all the budget cuts my school faces but no matter how long it takes me I know I have to finish because I promised both my grandfather and dad that I will. I just want to say thank you Mr. Peters for always pushing me and the rest of my AVID family to do our best and never give up because it is now embedded in me for life.• From a graduate of  '08: Upon graduating, I took the leap and decided to attend UC Santa Barbara. It was a tough decision, but I'm fortunate that I had Mr. Peters to push me. I was reluctant not only because it was "far" away from home, but also because I knew I would be competing against people from privileged backgrounds. I figured these kids would be much better prepared than I and that turned out to be true. However, this realization did not discourage me and it should not discourage you. After holistically receiving the worst grades of my life during my first quarter at UCSB, I improved my GPA every single quarter subsequently and graduated with Distinction Honors as a History major in 2012…My time at UCSB also broadened my horizons and showed my that a kid from San Bernardino can make it just as far as the kid from the suburbs in Orange County. This mentality is what pushed me to apply to law school and take another shot at success. I just finished my first year at the University of California, Hastings College of the Law. Law school is tough, so if you ever think about applying, then don't take the decision lightly. I am happy with my decision and am currently clerking for the Los Angeles County Public Defender's Office.
In his report yesterday, my husband Jim mentioned the commitment that some leaders of San Bernardino's school system have made to brightening career-and life-prospects for students in their troubled community. At Cajon High School I saw examples of what this effort involves, day by day and student by student.