Since Jim Fallows and I began traveling the country for American Futures and Our Towns nearly seven years ago, there has been one beat that began as a surprise to me and grew into the most heartening story I've witnessed of American resilience. That is the story of public libraries and how they have responded to the challenges facing American towns.
If you haven't been in a public library lately, you probably wouldn't recognize where you were if you entered one tomorrow. This is no longer, as I wrote early on, your mother's library. The books are still there; the readers are still there; the librarians are still there. But sharing the same space are children busy with all kinds of active—and sometimes noisy—programs, inventors in maker-spaces, historians and amateurs researching genealogy, job-seekers scouring the internet, homeless people settling in quietly for the day, women and a few men heading to the yoga space, others watching movies, young entrepreneurs grabbing lattes, people considering the art exhibits, librarians helping others research a medical issue or housing issue or how to earn a GED, tutors helping school kids with math, people checking out hiking backpacks, fishing poles, wireless hotspots, snow shovels, and seeds for vegetable gardens.
And in their offices are the librarians and staff figuring out how to fill all these wants and needs of their communities and to anticipate what can possibly be coming to their town next, like a hurricane or, God forbid, a shooting. I saw many backroom views of libraries, from the depths of their groaning archives to their automated transport and delivery systems of books among libraries. I also ran into many pop-up versions of libraries in odd places from front yards to public parks to the middle of a lake.
---
After telling so many of their stories one by one, I wanted to show you what some of the libraries look like. These are my amateur photos of some of the libraries I've seen around the U.S., and even a few others I've visited around the world.
The libraries were in cities as small as Eastport, Maine, population 1,300, and as big as Columbus, Ohio, population 890,000. Most cities were in between in size, largely ranging from 10,000 to 65,000. I also visited public libraries in Shanghai, population 24 million, and across Australia.
Here are some images that stay in my mind about libraries. This first of two collections features the children's areas and the adult spaces. Coming up next will be what's in the library beyond books, and alternative public libraries.
The first photo here is inside the Peavey Memorial Library in Eastport, Maine.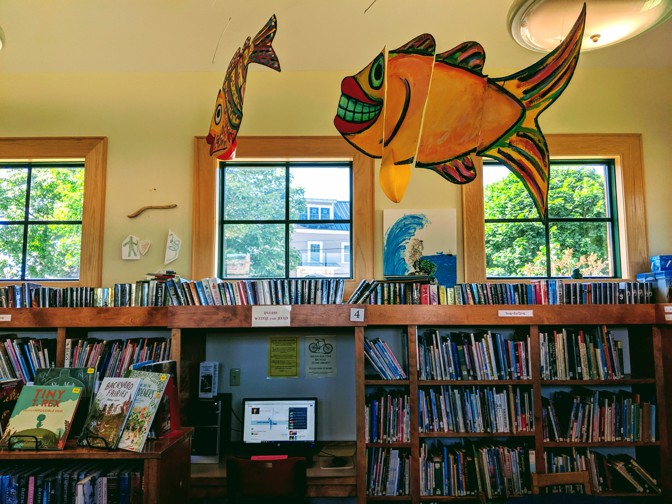 Children's rooms: Whenever I asked directors or librarians about the most important efforts in their libraries, or their top dreams and aspirations yet to come, they invariably answered some version of: "It's the children; it's all about the children." And they homed in on reading readiness or school readiness or child development, particularly for the kids who need it most. Attracting children, and their parents, into libraries is a prime mission.
Brownsville, Texas, built a wonderland of a children's room and have newly gone all out into the ultra-modern space for teenagers.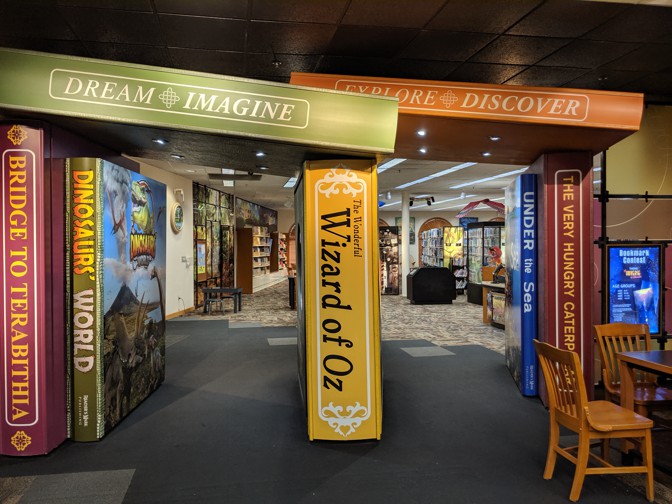 A former Walmart has been transformed into the new and spacious McAllen Texas public library: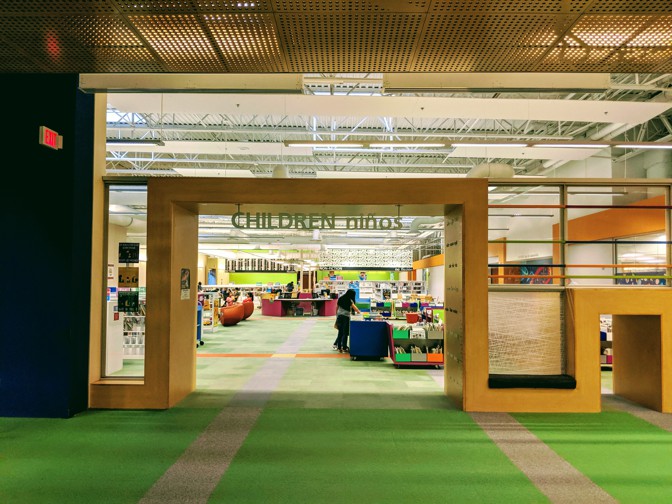 In my hometown of Vermilion, Ohio, on the shore of Lake Erie, the children's area is built on the nautical themes familiar to the kids who grow up there. (I spent many a summer day in this library, but it didn't look like this.)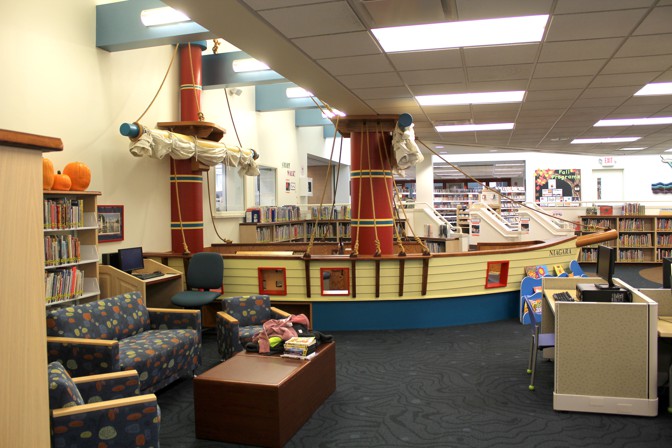 The San Bernardino Public Library's central location has poured precious resources into the children's room, hoping to attract many parents as well through their children and the offerings there. The collaborative mural featured world-renowned artist Phil Yeh.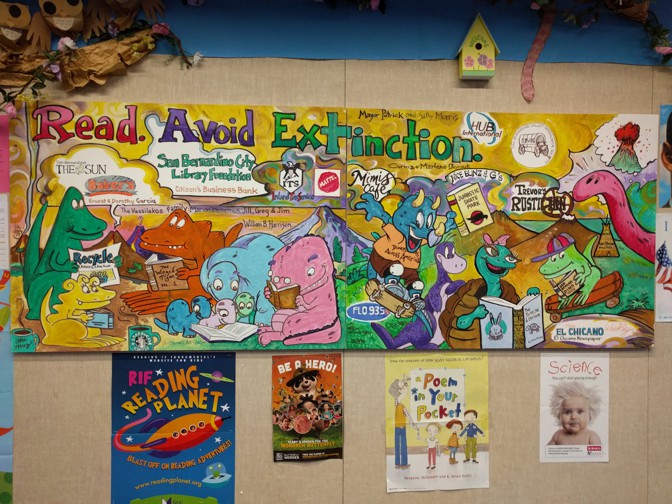 The Hughes Main Library in Greenville South Carolina: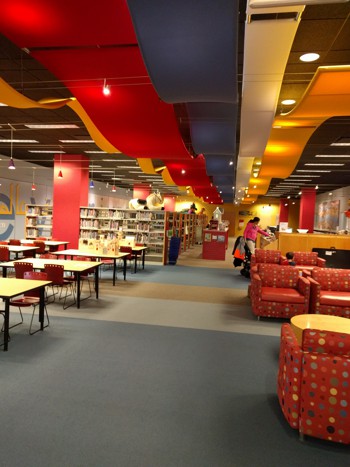 The Demopolis, Alabama, public library was formerly home to a furniture store and warehouse. The children's area is part of its pride and joy.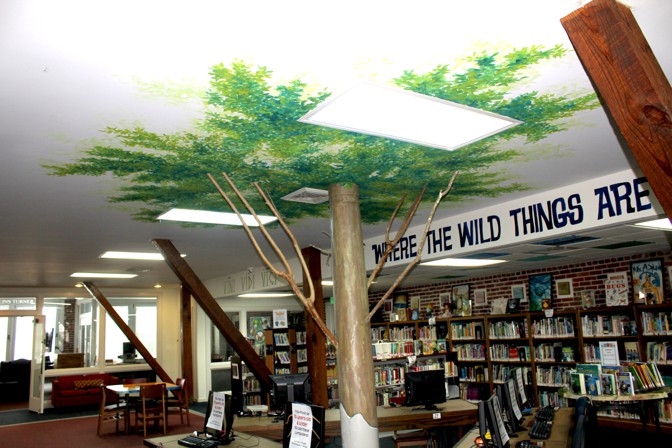 The Deschutes Public Library in Bend, Oregon, changes the look of their children's space from time to time. This one was all about superheroes.
The small Highland Park Texas Harvey R. "Bum" Bright Library has a very cozy children's room and a librarian who always directs children to the right books.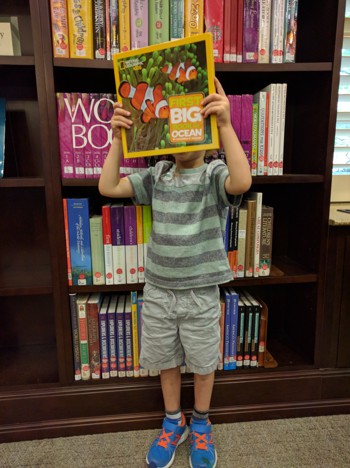 The Andrew Heiskell Braille and Talking Book Library, a branch of the New York Public Library in the Flatiron district, has a children's braille collection.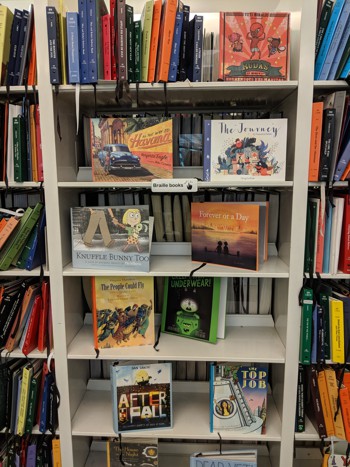 ---
Adult Spaces: The adult spaces in public libraries show an entirely different and often contrasting side of a public library. They range from extraordinarily elegant to cozy and welcoming, to dramatic, to waiting for that upgrade. Here is a sampling:
The mezzanine level of the public library in Demopolis, Alabama, in the former furniture store and warehouse, overlooks the California-craftsman style main reading room. Bill and Melinda Gates visited some 20 years ago as a kick-off to their philanthropic donations of computers to public libraries.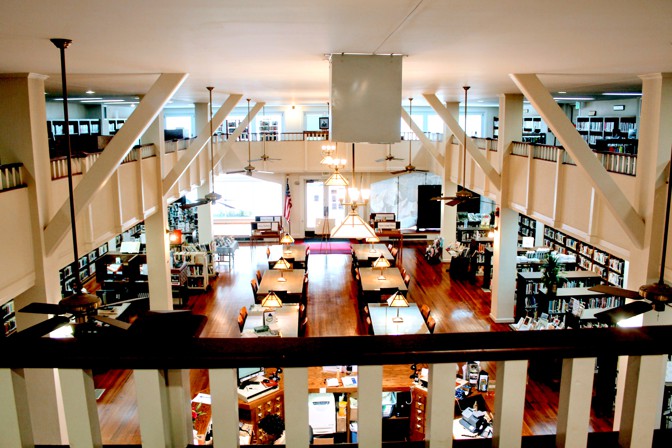 Inside the Linn-Henley Research Library of the Birmingham Alabama's Central Library, the walls are painted with murals by Ezra Winter. They are some of the historic showpieces of the Birmingham library.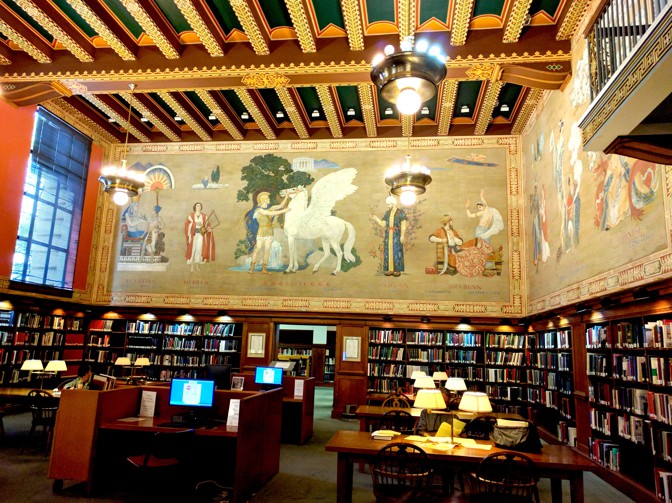 The State Library of Victoria in Melbourne, Australia: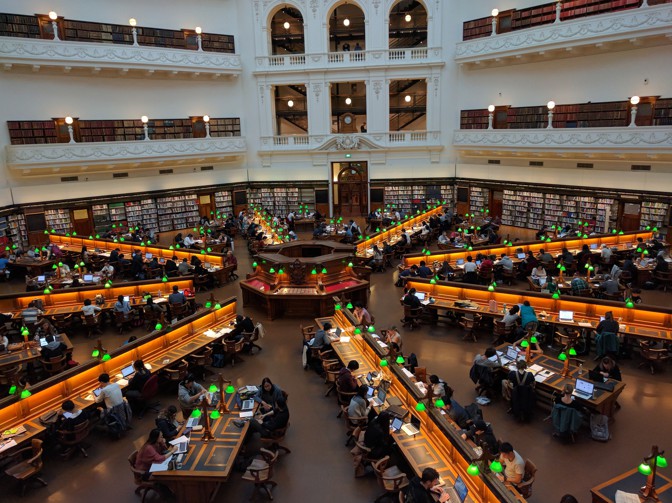 The reading room in the New South Wales public library in Sydney, Australia: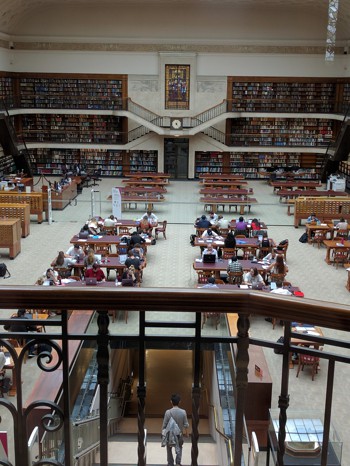 The reading room in Raymond M. Blasco MD Memorial Library, in Erie, Pennsylvania, overlooks the waterfront where the Tall Ships dock.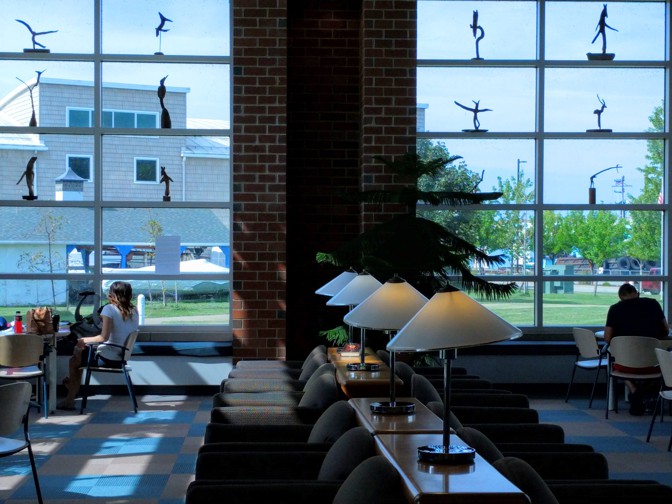 The McAllen Public Library in McAllen, Texas, has moved into the building of a former Walmart. The space for books is vast.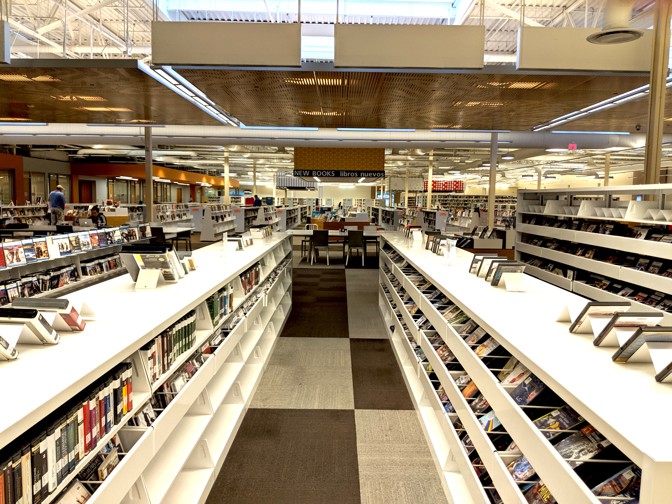 The Brownsville, Texas, public library creates much of their own artwork. These are the end panels on the shelves in the reading area.
Overlooking the atrium in the stately Shanghai Public Library, where I watched hundreds of people working on laptops and drinking tea, in the foreign-periodicals section: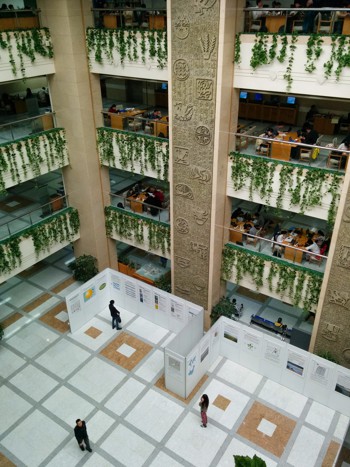 The small Elk Rapids District Library in Michigan provides a room with a view for its readers.