'Acknowledgement and Lament' for a revealed past
Few things are harder than facing the worst in our past. Thus there are few duties we more desperately avoid. This is true for individuals, for families, for communities, for nations and humanity as a whole.
I don't need to belabor this point, which is the theme of half of the world's great literature and much of America's ongoing strife.
But I can express gratitude, during this Thanksgiving week, for having recently had a view of some people trying harder than most to move to the right side of a cruel and painful history.
Their example can inform other American efforts to acknowledge our racial and racist past.
In this dispatch I'm intentionally condensing the complex background of the extraordinary multi-faith, multi-racial "Acknowledgement and Lament" ceremony three days ago in Pensacola. I'll return to it in a later narrative. Over the past year and a half, Jim Little of the Pensacola News-Journal has chronicled these developments in a brave and excellent series of articles. You can start with his most recent one, and find others here, here, and here, with links to related reports here. (You'll eventually hit a PNJ paywall. Please consider supporting them. They are showing why local journalism matters and what it can do.)
---
A community leader, who also led the Klan
For today's purposes the main points are these:
—One of the leading business, political, and cultural figures of 20th century Pensacola was a man named TT Wentworth. He was elected an Escambia county commissioner in the 1920s, and for a dozen years was county tax collector. His storehouse of historical objects and memorabilia became the basis for a state-owned museum in the center of town, which was run by the University of West Florida (UWF) Historic Trust. His name was on plaques and markers everywhere.
—But last year, mainly through the efforts of a local historian named Tom Garner, indisputable proof emerged that this same TT Wentworth had been an active leader of the Ku Klux Klan. The evidence included documents and membership records found in Wentworth's home after his death. For instance, in the 1920s, even while serving as county commissioner, he became "Exalted Cyclops," or leader, of the Klan's local branch.
—The evidence has now been laid out in meticulous detail in the "Wentworth Report," by UWF historian Jamin Wells. The archives, including many Klan photos and records, have been digitized and are publicly available online at the UWF site.
So far, the story resembles many other "open secrets" of many other American communities. What is less familiar and more notable is the response of the Wentworth family, and of some religious organizations that were directly or indirectly implicated in the Wentworth report.
---
White Protestant churches, and the 'Second Klan'
The "second Klan" of the 1920s had expanded beyond its original anti-Black violence and terrorism to attacks on immigrants, Catholics, Jews, and anyone other than white Protestants. In some parts of the country, white Protestant churches were important allies of the Klan.
"Men's groups, women's groups, pastors, and church leaders were often some of the first members of a community to join the Klan," Jamin Wells, author of the Wentworth report, said at the service on Sunday. "Public recruitment efforts included dramatic displays of hooded Klansmen interrupting church meetings and services to preach their creed from the church pulpit. That happened in white Protestant churches across Escambia county," including Wentworth's own Gadsden Street Methodist Church.
---
An effort to 'make this right'
Sharon Yancey, who grew up in Pensacola, now lives in Atlanta. She is a great niece of TT Wentworth and had met him when she was young. She is herself a Methodist minister, and the chair of the TT Wentworth Jr. Historical Foundation.
When the Klan documents came out last year, she said that the family would need to acknowledge what they showed and find ways to "make this right." One result was a daylong series of observances this past Sunday—including a gathering at the same Gadsden Street Methodist Church where a century ago Klan members in hoods had roamed the aisles.
The main public event was the "Acknowledgement and Lamentation" on Sunday afternoon, in Pensacola's Community Maritime Park, under brilliantly blue clear skies, with the waters of Pensacola Bay in the background (and the aircraft from Pensacola's military air stations occasionally echoing through the skies).
I want to call out two of the presentations, which I wish people beyond the crowd at the Maritime Park might have heard. They deserve notice for what they showed about rhetoric and language, about accountability, about facing truths of the past, about recognizing possibilities of the future.
---
'Excavating the truth, and acknowledging it'
The first of these presentations was the official Acknowledgement statement from the Wentworth Historical Foundation, as read by Sharon Yancey. Nearly all members of the Foundation's leadership and of the extended Wentworth family signed on in support of this statement about what their forebear had stood for and done.
The statement is long, and I have included it in full at the bottom of the post. It deserves study for its unflinching clarity and directness. Yancey said that her family's commitment and responsibility was to "excavate the truth, acknowledge the truth, and work with community leaders to do the work of restoration, as warranted." The rest of the statement spelled out just what that would mean.
There was no rationalizing language—"but those were different times," or "how could they have known." No shrinking from the generations-long effects of abuses and inequities. For instance: "If you or your ancestors did not receive the education you deserved because a local Klan leader before TT served as superintendent of public schools, you have been dealt out of the promise of what is possible in America and Pensacola."
There was no flinching from the involvement of state and local government, religious leaders, and business people in enforcing "white supremacy [as] a defining part of Pensacola's past."
"We grieve and we grieve deeply," she said near the end. "Forgive us."
It is worth careful reading, and reflection.
---
'Today, a better story'
The other presentation I want to mention was from Rev. Freddie Tellis, pastor of the Allen Chapel AME Church in Pensacola.
Early on he expressed his respect and admiration to one of the best-known heroes of Pensacola's civil rights struggles, who was in the front row for the ceremonies. This was Rev. H.K. Matthews, a Korean War veteran who was ordained as an AME minister 60 years ago and then led protests, marches, and movements in western Florida and Alabama. A public park in Pensacola has been named for him.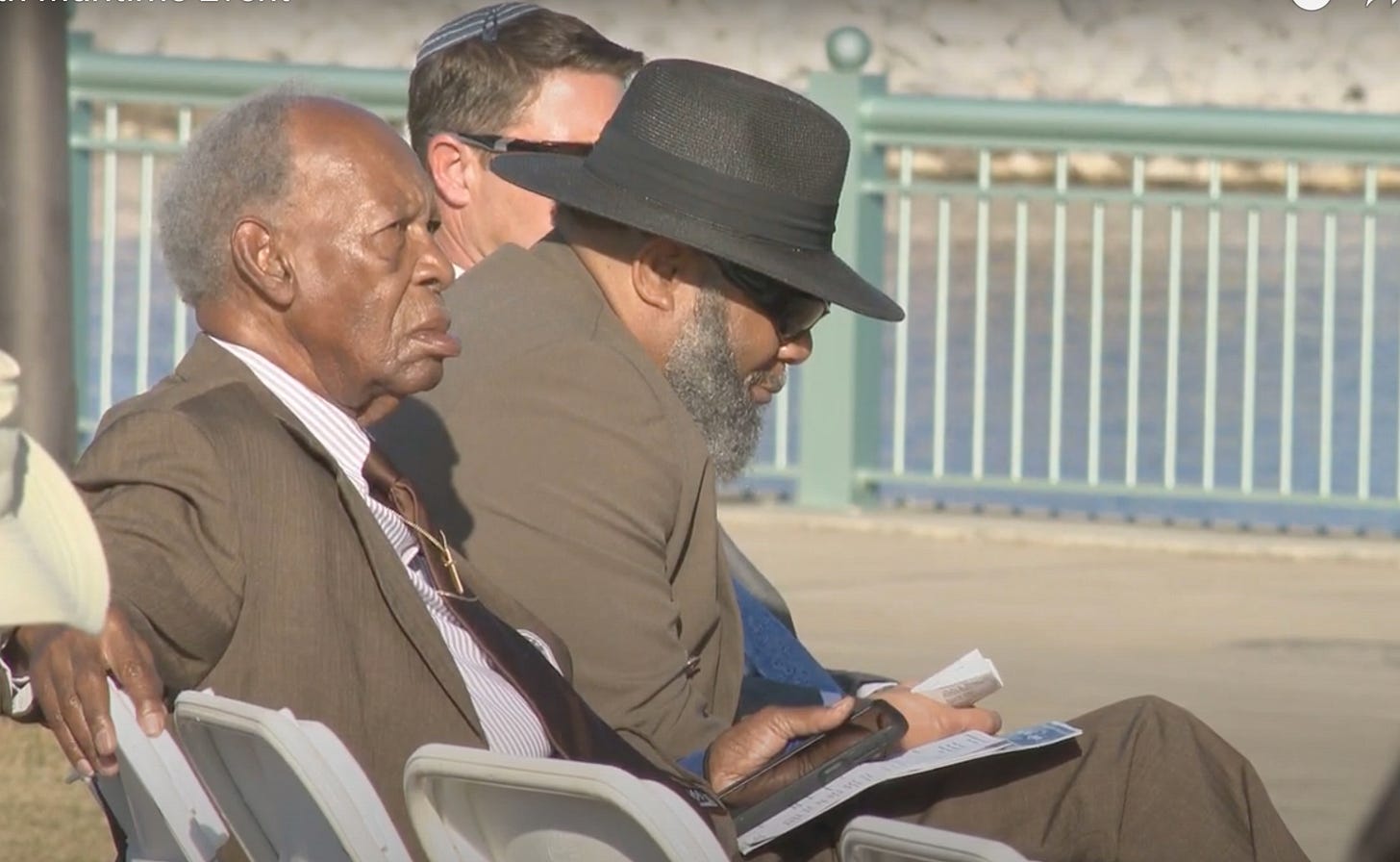 Rev. Tellis told his personal version of the injustices the Wentworth family had acknowledged, starting with his having to drink from the "colored" water fountain at Pensacola's downtown old Sears and Roebuck store. "I also saw stores where they had three restrooms," he said. "White men. White women. Colored."
Where Yancey's reading of her family's statement had been quietly intense, Rev. Tellis built the crowd into AME-style call and response. It was particularly powerful in its coda. I've posted a somewhat scratchy but understandable audio of this section in an accompanying post. Here is the part I want to emphasize, for its rhetorical structure and meaning.
After an unsparing account of racial injustice through his lifetime, Rev. Tellis engaged the crowd to answer him:
All that I've said is in the past, and the present. But today—Somebody say "today." [Crowd response, after a beat: "Today!"]

But today, here in the so-called city of five flags, we start a better story.

Today [crowd answer more promptly, and louder, "Today!"], here in the home of emerald waters, we start a better story.

Today ["TODAY!!"] in the place of sugar-white sands we start a better story.

Today ["TODAY!!"—and the crowd is in the rhythm now, playing its part through the rest of the passage] we start a new paradigm.

Today ["TODAY!!"], we start a shift in a way things have always been…

Today ["TODAY!!"], with the courage, bravery, audacity, resolve, resolution and determination of the Wentworth family, we start a better story.

Today ["TODAY!!"] we will start a movement that will be an example to Florida, America and the entire world.
---
'I salute you'
This mention of the "courage" of the Wentworth family, above, was the first time Tellis had uttered their name, near the end of his speech. And he made the shift toward discussing their past role, and current posture, as dramatically and effectively as he possibly could have done.
Freddie Tellis had served 30 years and three combat tours in the Marine Corps. Just before the word salute, below, he pulled himself into an erect Marine Corps posture, turned toward Sharon Yancey of the Wentworth family, audibly clicked his heels together, and delivered a razor-sharp salute.
It is a moment I am glad to have witnessed and will not soon forget.
Here is what he said (and these today's were quickly delivered rather than waiting for call-and-response):
Today it will be a better story.

Today we shall overcome.

Today is the start of the Wentworth family being on the right side of history.

To the members of the Wentworth family [noticeable pause, turn toward Sharon Yancey, heel click, salute] I salute you.

I salute you for standing up to the members of your own community and family who were trying to stop you from doing this.

I salute you for being accountable.

I salute you for your courage and steadfastness.

What you're doing is not easy, but necessary.

When you're doing is not comfortable, but crucial.

What you're doing is not popular, but essential.

What you're doing is not acceptable to some, but imperative to all.

Today is the day that the Lord has made. Today we shall rejoice and be glad in the start of a better story.
What happens next in Pensacola, and elsewhere, is what matters, as every speaker said. We recognize yesterday's story, and have a chance for a new one, today.
---
(An earlier version of this post appeared on James Fallows's Substack site, Breaking the News.)
Wentworth foundation Acknowledgement'
Here is the official text of the statement from the Wentworth extended family and foundation, as read by Sharon Yancey.
Acknowledgement statement
TT Wentworth Jr. Historical Foundation
Beautiful city, in a most beloved community:
As the former TT Wentworth Jr. Historical Foundation, we have worked to preserve the history and story of northwest Florida and Pensacola. Today, we are here to acknowledge that the story we had was an incomplete one, and as we have learned the full extent of our founder's involvement as a local Klan leader in the 1920's, it has been a painful one.
Like many of your families, we reflect the full spectrum of our city and area's political, personal and religious diversity. We have had spirited and difficult discussions about these aspects our founder's past and the Wentworth report itself.
But today, we want you to know that we are united in our commitment to the process we shared in our public statement a year ago: excavate the truth, acknowledge the truth, and work with community leaders to do the work of restoration, as warranted.
Dr. Wells, thank you for your extensive and meticulous research.
If it could not be historically authenticated, it is not in the Wentworth report.
To the UWF Historic Trust, thank you for your investment in the historical excavation of the Klan documents found in our founder's former home.
We believe that history has much to teach us.
---
In that spirit, Will you now receive our acknowledgement…….
We acknowledge that our founder TT Wentworth Jr. became one of the first recorded members of the Ku Klux Klan in Escambia County, number 57 in 1921. He went on to become the membership secretary and was elected the Exalted Cyclops from 1925 to 1928.
TT's second Klan of the 1920's is part of the long arc of the history of Pensacola, which espoused white supremacy; a defining part of Pensacola's past.
We acknowledge that the influence of the 1920's Klan was systemic and went deep into many aspects of our state, county and city.
As part of the broader Klan network in the country, TT used his position to influence politics and policy from the state Governor's office to local levels. He profited from his participation in the Klan in tangible ways, including receiving police powers from the Pensacola Police Commissioner for the three years he was the Exalted Cyclops.
He then potentially leveraged his Klan connections to be elected the County Tax Commissioner in 1928.
We acknowledge that as the County Tax Commissioner TT enforced the state poll tax laws of that time.
If you or your ancestors paid a poll tax to vote, or were denied the right to vote, you were denied one of the most basic and fundamental rights of American democracy. For that we are truly sorry, not only for you or your ancestors, but for our democracy.
We acknowledge that TT disseminated Klan ideas and espoused their values.
This not only included white supremacy, but a white militant Protestant agenda, which resulted in the relegation of all who were not white and Protestant, to the status of "the other".
A Greek immigrant business owner was told to leave because he was not wanted here.
To the Greek family of George Lochas, we acknowledge your ancestor stood up to the Klan, and we are glad that your family is still in Pensacola today. Our city is a better one because you are here.
All our ancestors, except for the indigenous people, started as strangers here.
Some of you here today, did as well.
To the Catholic Church and the Knights of Columbus who were specifically targeted by the Klan's militant protestant agenda, we are truly sorry.
For the people of the Jewish faith who have also been made to feel like "the other", much like the Knights of Columbus were, religious oppression and terrorism is simply not compatible with the Christian faith.
We lament, deeply.
We acknowledge that white supremacy has left tragic scars on the African American community here.
Most sadly, we have lost the local African American history and story – TT was very intentional about the way he shaped the history of Pensacola, and it did not include the African American story.
As a result, your historical documents and collections have never been displayed and the full representation of this aspect of Pensacola's past has not been acknowledged. And in most cases, it was not even told.
Your history is difficult to research in Northwest Florida because of it.
---
We have a lot of listening to do about your story, and it is important that your story becomes part of the narrative of Pensacola's story.
Education Equality– if you or your ancestors did not receive the education you deserved because a local Klan leader before TT served as superintendent of public schools, you have been dealt out the promise of what is possible in America and Pensacola.
African American Businesses – Pensacola, for decades in the late 19th and early 20th centuries, was known for Black business opportunities.
Today, and sadly, Pensacola has not been known for African American business opportunities.
Your contributions to the region's development have not been realized, and we are diminished for it.
Your hospital "mysteriously" burned down, as documented in the Wentworth report.
We are profoundly sorry.
And finally, and as we continue our service today,
We acknowledge the role of the white Protestant church in the Wentworth report in helping TT grow the membership of the Klan.
This will be the focus of the service today.
We remember the churches and pastors who DID NOT welcome the Klan to recruit in their churches, especially pastor Dr. JW. Frazier, of First Methodist Church.
If you or your ancestors were ever turned away from a worship service because of the color of your skin or other religious affiliation, we have utterly failed you and the God we profess to love and serve.
This is not the full representation of the Kingdom of God. Red and yellow, black and white…precious in His sight.
We grieve and we grieve deeply. Forgive us.
May we hear the cry of the "Colored Citizen" newspaper asking white protestant ministers to fight against the "hooded organization".
We have some work to do.
To the future generations of Pensacola – you deserve a better story.
Work for a better story
Demand a better story
Usher in a better story by not settling for the story we have just learned about.
You are our hope
You can do this.
We can do this, but not only we can do this, together we will work with business community leaders to do this.
One year from now, five years from now, we hope Pensacola will be different because we began to dream and work for a better and more equitable future for our beautiful city in a most beloved community.
We acknowledge that this is our family and foundation's past, but we do not accept it as our future.
We still choose hope and unity over division and fear.
TT Wentworth Jr. Historical Foundation
---
And, courtesy of the TV station WEAR in Pensacola, below is a brief YouTube segment from the afternoon's events, to give an idea of the look and sound of many of the participants.

The audio of the "today!" portion of Rev. Tellis's speech is here.