Our trusty little Cirrus airplane, which has been flying Jim and me around for almost two years now for the American Futures project, has been in the shop this week for its annual inspection. So instead of exploring America, we have been exploring Shanghai, where we lived during half of our 2006-09 sojourn in China.
We've been visiting friends and nostalgic haunts, and trying to feel the pulse of life in China today. I've also made it a point to visit a few new places. There is always someplace new to see in Shanghai, and it is often in the spot where some familiar old place used to be. I decided to visit Shanghai's version of one of my favorite stops in every town on our U.S. tour, the public library.Shrubbery honoring the search for knowledge, in the Shanghai Public Library garden (Deborah Fallows)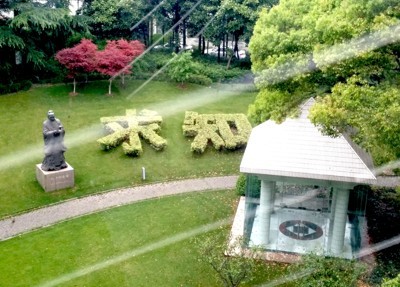 American libraries, as I've chronicled here, have constantly surprised me with their reincarnations. First and foremost focusing on books and information, of course, American libraries have paid deliberate attention to supporting education, teaching computer skills, helping people find jobs, providing work spaces for small businesses and even "makerspaces" with 3-D printers and other new tech tools, and busy, inventive Friends of the Library groups. I wondered what libraries would look like in China.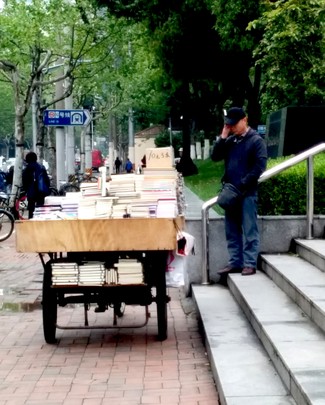 I rode the No. 10 subway line, one of the dozen lines the city now has, with one change from our hotel to the Shanghai Library stop. The subway was new and shiny and, blessedly, quite empty. In one direction, I even got a seat. The biggest challenge of riding the Chinese subways is figuring out what to do and where to go when you leave the station.
This time I was lucky; at the top of the escalator was a sign for steps leading back down to the Shanghai Library's staff canteen. I must be very close. Stepping outside the station, there it was: a massive three-part building occupying roughly eight acres. I headed for the central entrance just behind an enterprising Shanghai resident who was selling used books, a fundraising activity roughly parallel to that of many Friends of the Library volunteer groups in the U.S.
---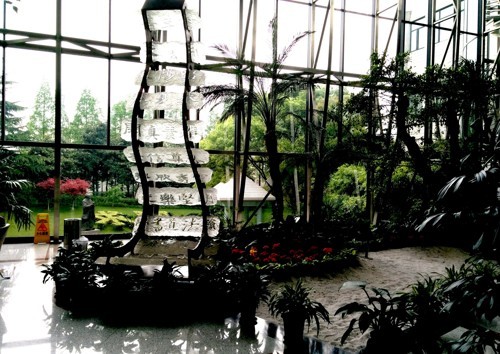 The front doors opened to an airy atrium, four stories tall, with a glass wall looking out to an elegant garden. People were lounging in a small coffee shop as I climbed the open steel-railinged staircase four floors to the top, where the foreign collections are housed. I left my rusty Mandarin at the front door and figured I would seek out someone in English to tell me about the library today.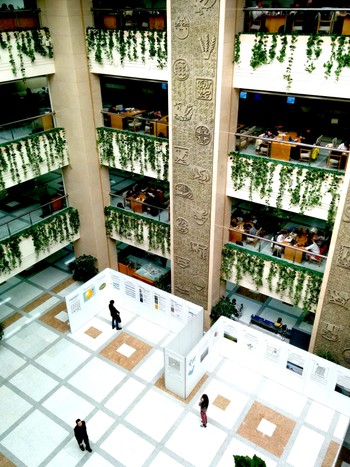 Hundreds of people were working at small tables in the foreign periodicals section, nearly all of them using their own laptops. Most had settled in with thermoses of tea, some with sandwiches. The best seats overlooked the central atrium. A few old men were hunched closely up to their laptops, pecking with two fingers. Students were doing all sorts of things from serious-looking research to using the wildly popular "wechat," China's version of Facebook. It was eerily hushed, even for a library, and especially for any place in China.
There were more rows of periodicals than I could count; in English, German, Russian and on topics from metallurgy to aeronautics. I headed to the linguistics books; the collection was spotty and aged, I thought, and looked more like random books people had donated over the years than orderly acquisitions.
I followed the English-speaking librarian, a woman perhaps in her late 40s—I find it always hard to tell the age of Asian women—to a back room to talk. I explained my mission and told her the story of what I had seen of America's reinvention of its libraries.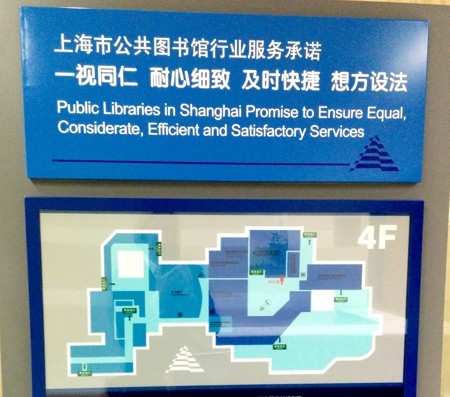 Suddenly, out of nowhere, I felt myself as though in the middle of Chinese-American negotiations. "But the scholars," she protested, saying it sounded to her like there is no place for scholars anymore if the libraries are all about these other missions. "What about the scholars?"
I said that books and research and information are still the main mission of the library, and all the rest are new additions. She protested further that people could go to community centers or Starbucks if they wanted to get together or have coffee with their work, citing the dancing, singing, and chess activities available in any Chinese town's cultural centers. I repeated that books remain Mission One. She declared sternly, "It sounds like books are Mission Seven." She was pawing at me like a cat with a mouse. Astonishing.
Then, when I pointed out the coffee shop in the library entry downstairs, and the beautiful gardens outdoors, she pivoted, laughed, and said, "Oh yes, we have those things. And would you like to see our makerspace?" Makerspace! She even knew the modern vocabulary.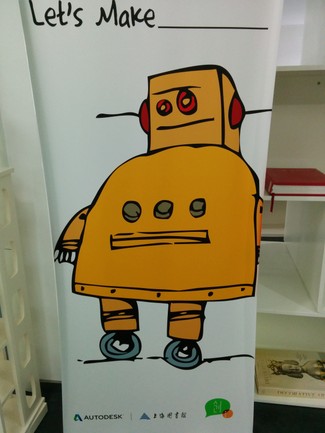 The librarian directed me to the other side of the library to see the "The Creation New Space." I worried about finding someone who would speak English there, and she said, shooing me on, "They're all young. They'll speak English." She was mostly right. The Creation Space is a bright, white, modern multi-purpose area. A young woman named "Yuzzy" showed me around. (Almost all Chinese have English names, to make it easier on us, and many of those names are, well, unconventional.) The space opened in 2013. Yuzzy pointed to collections of design books on architecture, industry, clothing, and more: The space's LED lighting, state of the art software, access to vast databases, table-sized design screens, and a 3-D printer.
We toured the variety of seating options. The most coveted were two pods, comfy, all-surrounding, egg-like chairs, with ottomans. Yuzzy said they were for those who sought privacy; I peered over the wall shielding one of the pods and saw, as I expected, a young guy curled up and sound asleep in his space.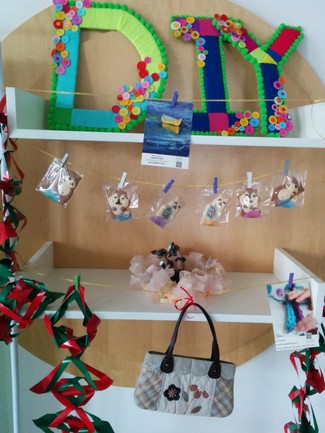 There were several exhibits. One documented a rural project to teach farmers how to package and present their harvested products in attractive designs. Another was a Do-It-Yourself (DIY) display, using the English acronym, of accessories that looked like a selection of lower-end Etsy items. No one was using the big screen tables or 3-D printer, and I told Yuzzy that the quiet makerspace here contrasted with the buzz of collaborative activity we have seen in makerspaces around the U.S. Yuzzy told me that the 3-D printers are used perhaps three or four times a month and offered that she thought few people were yet aware of what the library has available to them.
Heading out, I walked through a room called the China Cultural Celebrity Manuscript Library. There were crinkly pages of handwritten characters, protected under glass. It reminded me of the story one of my best Chinese friends told me of his first experience at the close of the Cultural Revolution, when he went into a library for the first time with his young friends and saw actual books there, protected under glass.
The most poignant to me, probably because I could understand it easily, was a handwritten letter from George Bernard Shaw, written in 1937, obviously after a visit to China. It said:
The future of the eastern world is yours if you have the energy and courage to grasp it.

The ritual of that future will be the Chinese drama.

Not my plays, but your own.