Driving south through the hot desert from Gila Bend and into the town of Ajo, you pass a series of roadside spots that mark sparsely populated southern Arizona: a motel, a few RV parks, lots of signs for Mexican auto insurance, an IGA grocery store, a car wash, an Elks Lodge. Then you round the bend on AZ-85, pass through a few blocks of modest former mining houses, and suddenly, out of nowhere, you come across the stunning Ajo town plaza. It feels, I imagine, like coming upon an oasis.
The town plaza is an expanse of lush green lawns, surrounded on three sides by long rows of white-washed Spanish Colonial Revival shopfronts, which have a continuous red roof, and covered arched walkways. Facing them to the west are a pair of bright white painted churches, one Catholic and one Methodist, equally simple and elegant. You have arrived in Ajo.
As promised in the preceding American Futures post, here are the stories of two major projects that are changing the face of Ajo, and quite possibly its future. They are two that the International Sonoran Desert Alliance (ISDA) has been at work on for over a dozen years: reimagining and renovating this spectacular Ajo town plaza, and also the nearby Curley School complex.
---
The town plaza
Larger-than-life players and their stories set the course for Ajo a century ago. In 1917, John Greenway—former Rough Rider with Teddy Roosevelt at the Battle of San Juan Hill, Yale football star, and millionaire mine-developer—opened the New Cornelia copper mine.
He was joined by his dynamic young wife, Isabella, a close and dear friend of Eleanor Roosevelt since their teens and the recently widowed wife of another of Roosevelt's Rough Riders. (More on her story coming soon; Bruce Babbitt, former Arizona governor, told me a few weeks ago that Isabella Greenway remains one of the most important figures in Arizona political history.) Fixed on creating an aesthetic for the desert town of Ajo to match the distinction of the formidable and successful mine, the Greenways built a town plaza in Spanish Colonial Revival style.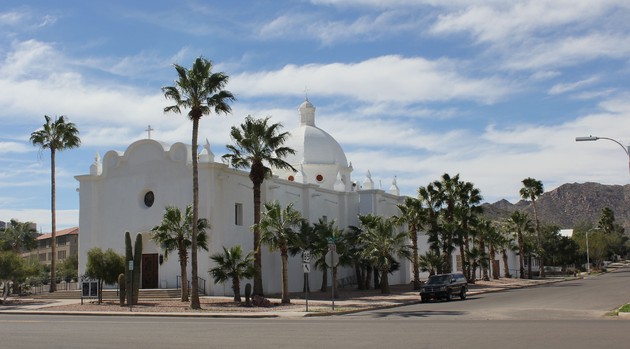 Let's skip decades ahead through the sudden early death of John Greenway in the 1920s; changes in mine ownership; strikes and ups and downs in the world price of copper; to the sudden shutdown of the mine 30 years ago, in 1985. The jobs were gone. People fled.
---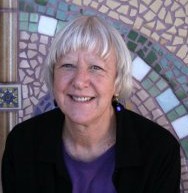 Two dozen years later, in 2008, ISDA stepped onto the town plaza with a vision no less audacious than that of the Greenways. As a nonprofit group, it purchased the historic plaza and took responsibility for redevelopment.
Since Ajo is unincorporated, it has no city government and falls within the jurisdiction of Pima County, so you can buy pretty much anything in the area, we were told by Tracy Taft, ISDA's indomitable executive director. You could buy anything from the town plaza, to a nearby mountain, to a piece of desert. Taft has been the driving force behind ISDA for over a decade. The idea was to revitalize this centerpiece of the town to be a high-functioning, high-end space for the arts, for markets, for festivals and gatherings, for shopping and eating, all for the town residents and, hopefully, tourists who would come through town.

ISDA cast a wide net for funding from all corners—public and private grants, federal, state, and county funds, enterprise partnering, and so on. The money it raised went to renovating the buildings and cleaning up the outdoor grounds. Even the current mine owners, who periodically float the idea of re-opening the mine, pitched in to help repair the street, water, and lighting infrastructure.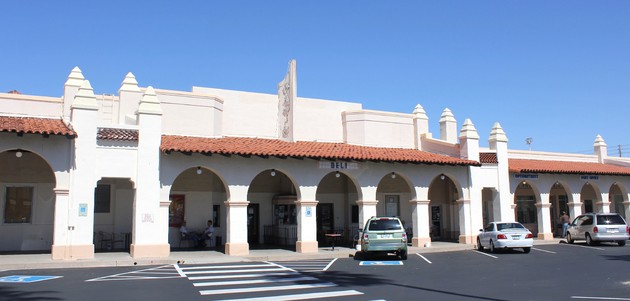 ISDA has leased out most of the storefronts, to an eclectic high-low mix of occupants. There is a relatively new deli called Oasis, which serves lattes, a popular reuben, and ice cream. There is a gym; the Salazar-Ajo Public Library (one of the hottest gathering spots for the older generation seeking wifi and for schoolkids biding their time after school over video games); and a handful of arts and gift shops. There is also a second-hand clothing store and a quite bizarre expired-foods store, where you can buy outdated dry and canned goods for a third their normal price.
Some storefronts remain unoccupied, including a restaurant staged with a white-tablecloth continental look. The restaurant and tens of thousands of square feet of affordable space are just waiting for creative entrepreneurs to show up.
The Conference Center and Curley School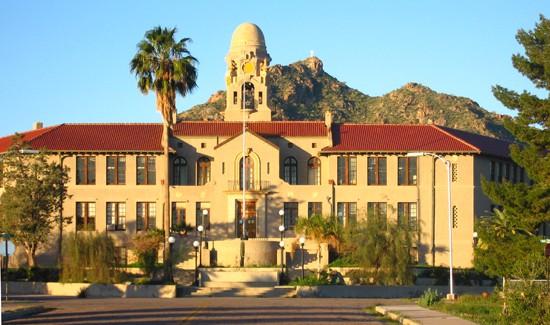 Just a few blocks uphill from the town square lie the grounds of the Curley School, named for John Greenway's successor as mine supervisor, Mike Curley. Redeveloping it was ISDA's first project in Ajo.
The first renovation, completed in 2007, turned former school property into a set of 30 affordable housing apartments for artists, sculptors, painters, photographers, dancers, and artisans all sorts. The compound's residents make a living through making their art in neighborly quarters on the campus and in renovated studios and working shops. When you walk around the tiny front yard spaces of the resident apartments, you pass stone formations, installations hanging from tree branches, or small gardens, all evidence of indoor art spilled outdoors into the communal space.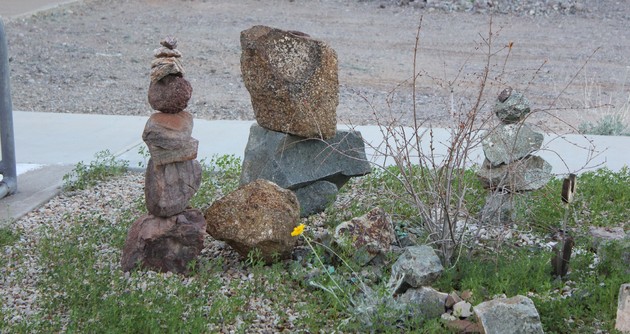 At the top of the campus is the old elementary school, which was built as a ring of single-story classrooms surrounding a courtyard. The central courtyard area has now been replanted as robust gardens of vegetables, flowers and fruits, including special desert-adapted varieties.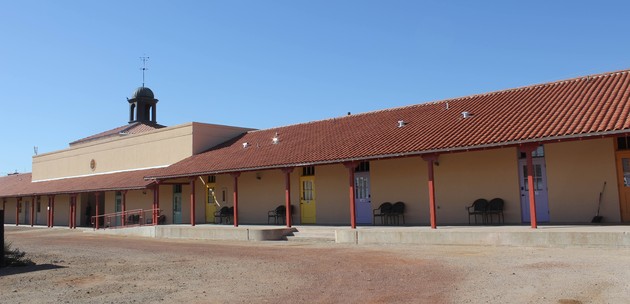 During our second visit to Ajo, just a few weeks ago, we stayed in one of the newly-completed classrooms-to-guestrooms. This part of the Curley Complex is now called the Sonoran Desert Conference Center, and ISDA's grand plan includes using the rooms and public spaces not only for tourist overnights, but also for small conferences or retreats. The energy level was high in anticipation of the first ever arts festival opening scheduled for just a few days hence. The festival included 70 programs all around town, with artists from all over the world.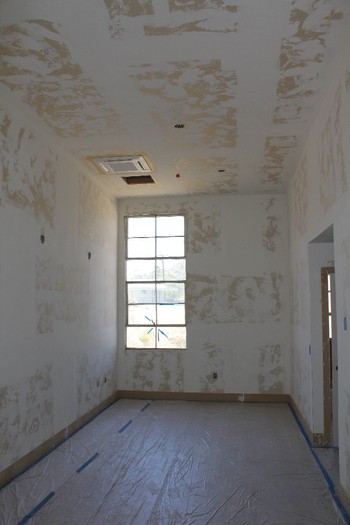 Aaron Cooper, ISDA's Director of Economic Development Programs, walked me through the genesis of turning an elementary school classroom into a guest room. The goal of the renovations, he said, was to strike a sweet spot of preservation, environmental awareness, and cost. Take, for example, the question of heat. This is no small issue in Ajo, which one high schooler explained to me as being "so hot in the summer that your skin hurts."
The historic designation of the school means the outside of the building must remain unchanged, including the 8-foot metal-framed windows, which invite and conduct heat from the blistering summer sun. The solution, Aaron said, has to lie indoors, isolating and insulating each room. There are heat-and-sun blocking shades, with a second layer planned when they can afford it. The new walls that divide the classrooms into smaller guestrooms are constructed with double layers of separation, filled with blown-in insulation. There is more blown insulation in the ceilings.