Recent notes in the news:
1) The Mississippi School for Mathematics and Science. A year ago my wife Deb and I had a deeply instructive time in the "Golden Triangle" of Mississippi — a northeastern part of the state marked by the cities of Columbus, Starkville, and West Point. Deb did several reports (e.g. here and here) about the ambitious and innovative Mississippi School for Mathematics and Science, a public boarding high school for students from all around the state.
Some of the reports were about the history teacher Chuck Yarborough and the re-enactments through which he encourages his students to come to terms with the troubled history of their state. That's a picture of one of the enactments at the top of this post.
We were delighted to hear this afternoon on All Things Considered a report on Chuck Yarborough, his students, and their experience of wrestling with Mississippi's past. You can listen to it here. Congratulations to all involved.
While I'm on Golden Triangle news: Birney Imes, whose family has run the Commercial Dispatch newspaper in Columbus for generations and who is himself a renowned photographer of the South, has a new exhibit at the Rebekah Jacob Gallery in Charleston, South Carolina. He graciously spent time with us while we were visiting his city last year. You can get an idea of some of his wonderful pictures here and read about the exhibit here.
2) Famous Women You Should Have Heard Of. Without fully foreseeing this as an emphasis, Deb has continued to come across stories of women who have played a huge role in the lives of their cities, states, or regions but have escaped wider renown. For instance, she has written about Jerrie Mock of Columbus, Ohio, the first woman to fly solo around the world; and Caroline Henderson, who wrote "Letters from the Dust Bowl" in the 1930s for The Atlantic, from the same farmhouse whose ruins we saw this past Thanksgiving Day.
In the past few weeks she's had two addition to these chronicles. One is Eliza Tibbets, who is locally famous in Southern California as the woman who brought the first orange trees to the region but had several careers apart from that. As Deb explains, Eliza Tibbets is the subject of perhaps the most misleadingly glamorous pieces of public art you will ever see. That's her statue in downtown Riverside, California, below. Deb's post has a picture of how she really looked.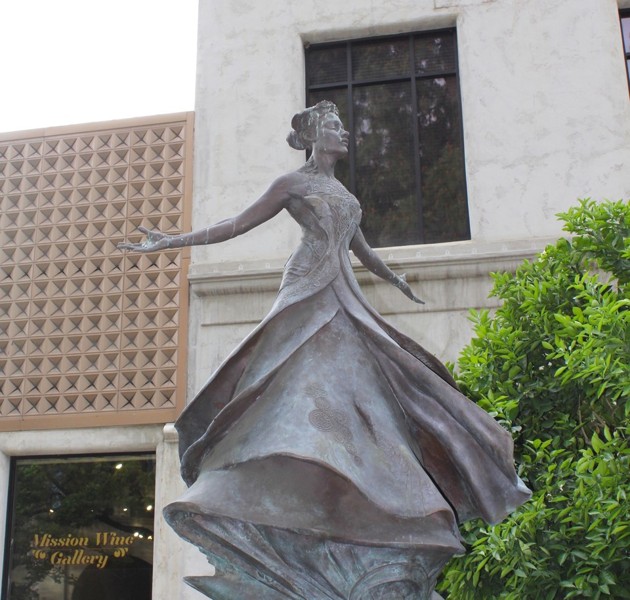 The other is Isabella Greenway — first woman Representative in Congress from the state of Arizona (Gabrielle Giffords was only the third); lifelong very close friend of Eleanor Roosevelt; impresario, hotel developer, and airline owner; and overall force of nature. Deb tells her story, which is linked to Ajo, Arizona, here.
3) We have been sending out a newsletter every week or two with an index of places we've been and reports we've filed. You can see an archive of past newsletters here, see the latest installment here, and sign up for future dispatches here. We're headed to the Pacific Northwest soon.