Eastport, Maine, which Deb and Jim Fallows have been profiling recently in their American Futures posts – and which Jim is writing an article about for the January issue of the magazine (subscribe here!) – is a tiny town of 1300 people in Washington county, which wraps around Maine's farthest "down East" stretches.
Washington County calls itself the "Sunrise County" because it's the easternmost county in the U.S, where the sun first rises on the 48 contiguous states. But it doesn't boast about being the poorest county in Maine, which it is. Many of the small seaside communities dotting the county's eastern border survive on small-scale fishing operations, while much of the rest of the county's economy depends on wild blueberries. This is hardscrabble-life territory. That's why towns like Eastport are working so strenuously to innovate and find paths to a more prosperous future.
It's also why a college education leading to a solid career is perhaps even more prized here than in much of the rest of the U.S – why families celebrate when their kids get admitted to their chosen college.
There's nothing unusual about celebrating your kid's admission to a preferred college with a party. But for many families in Maine, that party has a name – a "lottery party," as in "our kid just won the lottery." I'm told this is what lots of folks in Maine call such a celebration that follows admission to the Maine Maritime Academy (MMA), graduation from which, they believe, virtually guarantees lifetime earnings equal to a big lottery win.
Deb and Jim Fallows told me they heard people in Eastport sing the praises of MMA, which is several hours southwest of Eastport, in Castine. Not knowing anything about MMA, I decided to look into it. One of the people in Eastport who championed the MMA as attention-worthy is Captain Bob Peacock (USNR-Ret.), the Eastport harbor pilot Deb mentions here. Peacock is a 1971 graduate of MMA and, it turns out, chairman of its board of trustees. When he heard I was going to Castine to check out MMA, he said he'd meet me there, arrange for me to meet with the president, Bill Brennan, as well as faculty and students – and also give me a personal tour.
What a revelation.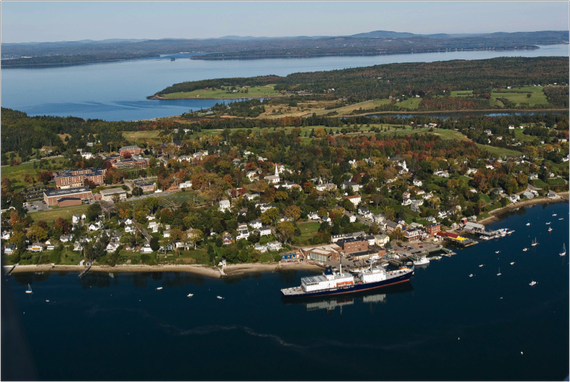 Not least, the place is beautiful. Castine (population 1,366) is one of the oldest towns in Maine. White clapboard houses surround an appealing campus that sits on a hill near Penobscot Bay, overlooking Castine Harbor. (Town and campus in photo above.) Much of the town doesn't look too different from how it must have looked in 1779, when Paul Revere and other Americans on the Penobscot Expedition were routed by the British here.
But it's not the charm of the place that is the principal attraction to students who apply here; the career preparation is. And the waterside, small-town tranquility that envelops MMA belies the institution's high-tech underpinnings, which I'll touch on below.
This is a college whose student body is largely self-selected. As one professor told me, "dabblers don't come here." Highly directed students who know what they want to do are the kind of people who matriculate at MMA. Application numbers are at all-time highs for admission to this public four-year college. This year's tuition ranges from $9,080 for in-state students to $19,900 for out-of-state students, with students from some other New England states paying $13,620. Financial aid is, of course, available. And as an indicator of the success MMA's students typically enjoy, Bill Brennan told me, "The default rate on the loans we issue is around 1.5 percent — as opposed to 12 or 13 percent at most institutions." Undergraduate enrollment has climbed to nearly 1,000. According to President Brennan, the place is "bursting at the seams" with students eager for the education obtainable here. "Enrollment is slipping in lots of colleges around the country, but we're beyond capacity here."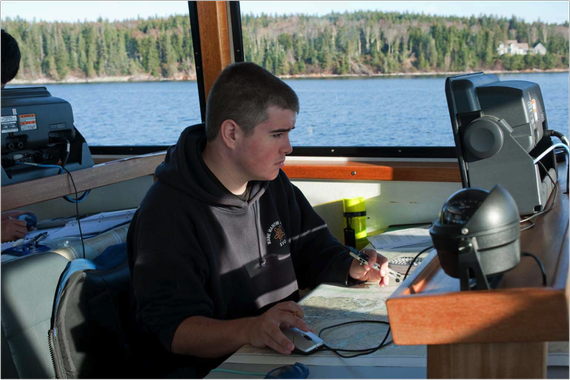 They come to study to be navigation officers (ultimately, captains and pilots) of huge ocean-going vessels as well as smaller ships. (Did you see Captain Phillips? If so, then you've seen the kinds of jobs some of these students train for.) Some come to major in engineering – learning to design, install and operate power-generation, hydraulic, electrical, and other systems on vessels and in shore-based utilities. Still others come to the business school to study global logistics and business operations in international trade.
Increasing numbers of MMA students come to study marine science and marine biology, many doing a dual-degree option in small-vessel operations, which prepares them to work in various fields of ocean science where they may also need the capability to operate small research craft ("small" here means vessels not over 200 gross tons). That particular combination is very popular and, one professor told me, "golden" in its career prospects.
And that's the point. Whatever their course of study, young people enroll here because they know their education will prepare them for a career, typically a quite lucrative one. MMA understandably boasts that each year it places more than 90 percent of its graduating class in professional employment or graduate studies within 90 days of graduation, many of those with starting salaries over $100,000. At a recent career fair on campus, 80 companies showed up to recruit MMA students, many of whom already have firm job offers well before they're seniors.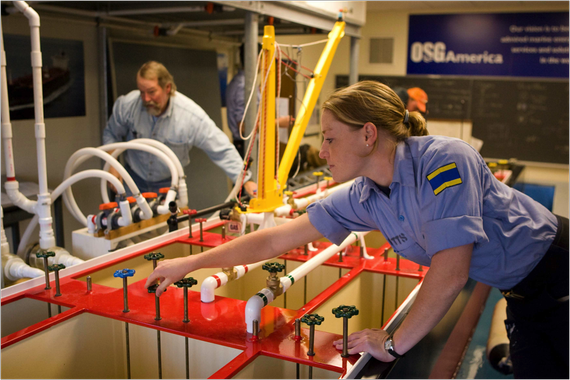 When you walk around the MMA campus, you see many students in the khaki or blue uniforms of midshipmen. Approximately 60 percent of MMA students are in the "regiment of midshipmen," mostly those seeking an unlimited license in the U.S. Merchant Marine. But regimental training – with its uniforms, leadership training, discipline, and additional duties (though no military obligation after graduation) – is open to all students. The regimented and "traditional" students attend the same classes, participate in the same clubs, Division-III athletic teams, and other activities.
What struck me at MMA was how much hands-on experience these students get. (Video here.) Everybody gets cooperative-learning experience, appropriate to their educational and career goals, either aboard vessels or with companies involved in industrial manufacturing, logistics, engineering, oceanographic research, or marine biology.
And the on-campus training is enriched by impressive high-tech facilities, as I mentioned above. For example, I was awed by the state-of-the-art, computerized navigation simulator (seen in photo below), used to train deck officers. It's in the campus Center for Advanced Technology, in a large room set up like a ship's bridge. A semicircle of 55-inch flat-screen monitors provides students with real-life simulations of port approaches and harbors anywhere in the world. The day I was there, the harbor on the simulator's screens was New York. It was so authentic that I might as well have been looking from the Staten Island Ferry – and so realistic that people have gotten seasick in the room.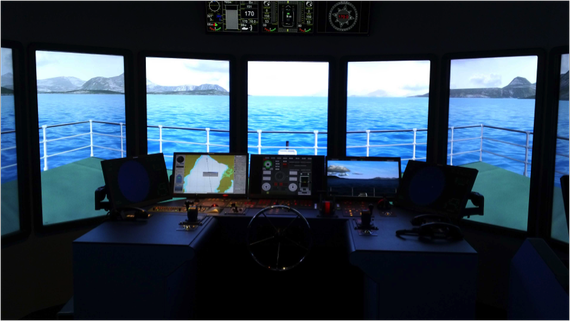 The instructor can call up simulations of full darkness, heavy fog, and various untoward incidents (approaching vessel, collision, man overboard, etc.) to challenge student navigators in all sorts of situations. This simulator also includes controls for Dynamic Positioning (DP) systems, a technology that enables precise maneuverability for offshore oil rigs, tugs, and large passenger ships, thus allowing students to get training necessary to handle the newest, most advanced marine vessels out there.
Students in certain programs are required to take two training cruises of at least 60 days – one each at the end of their first and third years. These cruises, aboard the State of Maine (large ship pictured below) orient students to a ship's deck and engineering areas, and provide specific hands-on experience in the students' areas of major. And in the summer after the sophomore year, students in some majors are assigned to merchant vessels for several months of additional shipboard experience. Others, like students studying business and logistics, must get a co-operative work experience with a company, lasting a minimum of twelve 40-hour work weeks, at the end of the third year.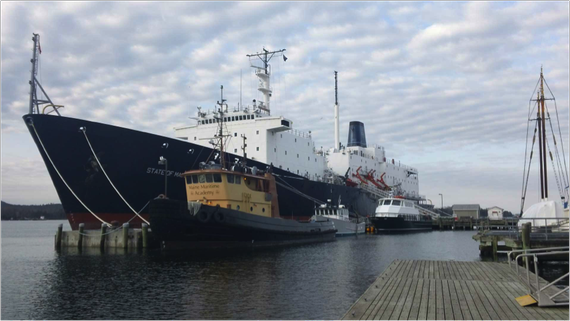 So, a large part of the extraordinary success MMA graduates have in getting good jobs right after graduation has to do with the experiential training they get at the academy. As Bob Peacock put it, "these students learn how to do things. We teach how to make it happen."
The other part of MMA graduates' success comes from the fact that they've been training for careers where there's extraordinary demand for employees. The international cargo shipping industry is growing so fast that it's hard for American flagships to find qualified navigators and engineers. International businesses need people skilled in the kind of sophisticated logistics contemporary world trade demands. And as people around the world look to the oceans as a growing source of food and natural resources, those trained in marine biology and marine science are in high demand.
Here's what's important and interesting about all this. The kind of education provided at MMA and America's six other maritime academies is not familiar to most Americans. Most of us, I would wager, have only the slightest idea what goes on at these institutions. That's too bad, because what's going on is some of the most compelling education to be found anywhere.
And in an era when angst about whether the benefits of a college education are outweighed by the staggering costs – and when many critics of American higher education bemoan the banality and uselessness of what happens on college campuses – the Maine Maritime Academy provides an arresting antidote to those negative narratives and to the notion that we're headed downhill. This is the kind of place that makes America work. And succeed.