Yesterday I mentioned that I had innocently rolled up in a benign-looking puffy little white airplane and found myself sitting next to what looked like Darth Vader's personal jet. This was on the ramp outside the elegant Luxivair terminal at San Bernardino airport in California. Here was the scene yesterday: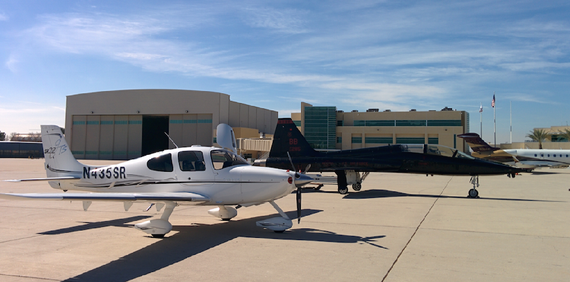 What was this all-black airplane? Which even though it had Air Force insignia on the side didn't look like anything I was used to seeing?
Thank you, Internet! Readers pour in with answers. For instance, from a former Air Force officer:
The picture you posted of the black T-38 is a companion trainer from Beale AFB. U-2 pilots don't get enough flight hours to keep all their currencies up, so they fly around in those black T-38s to stay proficient.
And from another Air Force veteran who looked at the photo very closely:
The BB tail code on the bad-ass looking T-38 you parked on the ramp next to signifies Beale AFB. The U-2 squadron up there uses them to keep the pilots that are still flying the U-2 current for basic airmanship, since U-2 sorties are relatively few and far between and a pilot needs to fly a certain number of hours each month to be safe in the air, as you know.
Here's what the U-2 itself looks like, so you can see the similarity in paint scheme if little else: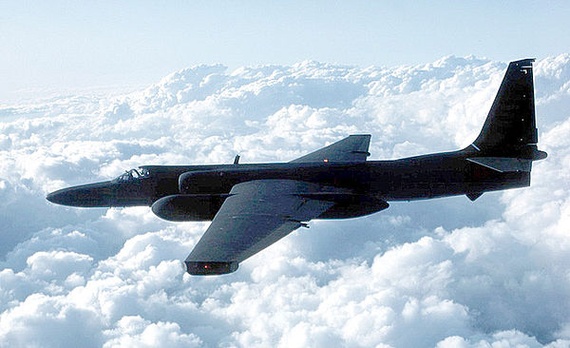 And, from a fellow small-plane pilot:
A little googling (search on: black T-38) suggests that the black-with-red-trim T-38's are unique to Beale AFB and are flown by the U-2 pilots based there for currency. Given where you met one, that fits.
For good measure, here is one of the U-2s shown coming in over Beale itself, which is north of Sacramento: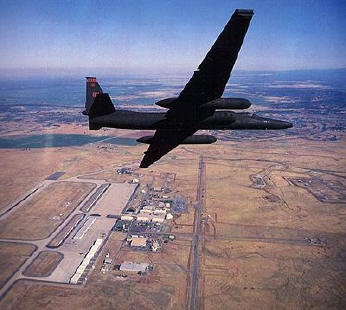 Now I know. Thanks to all.
---
Update From another pilot:
The aircraft you posted a picture of is a T-38, and the BB on the tail flash denotes it is from Beale Air Force base. The U-2 pilots stationed there use the T-38s to maintain some of their flying currencies, I assume due to lower operating costs. The black color and lettering is the same scheme as their primary aircraft. They probably have requirements for off-station instrument approaches and landings, which may be why you saw one at San Bernardino. The B-2 pilots from Whiteman Air Force base also fly matching colored T-38s for the same reasons.

The T-38 is a great aircraft. I flew more than 1200 hours in it, but in many ways I would rather have the means to own a Cirrus (yours looks great, by the way). I have shared several moments of mutual admiration at FBOs like the photo you posted. Different shades of grass, I suppose.