A big question in national politics this year is what exactly "engagement" means, beyond showing up at rallies. As Yoni Appelbaum pointed out last week, Donald Trump supporters are notable for their low level of other forms of civic engagement: clubs, teams, volunteer groups, or anything that involves being more than a spectator. Although Bernie Sanders still has fewer votes and delegates than Hillary Clinton, his success in the caucuses suggests how engaged his supporters have been — and so the question for the Democratic party and the progressive cause is how many of them stay engaged this fall and beyond. And so on.
A big ongoing theme of the "American Futures" reports my wife Deb and I have presented is how different you would feel about circa-2016 American society if you observed it community by community, than if you mainly watched the political rallies and debates. In nearly every place we've gone, it's been easy rather than hard to find groups and individuals devoting time, money, passion, ingenuity to improving various aspects of their civic life. You can read about it here.
Thus I was very interested to see the announcement yesterday from the John S and James L. Knight Foundation of Miami, whose motto emphasizes its support for "informed and engaged communities," of the winners of its Knight Cities Challenge Grant.
This Knight program is in its second cycle. Two years ago, it chose 32 winners. This time, it awarded a total of $5 million to 37 winning programs, chosen from 158 finalists and more than 4400 total entries.
According to Knight, they judged the entries on three main criteria:
Talent ("Cities are stronger for everyone when they can attract and keep talented people. People, both younger and older, are returning to cities in record numbers, looking for the best of city life.") Opportunity ("To succeed, cities need to create places where people of diverse backgrounds and income levels can connect. ") And Engagement ("Cities need spaces and programming that enable people to come together and help shape their city's future. ")
You can see the whole list of 37 winners here. An announcement I got about the program said:
The projects range in focus from encouraging entrepreneurship to rehabbing vacant lots and other public spaces. One would use hip-hop to provide low-income communities hands-on business training. Another would convert unused shipping containers into pop-up shops for local artisans. And one winner in sunny southern California would transform a public park into an outdoor workspace to encourage local entrepreneurs.

From Akron to Tallahassee, Grand Forks to Ft. Wayne and Long Beach to Milledgeville, this year's Challenge winners highlight the creativity and resilience of the American people. They show the ways engaged citizens are working to empower their neighbors and redefine what city life can mean in 21st century America.
Sounds good to me! I spoke with the people involved in three of the projects to get the backstory on how their projects evolved and what they hoped to do with their grants.
---
Detroit: The Dequindre Cut Market.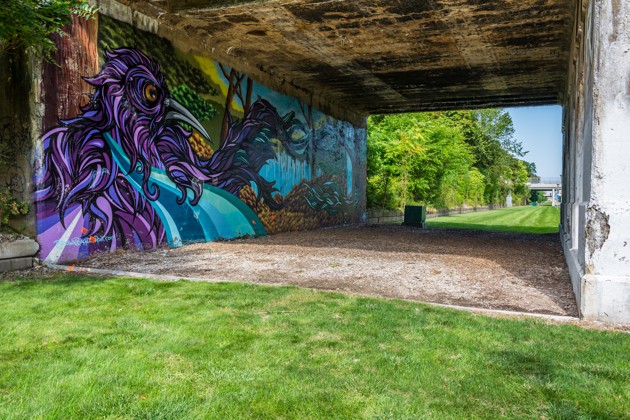 The $165,000 grant to the Detroit Riverfront Conservancy is to extend their work (which Knight has previously supported) in improving and revitalizing a total of 5 ½ miles of riverfront, with parks and gardens and commercial areas. The Riverfront Conservancy has also worked to connect bike paths and running/hiking trails in greenways through the city.
Later this month a new greenway area in the Dequindre Cut will have its official opening. The winning project proposes to support new local businesses in the downtown riverfront area by using shipping containers as sites for pop-up retail stores. "Rather than try to set up brick-and-mortar store fronts, we thought it would make sense to allow the flexibility of using containers for these little pop-up stores," Marc Pasco, of the Riverfront Conservancy, told me. "We thought the shipping containers would be cool, along the Detroit riverfront, where there's a lot of shipping — it's a nice thematic tie-in. And there are a lot of containers sitting around that can be put to use!"
---
Akron: Innerbelt Bike Park.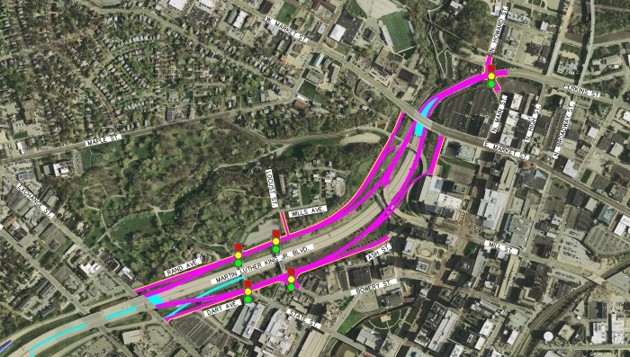 Two years ago the city of Akron, Ohio, decided to pull the plug and close the "Innerbelt," a six-lane road that was once intended to modernize the city by connecting its downtown to Interstate 77. The question was what to do with the newly available 31 acres of potentially valuable urban land.
Leave it vacant? "It troubles me that we will end up with a huge piece of concrete," an Akron resident said at a public hearing. "I'm afraid it will look like a parking lot at Rolling Acres Mall [an abandoned site]." Open it for development — when the city already lots of vacant office space? Something else?
Jonathan Morschl, a designer by trade and engaged-citizen by avocation, proposed turning the property into an urban mountain-bike park. "We had community forums, where the main idea was to activate the area as a public space," he told me. "My idea was to add it to what people already appreciate, which is our park system — the biking and hiking trails. As we took that thought and applied it to all the vacant land, the idea emerged of the urban mountain-biking park area." That is what Knight is giving $120,000 to support.
Morschl pointed out that the newly available land is near existing towpath trails. "People could be on that trail, then hop off and use the park — or it could attract more people to come downtown. Hopefully it could reconnect the fabric that was disrupted when the highway was first put in."
When I asked him if there were any drawings or schematics of what he had in mind, Morschl said no — but that a similar under-freeway park in Seattle illustrated the possibilities. Here is what that looks like, underneath I-5: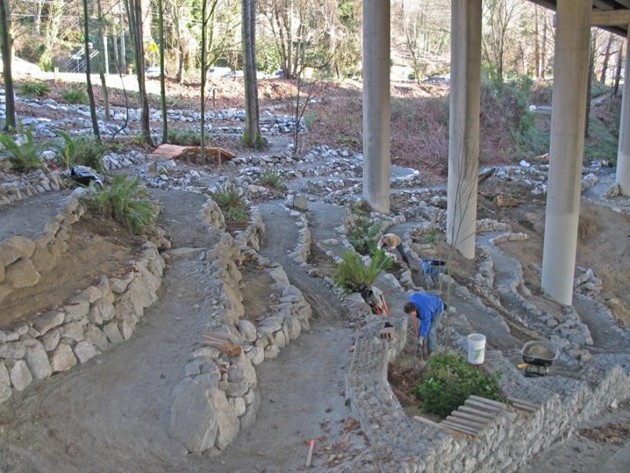 ---
Lexington, the Phoenix Forward library and park project.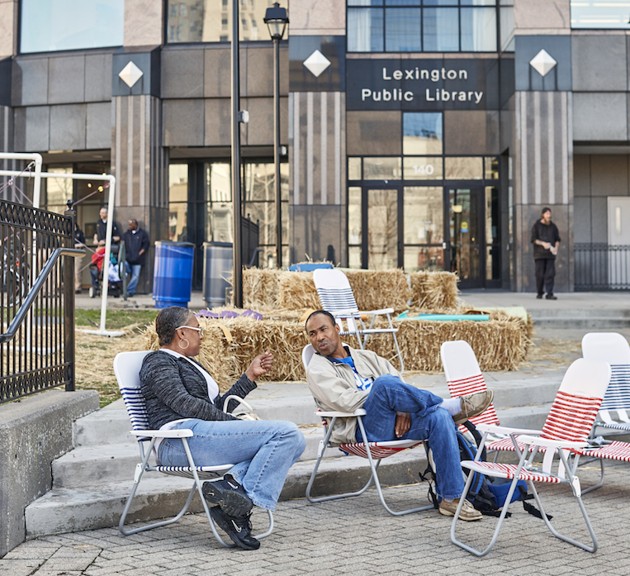 Like the many other libraries we have seen (and Deb Fallows has described) around the country, the public library system in Lexington, Kentucky, is involved in a lot of ambitious civic-engagement projects.
"Our Central Library is literally at the center of Lexington," Anne Donworth, development officer of the library system, told me. But around it is a concrete-heavy urban space, and Phoenix Park, which she said often is a gathering place for an "at-risk population," including street people and the mentally ill.
"We would like to bring the library out, and the park in," she said. By this she meant bringing some library attractions and services outside its walls into the surrounding park. "We can take reading materials out, wifi hot spots, librarians to provide services." Inside, the library offers services like those Deb has described in other parts of the country: an art gallery, a theater, homework help for students, a range of classes.
"We want to make this as inviting and user-friendly a space as we can," Donworth said. "We'd like to activate this whole space, get more people downtown, and make it a place where people of diverse backgrounds can learn and play together. Because of where we are located this can make entire downtown more inviting." Knight has committed $150,000 toward this end.
***
I haven't seen any of these sites first-hand, but will try to visit some of them and the other 34 on Knight's new awardees list. There's a lot of action, and engagement, going on all around the country.