Here we see the on-draft menu from the Beer Garden in Starkville, Mississippi — the kind of place where recently you might have expected to find Bud, Bud Light, and Corona.

You probably can't read the beer list, so I'll clarify that on draft it offers beers from: Crooked Letter brewery in Ocean Springs, Mississippi; Southern Prohibition Brewing in Hattiesburg; Bayou Teche/ LA 31 brewery in Louisiana; and Yazoo Brewery in Nashville, Tennessee. Plus Sierra Nevada and Green Flash from California. This is the new America.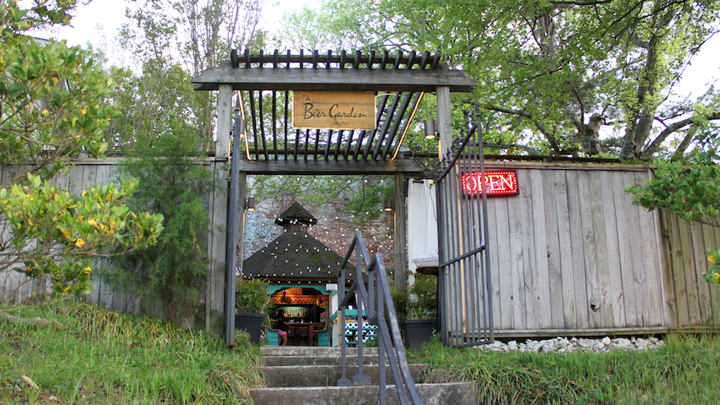 If you were in Starkville, you could go here tonight.
Also, as a big IPA fan, I note (following this item) that few of the craft beers on the extensive listing are the too-alcoholic, super-hopped Double- or Triple-IPAs. From a reader in California on this trend:
My observation lately has been that the trend of the last decade or so toward heavily hopped beers has plateaued. Retail options cover a wide spectrum, with sours and farmhouse saisons noticeably occupying more shelf space.

Perhaps this is a function of my geographical location, Berkeley, California. Still, I saw the same array early this year in NYC at Grand Central Station in a tiny boutique featuring a remarkably large and varied supply of beers, some from the Northeast, and some from my neck of the woods. Trader Joe's in Southern California, by the way, sells Hangar 24's marvelous double IPA for $1.50 less per 22 oz. bottle than I see it where I live.

Another trend, sadly, is the rise in price. This is due perhaps to a hops shortage or to increasing demand for funky new craft beers. Painfully, I have had to reduce my intake to maintain a budget. I might have to solve the problem altogether by joining still another trend, the home brewing hobbyist.
That is all. Except the other half of the research team, at work.