The original plan for our American Futures series was to exclude precious "college towns" from the list of places we would visit, even though they tend to be interesting cities and appealing places to spend time. So, no Princeton, New Jersey; no Hanover, New Hampshire; no Ann Arbor, Michigan; no Charlottesville, Virginia—and so on down a long list. The exception, early on, was Burlington, Vermont, which we visited for a variety of other reasons.
As it has turned out, most of the towns and cities we've visited have had colleges or universities in them, save for the smallest towns such as Ajo, Arizona; Eastport, Maine; and Winters, California. But we largely stuck to the plan to avoid towns or cities that are known primarily for hosting a college or university and that are anchored economically by those institutions—until last week, that is, when I visited Boulder, Colorado, home to the main campus of the University of Colorado.
As in the case of Burlington, Boulder's precious- college-town status isn't what drew me there, but that quality is inextricably tied up with what did attract me—an annual, weeklong event known as the Conference on World Affairs, which I previewed here. More about the conference below and in coming posts, but first let's look at Boulder as a college town and as the host of this conference.
College towns are not typical American cities. They tend to be prosperous, insulated from severe economic downturns by the presence of an educational institution that serves as a bulwark, protecting and stimulating the local economy even during recessions. College students spend money, supporting restaurants, bars, coffee shops, other businesses, and the local rental-housing market. Even the local condo market gets a shot in the arm as wealthy parents buy condos for their kids.
Unemployment tends to be lower in college towns than elsewhere. Other indicators also point to their atypical character. Their populations tend to have high educational attainment and large proportions of working-age residents; and compared with non-college towns, their populations tend to be more racially diverse, and to be healthier and more fit (as measured by a variety of health-related statistics). On the flip side, college towns tend to have higher costs of living than the average city. (As with any generalization, there are exceptions on all these dimensions.)
Boulder itself is a typical college town in all these respects and, in fact, is an exaggerated version of the type in many ways. CNBC ranks Boulder the third-most expensive college town in the United States, coming in behind only Berkeley, California, and Princeton, New Jersey. It has an unusually high concentration of people with PhD.s (even among college towns), owing in part to the presence in Boulder of federal-research agencies such as the National Center for Atmospheric Research, the National Institute of Standards and Technology, large laboratories for the National Oceanic and Atmospheric Administration. And Boulder is on most lists of "best places to retire" in the U.S. and has, in fact, attracted a large number of retirees, many of them people who attended college here. (Here is a long list of "top" or "best" lists on which Boulder finds itself.)
My point in emphasizing Boulder's distinctiveness is to explain how an event like the Conference on World Affairs has persisted and thrived here for many decades. The conference is unusual in many respects: Its speakers, who appear on multiple panels over the course of a week, receive no remuneration, not even payment of their travel expenses; when they are in Boulder, they're lodged not in fancy hotels, but in the homes of local residents who volunteer space; and although the conference is supported and administered by the University of Colorado, which pays a small staff to run it, perhaps its most remarkable characteristic is that it is largely organized and implemented by hundreds of volunteers from the community—students, retirees, and others—who collectively contribute tens of thousands of hours in the service of this remarkable exercise in civic life.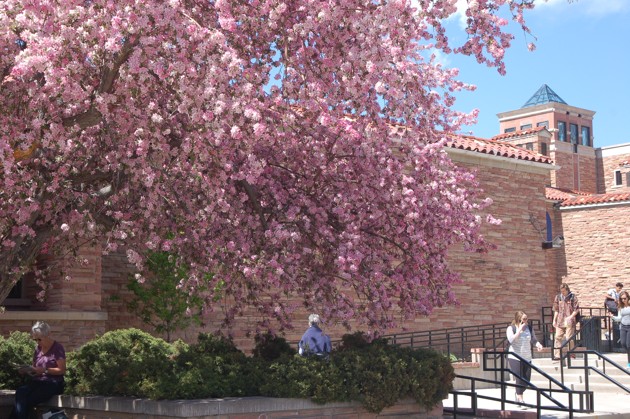 Seeing the conference in action over the course of last week, I found myself wondering in how many other American communities such an event might flourish and survive. Not many, I bet. Pulling something like this off requires contributions of time and effort from lots of people with large, discretionary amounts of each. It also requires a community of residents who can draw on their experience, knowledge, and contacts to reach out to a diverse, group of notables and put together interesting panels on a range of topics sure to attract audiences.
On that score, Boulder's unusually large number of high-net-worth individuals is a big help. Conference organizers rely on many of these well-connected people to use their connections to tap friends and networks in finding speakers for the conference. There's more than a little ego at play as people boast that they can "reach out to a friend" at Fox News or Google, or "call my friend" the celebrated journalist, professor, pundit, activist, philanthropist, or entrepreneur (take your pick).
Maintaining a longstanding event of this sort also takes a community of a certain size, a place like Boulder or Ann Arbor or Madison or Berkeley or Cambridge. But the fact that we see this event occurring in Boulder and not those other places isn't because Boulder is different from those other university towns in important ways, but rather, I would argue, because the event is already there—and has been for 67 years.
Institutions like this conference tend to persist over time. They persist because people involved in the early years become committed to maintaining its existence, and newcomers who join the endeavor carry on that desire to see it endure. Keeping such things going is not easy, but it is far easier than starting them.
That said, it's also true that there is a special vibe in Boulder that is found to a certain extent in most other major college towns. But in Boulder this vibe resonates at a higher frequency. I'm referring to a spirit of community soaked in Bohemian habits and values. Boulder is, in short, a haven for aging hippies. And the kind of civic engagement that thrives on a self-conscious embrace of "community" is exactly what Boulder offers—and what a long-lived event like this requires.
There's nothing wrong with any of that, of course, but all this is part of the explanation of how a community-driven event of this sort persists over time.
The Community as Conference-Goers:
Although every panel I went to had some students attending and asking questions, the vast majority of audience members at every panel I saw consisted of residents from the community, most of them over 60, by my estimate. As if they were playing a part in acting out a self-parody of Boulder, a surprisingly large number of the older men had white ponytails or shoulder-length hair.
The Monday morning the conference started, I was waiting for a bus at a stop near the VRBO rental I had for the week. I had been sitting on the bench for about five minutes when a craggy-featured man in his late sixties with long white hair and an Aussie hiking hat showed up to wait for the bus, too. My immediate guess was that he was going to the Conference. We sat in amicable silence for a minute before he asked me if I was "heading into the Conference?" After I confirmed that I was and we exchanged a few pleasantries, I got to thinking about what the brief exchange meant. He had never seen me before, knew nothing about me but my approximate age and whatever other demographic characteristics he might discern, and immediately assumed I was going to the Conference. The exchange confirmed what I had already heard about how Boulder's older residents are the mainstay of the conference audience.
So, when the bus dropped me off near the university building where the conference was headquartered for the week, I was not surprised to see that it appeared to have been taken over for the day by a convention of AARP members. But these weren't just older people; they were oldsters of certain distinctive types: aging hippies in Birkenstocks; aging athletes in Under Armour gear or Patagonia shirts and sports shoes; and wealthy-looking WASP-types with expensive eyeglass frames and Façonnable shirts. It was quite a menagerie.
But whatever their outward appearance, they all seemed to share two common characteristics: curiosity and excitement. Everywhere, people were studying the 60-page program that describes the scores and scores of panel discussions stretching out in the week ahead. They were like new college freshmen, excitedly perusing the course offerings for the coming semester. And as I watched people in my age cohort at panel sessions over the course of the week, I noticed that they maintained an intense, avid interest in the proceedings. I saw nobody nodding off.
I'll have more here in the coming days on what people at the conference had to say on themes we've been developing in our American Futures reports.