Winters, California is a small agricultural town of about 7,000 people, some 60 miles northeast of San Francisco. It's the kind of small town that leaves a stamp on people who grow up there, many of whom look for a way to stay or return if they possibly can. If you fall in love with someone from Winters, be forewarned that you'll probably end up settling in Winters. I heard that story from several young spouses who married into Winters families, and who live there happily now, raising their young families.
Winters farmers grow grapes and tend orchards of stone fruits, nuts, and olives. You can tell a native by the pronunciation of the word "almond": "amun," which rhymes with "famine." The joke goes that you have to shake the almond trees so hard to get the nuts to fall, that you shake the "L" right out of the "amun." Winters is attracting tourists now with its award-winning, locally-produced wine, its own microbrews and locally-made cheese, and its old and new restaurants and renovated main street.
There is a new library in town, built in 2009, located right next to the town's high school and the community swimming pool. The Winters library is ahead of many others in its natural collaboration with the high school. When the library opened, it was designated as a joint-use facility. On school days, the school librarians actually staff the public library in the early morning hours so that students can use the library before its regular opening hours.
Since we were in town on a very warm day, I stole away to the community pool to swim some laps. The entry fee for outsiders like me was one dollar. Afterwards, I stopped by the library and found a gaggle of 10-year-old boys huddled over computers, probably playing video games. I wasn't surprised to see them. Like in many other towns we've visited on our American Futuresproject, libraries serve as a gathering place for kids after school and during the summers, often for the summer reading programs or after school homework help, or get-ready-to-read programs for the littlest ones.
One thing I wondered about as I visited libraries over the past months, (see here and here, for example) was whether librarians might feel like babysitters, or if having so many footloose kids hanging around might make them resentful in some way. I've learned to stop asking that question. One after another, library directors described to me how they see their mission as serving the community, and attracting kids after school and during summertime is an opportunity not an obligation. In Winters, the young librarian told me that the only issue about having kids hang out at the library was when parents would call in too often with distracting requests to see if their child was there, or to pass on messages, or just to check up on them.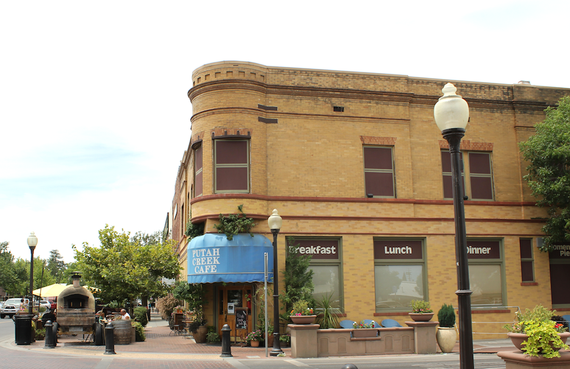 Rebecca Fridae, a teacher in the Winters schools and one of the active members of the Friends of the Library (also here), brought together several Friends for coffee one morning in the bustling Putah Creek Cafe. They told about their array of projects and events, quickly reeling off such a long list that I nearly ran out of pages in my notebook.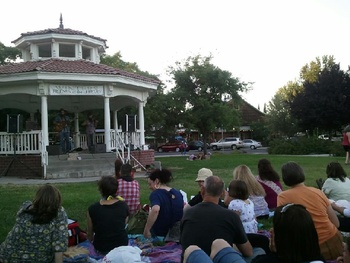 There are concerts at the gazebo in the park, movie nights, armchair traveler's tales, a trivia quiz event, literacy training, and ESL tutoring. And for the little ones there are story times, a family festival at Christmas, and a Dia de los Ninos. There's a Shakespeare workshop for the teenagers. One year, the library organized three evenings of historical presentations about the town, called "Coming to Winters," featuring the arrival of the Spanish in 1918, the "Okie" migrations in the 1930s, and the Mexican immigration after that. Many of the town residents, which is now about 52 percent Hispanic, identify with one or another of these migrations.
I loved hearing about the Books for Babies project: Each new baby in town is given a box with t-shirt, bib, a knit cap, information on the library, an application to join, and best of all, books in a choice of Spanish or English. The Friends member who manages Books for Babies was keenly surveying the cafe that morning, with a sharp eye toward potential or new moms she might have missed on her usual rounds. She said she tracks the hospital birth announcements and also does stroller-spotting as she goes about their small town.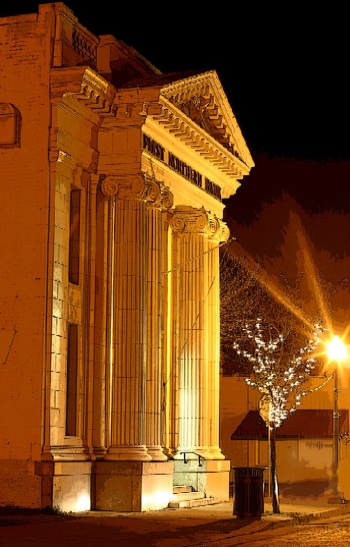 And like what I've seen in other town libraries, some of the library projects are very place-oriented. In Winters, two of the local commercial nurseries, Sierra Gold and Four Winds, stopped mulching their extra trees each spring and instead donate a big portion of their leftovers to the library to sell. Last spring, the library received at least 500 bare-root almond, citrus, and cherry trees and sold them all for $10 apiece.
The Friends are also moving creatively into the digital age. They operate an Amazon bookstore, sorting, posting, and shipping books via Amazon for a profit. They also initiated a big push called "Big Day of Giving," which raised more than $20,000.

A decade or so ago, Winters undertook a book-writing project of their own and produced an oral history collection from a wide variety of town residents. It's called Winters Tales. One of the oldest residents told about heading out for California in a covered wagon. Another told tales of the Japanese-descent farmers from town who were sent off to internment camps during the war. Another younger resident told of arriving with her family as an 8-year-old from Mexico, having made their way up the Central Valley picking tomatoes and walnuts, and finally stopping in Winters where they lived in a garage for their first 6 months. I was taken by the story of Bobbie Greenwood, a beloved older resident of Winters and for whom the community pool is named, who demonstrated how well the town can come together in its common interest. From the book, Winters Tales:
I was born in Oxnard, California. My parents were farmers. My grandparents had a large lemon and walnut ranch. So one of the reasons it was so wonderful for me to come to Winters was because of the rural area.

My major in college was physical education, and swimming was my thing. We hadn't been here very long, it was 1961, when one day Eddie Tufts said, "Bobbie, we need to do something about a swimming pool." … So (we) worked, went around and got everything organized. There were a lot of people who helped. We decided that it should go at the high school, so that it would be used by the high school as well as the community.

So we went to a bond election… Of course the bond passed, and we've had that pool ever since.
This is a story of how pieces and players in a small town—in this case, in the school, the library, and the swimming pool—can fit together to make better lives for families. It may sound small, but imagine life in Winters with lesser versions of all of these.