Over the past six months, I've done a long series of posts on the case for, and against, and then again for the north-south high-speed rail project that Jerry Brown has made a test of his legacy as governor, and that is the most ambitious infrastructure project underway anywhere in the country.
The purpose of this post is to be a one-stop index and compendium of these posts, with a few updates. First, the updates:
1) "Why Today's High-Speed Rail Launch is Miraculous," by David Dayen in Salon. Dayen is a writer based in Los Angeles whose view on many topics is different from mine. But on this one we are in sync. He makes the case for this project as an extension of previous, big, long-term, mocked-at-the-outset efforts that have reshaped our lives for the good. Eg:
Gov. Brown, who really willed high-speed rail forward in 2014, obviously sees it as a legacy project, similar to the University of California system, intra-state highway network and water infrastructure built by his father, Pat Brown, the governor from 1959 to 1967. Those investments drove the state's prosperity for decades, and the rail line could be a more sustainable component of that growth in the future.

But building out high-speed rail has implications for more than California. Americans have effectively given up on a visionary politics, as the 2014 midterms exemplified…. But those who would drown government and create an own-your-own society cannot explain away the Hoover Dam, or the New York City subway, or the roads linking Maine, Florida, Arizona and Idaho.
2) "A Sharp Contrast in Visions for America's Transportation Future," an editorialon the day of the ground-breaking in the Sacramento Bee. Sample:
In 2008, many Republicans supported the high-speed rail bond measure. Now that Obama and Brown support it, many Republican politicians have flipped….

The view of the Central Valley Republicans is disconnected from the region they represent. The U.S. census recently ranked Fresno as the second most impoverished metropolitan area in the nation… The Central Valley perennially has some of the nation's dirtiest air and highest rates of asthma. Clearly, more gas-powered automobiles and additional freeway lanes, themselves costly, are not the answer.

Fresno Mayor Ashley Swearengin, a Republican, is an exception, contending that the rail will give her city a much needed jolt by making Fresno "the essential connecting point for Northern and Southern California."…

As evidence mounts about the impact of climate change, this nation must find alternatives to oil. One such alternative began to take shape in Fresno on Tuesday. Yes, it was rife with symbolism. The rail won't be carrying passengers for years. But it was a start, and a wise step into the future.
3) Update: "Five times as many passengers using China's HSR network than in 2008." Rocky grammar, interesting data point.
---

Now, the compendium. In order, the installments were:
1) "The California High-Speed Rail Debate: Kicking Things Off." An introduction to the role of big infrastructure projects in American history, from the Louisiana Purchase and the Erie Canal onward. Also this contained the first link to a powerful interactive map created by UC Davis and Esri, which allows you to see the staged development plans for the railroad and overlay them on economic and environmental indicators. Plus links to various economic and environmental impact assessments.
2) "The Critics' Case." Cost-overruns, impracticality, and other drawbacks.
3) "Let's Hear from the Chairman." Dan Richard, chairman of the High-Speed Rail Authority, gives a detailed reply to some of the critics' contentions.
4) "7 Ways in Which High-Speed Rail Would Help California, According to its Chairman." Richard goes on to make the positive case.
5) "10 Readers With 10 Views." Voice of the public.
6) "Some Views From the Valley." Readers from the state's low-income, high-unemployment Central Valley comment on the project.
7) "The Courts Speak Up, and So Do Some Readers." A major court ruling last summer that removed an impediment to proceeding with the plan.
8) "More Questions and Concerns." Reader concerns mainly about ridership estimates, earthquake safety, cost overruns, etc.
9) "The Chairman's Turn Again." Dan Richard responds to the issues raised in #8.
10) "Palate Cleanser." A (relatively) brief entry on the question of how and whether 21st-century America can decide on infrastructure projects whose full value might not be felt for many decades.
11) "Thinking in Time." An extension of the point in #10. This also has been an increasing theme in Jerry Brown's speeches, based on his references to medieval masons work on cathedrals whose completion their grandchildren might see.
12) "All Aboard!" Mainly reader mail on the effects of rail networks.
13) "Let's Look at Maglev and Other Alternatives." On whether the "futuristic" high-speed rail network is already out of date.
14) "Why You Shouldn't Get Your Hopes Up for the Self-Driving Car." On one popular futuristic alternative to rail systems.
14 1/2) "California High-Speed Rail: It's Happening." Shortly after the 2014 elections, Jerry Brown announced that on the first full day of his fourth and final term, he would go to Fresno to break ground for the rail system. This is No. 14 1/2 because I had promised that No. 15 would be the grand finale.
14 3/4) "Is the Winning Bid Suspiciously Low?" The first bids for system construction came in far under estimates. Is that a problem?
15) "A Minor End, an Important Beginning." Last week, on the day of the ground-breaking, I explained why I thought that the centuries-long record of American infrastructure investments argued for going ahead with this one.
---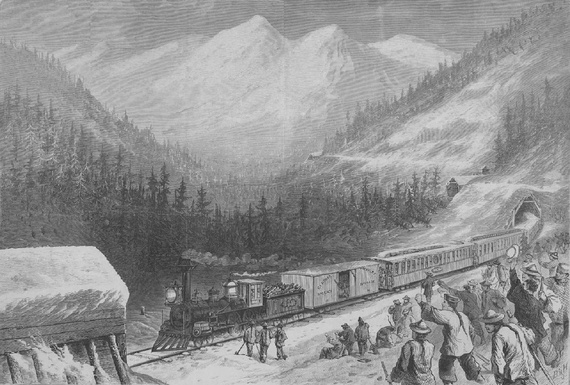 Thanks to the hundreds of people who wrote in, pro and con. On looking through the past installments, I am once again impressed by and grateful for the range of expertise, the passion, and the English-composition skills in the diaspora of our magazine's readers. I am also impressed by the range of California-specific art work, commercial art, photography, and other images on the theme of transportation. I've used scores of those and am grateful in particular to the excellent Calisphere site for its riches. While I'm at it, I'll also mention that Calisphere and its parent University of California system are of course themselves examples of public infrastructure investments with wide-ranging benefits.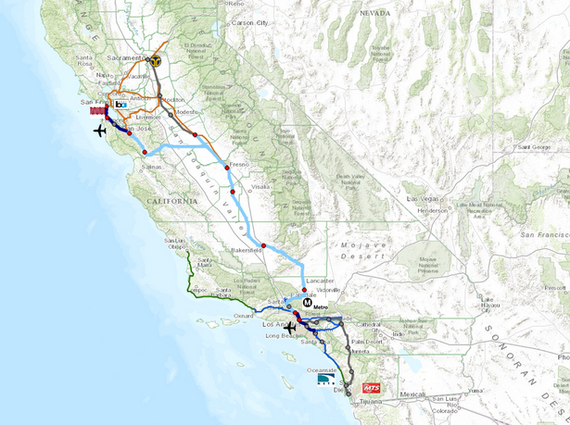 All aboard.