Riverside, California is betting on its downtown pedestrian mall, contrary to the contrarian bet of Fresno, which is reopening its pedestrian street to cars, as Jim Fallows has reported here. (And for background on Riverside and the nearby similar-but-very different city of San Bernardino, see Jim's previous post here.)
Fresno closed its downtown Fulton Street to traffic in the early 1960s. Riverside was part of that same early wave in creating pedestrian-only commercial street back in 1966. In 2008 the city doubled down, investing another $10 million to renovate and upgrade with landscaping, lighting and to add outdoor benches. We'll have more to say about the rationale behind the second re-investment soon.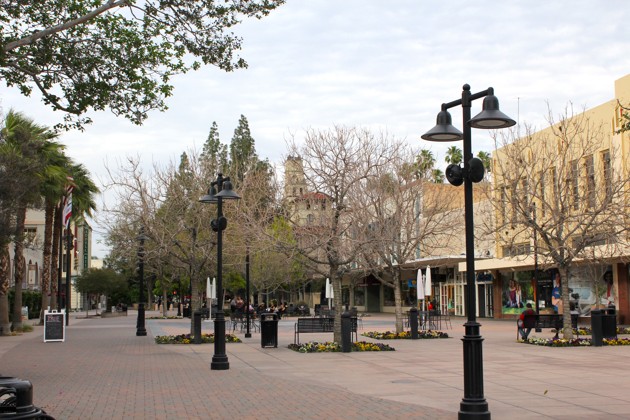 Jim and I walked Riverside's pedestrian Main Street mall early on a lovely March morning with the city's dynamic Mayor and multi-generation native son, Rusty Bailey. We started with coffee at the top of the walking street, choosing an outdoor table where the popular mayor would be a little less likely to be spotted by patrons inside. Then we strolled with him down the length of the street to City Hall.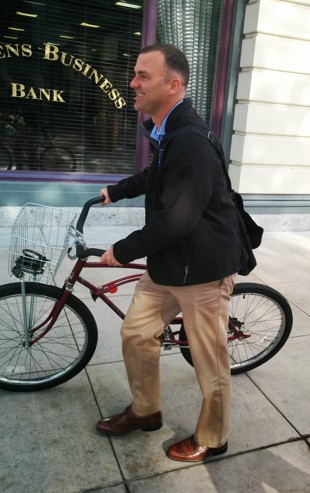 Well, we didn't stroll exactly. Bailey was pushing his bike, which he routinely rides to work, at a brisk pace, and I got the idea that "stroll" is not a word readily associated with Bailey. For context: he's a local boy whose forebears were among the region's original farmers and ranchers. He went off to West Point, served as an Army helicopter pilot and platoon leader, and then came back home to Riverside, where he worked as a public high-school teacher. He's also clearly in the category of "happy mayors" we have seen around the country: people who feel as if having influence in and responsibility for a community they care for is about the best job now available in American politics.