An unexpected satisfaction of following cities in our American Futures travels has been watching plans and projects unfold in real time.
For instance, last fall we were in Allentown, Pa., with our Marketplacecolleagues, as the city was racing against the clock to get a big new downtown arena ready for a sold-out debut concert by The Eagles. Could they possibly get the construction finished and the roads repaved and the restaurants ready and the parking snarls worked out in time for an event on which the city had pinned such hopes?

They were confident; we were dubious; but it turned out they were right. The event ran smoothly; the crowds were big and pleased; the downtown-rebirth plan so far seems to be on course (for instance, this announcement today). This fall we'll be back to see how things are going one year in.

We've seen something similar underway in Fresno, California, which is at a much earlier point on the urban-revival timeline. (I sketched out that timeline in an earlier post.)

A year ago, my wife Deb and I happened to meet Craig Scharton, a Fresno entrepreneur, publican, and civic evangelist, at a conference of California-city officials, held at Yosemite. He said that Fresno's recovery was about to happen. We were intrigued, visited Fresno for a few days on our way out of Yosemite, and then thought (but did not say), Are you kidding? But we've stayed in touch with Scharton and other locals, we've made two more reporting visits there, and as chronicled in a series of posts we have become impressed by the ways in which people in Fresno are trying to wrestle with the city's glaring economic, environmental, urban-planning, workforce, and social problems.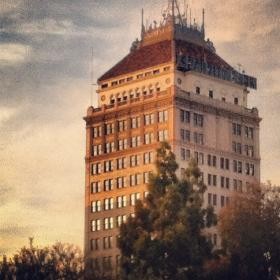 We have several installments to go, including on ways to get the area's economically left-out groups into modern tech jobs, and the edgy and aspiring arts scene in this capital of farmland California. But before that, here's a real-time update on event last night.
This was the "State of Downtown 2015" event that featured several of the figures we've mentioned before or will introduce soon, including Fresno mayor Ashley Swearengin; the president of Fresno State, Joseph Castro; and the CEO of the Downtown Fresno Partnership Aaron Blair. It was held in the downtown's historic, then run-down, now being-renovated Pacific Southwest building and drew a sold-out, standing-room-only crowd of many hundreds.

The event, which the Fresno Bee reported on here (and which is now available on YouTube here) included several formal announcements of developments we'd been hearing about. Including the formation of a new Downtown Fresno Foundation to support civic projects; the inauguration of new downtown programs by Fresno State, in partnership with the Bitwise tech organization we've described before; prize competitions for refurbished stores and restaurants; and some more.
---
Why should this matter to anyone outside Fresno? For one thing, the city is large enough, and beset enough, to be a useful case study for coping with most modern urban problems.
Beyond that, the video below, produced for last night's event, very concisely conveys the themes we have found interesting and compelling in learning about the town, which have applications in other parts of the country.
If you watch even 30 seconds into the clip, you will see "WE ARE UNAPOLOGETICALLY FRESNO" followed by "We are changing minds one visitor at the time." "Unapologetically" is of course the key word. It's not one you'd hear in Cambridge or Brooklyn or Santa Monica — but it's one that would be part of internal awareness, even if not actually said, in some other parts of the country and among some unfavored groups. Its use in the video is connected to a lot of what I respect in the rebuild-Fresno campaign.

In everything the city does is a consciousness, like what we've seen and heard in Mississippi, West Virginia, and elsewhere, of laboring under a negative external image—and often a much more destructive negative self-image. The rebuild-Fresno movement has unapologetically recognized of that problem and determined to blast right through it.

The next few installments will give details on the plans and programs some Fresnans (that's the term) have designed to move their city forward. For today, in response to the video and last night's announcements, here are a few samples of the views we heard on the self-image question.
---
Ashely Swearengin, mayor:
"As mayor I've run across this self-image question all the time. There are people who know every past failure of Fresno, and they can recite them routinely whenever we discussing something new.
"But the generation now in their 20s and 30s in do not reflect a defeatist attitude, like some of their parents. And the grandparents also don't have a defeatist outlook. They remember the city when it was on the cutting edge [and the younger ones assume they can get there again]." To illustrate the generational split, the mayor mentioned that during a recent debate on Fresno redevelopment plans, a man in his 20s had Tweeted out a proposal for a new drinking game: Every time a middle-aged Fresnan responded to new proposals with a lamentation about crushed dreams in the past, the younger Fresnans would take a drink.
Mayor Swearengin, a popular Republican in a city that has a majority-minority population and is represented by a Democratic Congressman, said that through her six years there had been broadening support for civic-improvement efforts. "Proposals went through on 4-3 votes [on the city council], and then 5-2, and now 6-1." Last month the council approved, by a 6-1 margin, an ambitious, expensive, and previously very controversial long-term water-supply plan. "So my experience makes me believe that we are breaking the logjam of that defeatist mindset."
---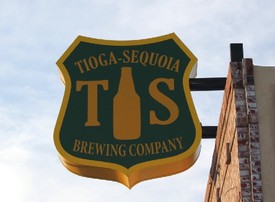 Aaron Blair, CEO of the Downtown Fresno organization that sponsored last night's event. Blair is from Ohio and had done urban-development work in Florida and Georgia before being recruited to come to Fresno two years ago:
"We we came to look at Fresno, it had this Midwest feel to it. Which we liked." [JF note: coastal California is culturally linked to the big cities of the East Coast. Interior California is the Midwest and South, transplanted westward. John Steinbeck was writing about something real.]
"I also thought it had this little chip on its shoulder, which I actually like. Cleveland has some of that same feel to it, and so does some of the South. This is a situation I'm familiar with and like coming into. You want to see if we're good enough? Just watch! And I was excited by all the potential I saw."
I talked with Blair this morning after the event last night. "I think we've changed the conversation," he said. "It's not any more, If we're going to develop. We already are. It's exactly how, and what people are doing to take part in it."
---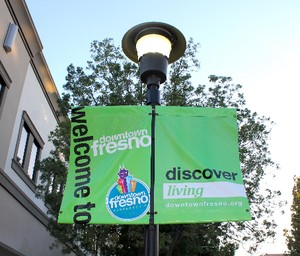 Christopher Gabriel, talk show host:Gabriel is a long-time stage actor, turned radio broadcaster, who now has an afternoon show in Fresno that followsRush Limbaugh's and Sean Hannity's. (Aaron Blair has recently been on his program, and so have I.) Gabriel grew up and spent his early working life in big-city America — Chicago, Philadelphia, Los Angeles, New York, the Twin Cities — and came to Fresno, after a stint in the also-revitalizing town of Fargo, ND, because he liked Fresno's possibilities.
I also spoke with him today about the event last night. "There was an energy and vibe in the room that was unmistakable," he said. "It wasn't just some feel good moment. I've been to enough cities, I've seen enough of them rise from the dust, to sense that this was real. It was, Let's do this. Let's create everybody's collective legacy for the Central Valley.
"Sometimes people will hear me say that and react, 'Oh you've just got this youthful energy about Fresno.' I'm in my 50s! I didn't move here just to go up to a larger market, or get more money. I moved here because I saw a city on the move, that has remarkable diversity, culinary and cultural and artistic. People here have been jaded, but if you can get outside yourself you see an unpolished gem."
---
Jake Soberal, previously introduced as a Fresno-area native who has returned to become a tech entrepreneur and (as we'll see later) increasingly an education reformer.
"What's the main thing making Fresno better? I believe that we have a generation of young people who do not want to adopt their parents' view of this place. Or the world's view. That is really, really significant. Increasingly we're able to count among those young people some of our most talented. Whereas before Fresno was famous for losing those people."
Soberal said that a number of local groups were interested in changing prevailing views of the city, from the mayor to the downtown alliance. He supported those efforts, he said. "But the group of people involved in changing perceptions is far smaller than the group of people who say, 'I don't care what you, Dad, might think about Fresno. There is real data that makes me excited about what I can do here.' That group is growing quite large, and the decisions they made are driven by data. They think, I can open a restaurant here, I can get a house here, I can build a company here. I don't care that you think Fresno sucks.
"When you give folks the freedom to be optimistic about their place and their life, they generally do good things. This shift in attitudes is very positive."
---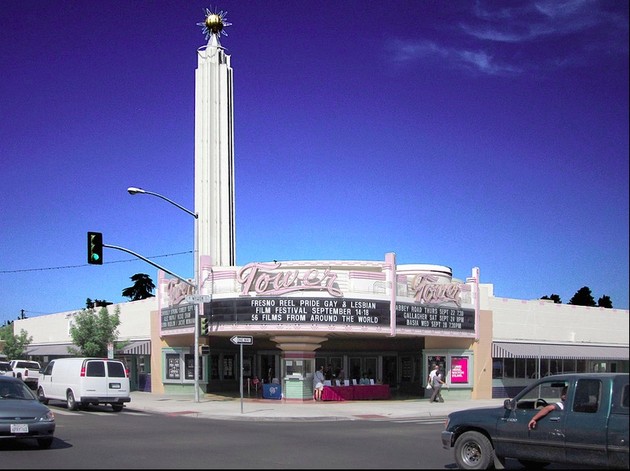 The Tower Theater in Fresno's artsy/Bohemian district, about which we'll say more soon (David Prasad / Wikimedia)
Fresno still has a million problems. There are people bitterly opposed to some of these downtown-redevelopment plans, and we'll hear their views. I'm sure some of the kinds of thoughts I am quoting today could seem inflated and unrealistic in a few years' time.
But here's what I also realize. In towns that have pulled off a turnaround, or are well on the way to doing so (I listed such cities here), there's an absolutely predictable civic narrative. It goes this way: Fifteen years ago, our downtown was bombed out. Ten years ago, this hotel was a crack den, and in this neighborhood you feared for your life. This city block was either boarded up or payday-loan operations. We'd tried a lot of things, and nothing worked. No one thought it was possible. And … look at it now!
That this has happened other places doesn't prove it will work in Fresno. But through hearing enough such stories, in enough places, I have come to give the benefit of the doubt to people unapologetically trying to remake their town.