On Monday and Tuesday of this week, my wife and I were meeting people and asking questions in Eastport, Maine, along with Kai Ryssdal and his colleagues from Marketplace, Bridget Bodnar and Brendan Willard. What you see above is the view from the back seat of a Cirrus SR-22, where Brendan Willard was sitting, toward the front seat with me on the left and former naval aviator Kai Ryssdal on the right, Kai doing the radio work as we neared the little airport in Eastport.
Last evening, as mentioned here, Marketplace had a very nice short feature on one of the surprising, surviving industries of a very small and economically battered town: a century-old family-run mustard works. In just a minute it will have a longer feature about the ways in which the city is making major bets on connections to the global economy as its source of long-term economic hope. You can read about it on the show's site, here.
Much of this strategy — as you'll hear on the show, and as we'll elaborate in days to come — involves making use of natural features shown on the map below.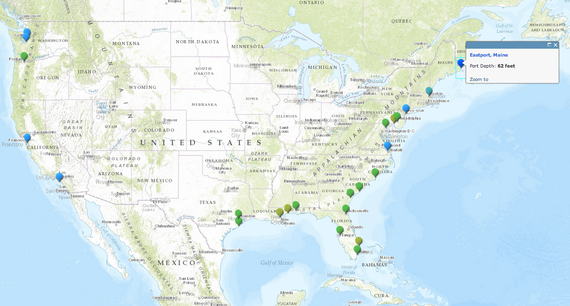 The map indicates water depths at major sites along the U.S. coast. Eastport, in the far northeastern corner, is the deepest of all ports in the lower 48 states, with a mean low water depth of more than 60 feet. (Valdez, in Alaska, is also very deep.) Moreover the seabed here is rock, rather than sand as in many sites in the Gulf Coast, so the depth is constant — rather than changeable or in need of frequent dredging.
As you'll hear, a group of ambitious people in the city are trying to use the port's unique capacity — and its proximity to Europe, and its potential proximity to Asia as northwest passages through a warming Canadian arctic become more frequent (they are already happening) — as one foundation of its hoped-for economic revival.
It's just one of several foundations, whose stories we'll be telling here — and in an article for our print magazine very soon. For the moment I will sign off with a reminder to tune into Marketplace. Among other things, you won't want to miss hearing the actual voices we heard in town.