Early in 2014, I wrote a magazine article about the 1,300 residents of Eastport, Maine, with the title "The Little Town That Might." The theme was that this tiny settlement, on the farthest extreme of Down East Maine just one mile across a strait from Canada's famous Campobello Island, was trying in every conceivable way to invent a viable economic and cultural future for itself.
It had invested heavily in its very deep-water port (because of the Maine fjords, it is the deepest on the U.S. Atlantic coast) to handle shipments to customers around the world. It was making itself into an arts and tourism center, including whale-watching and other eco-tourism activities along its spectacular coast.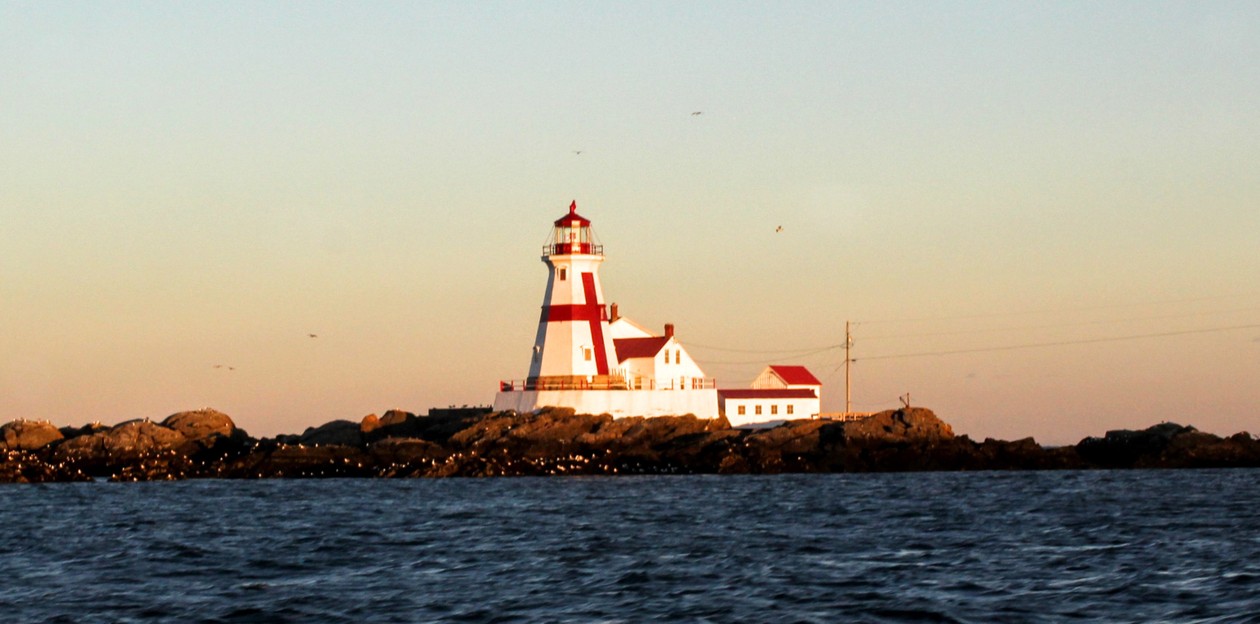 It was becoming a major salmon-farming locale, in addition to its lobster and scallop industries. An indefatigable group of local citizens pursued plans to redevelop beautiful-but-tattered buildings downtown. And on through a list that you can read about in that article and a number of accompanying posts.
---
There was one more element in the portfolio of Eastport ambitions: a plan to generate electricity from the powerful currents of its Passamaquoddy and Cobscook Bays, which feed into the adjoining and famously tidal Bay of Fundy.
Even before he became president, Franklin Roosevelt—who knew the area from childhood visits to the family summer home on Campobello—had endorsed creating tidal-power systems in Eastport and nearby Lubec. As president he authorized WPA funding for the dams and power plants that would constitute the Passamaquoddy Bay Tidal Power Project. Congressional opponents stopped the funding before the project was complete. But the dams and dikes are still there, along with some of the houses the WPA had built, which then were used for a youth job-training center, and as military housing during World War II.
Of course the tides are still there too, and in Eastport a group called the Ocean Renewable Power Company (ORPC) has been testing huge undersea turbines, like the one shown below, to generate low-cost renewable power from the tidal flow.

When we first visited Eastport, these big turbines and the yellow frames with which they were anchored to the seabed were out in dry dock, to be inspected after their long trial run in the water. Since then ORPC has been testing its components in Maine, Alaska, and elsewhere. The purpose of the tests, I was told today in a phone call with Bob Lewis, ORPC's Director of Operations and Chief Safety Officer, was to refine engineering issues rather than to resolve any fundamental conceptual or scientific questions. The company has also been running extensive tests to ensure coexistence with salmon and other wildlife in their areas.
Two days ago, just as we were leaving Eastport after our latest visit, the U.S. Department of Energy announced that ORPC had won a $5.3 million grant (as part of a larger $20 million program) to support its latest "TidGen" project for MHK (marine and hydro-kinetic) energy. This new project differs in floating at the top of fast-moving water, rather than being anchored on the seabed. (The schematic at right shows the floating model.) "This allows placement in the most advantageous water column," Bob Lewis told me. As a joint statement from Maine's senators, Republican Susan Collins and Independent Angus King, said:
The grant is intended to help ORPC improve the performance and commercialize its TidGen® Power System by integrating several advanced component technologies. This project, which is based on 11 previous in-water deployments, will integrate improvements into a commercially viable and certified tidal power system.

The device's novel floating design will move the turbine near the surface to capture higher flow velocities and will help reduce the cost of installation and on-water operations, ultimately lowering the cost of energy.
This is the way the cleaner-energy revolution is happening around the world: project by project, improvement by improvement, small engineering refinements amounting to significant steps forward in practicality.
---
There's more going on, for both better and worse, in Eastport, as we'll try to explain in upcoming reports—intertwined with more from Erie, Pennsylvania, and Dodge City, Kansas. The picture at the very top of this post is a pointer to one of the things that has gone worse for Eastport. In that opening photo, you see a breakwater and pier that had been important parts of Eastport's economy and its culture. A mooring site for visiting cruise ships; protection for local boats; even a site for day fishing—that was what the breakwater meant: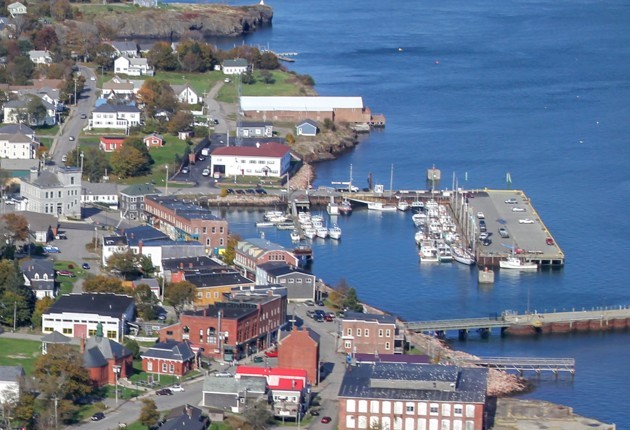 In December 2014, just as Eastport had decided to authorize repairs for the breakwater, it suddenly collapsed, damaging many boats and closing this part of the harbor. When we visited last week, repairs were still underway: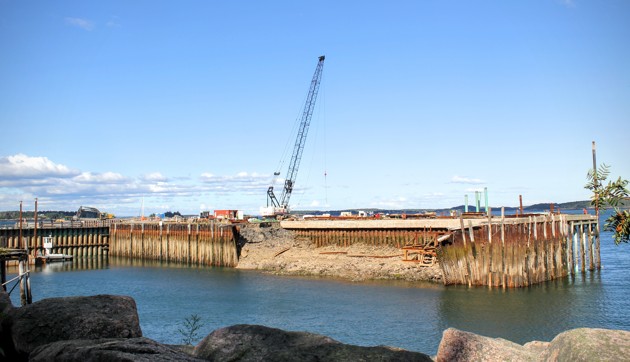 The goal is to open again by the beginning of next summer's season—for anglers, for pleasure craft, for cruise ships, and for the normal life of the port. More ahead, on the successes and setbacks of cities like Eastport, but for the moment we're glad to know of this good news for ORPC.