We were flying away from Washington D.C. again, leaving the Sturm und Drang of our hometown in early August for a point nearly as far east on the U.S. map as one can get. It is "Down East," in the vernacular of Maine, and the town of Eastport, where residents say the sun first rises over the United States, as does the moon, which gets far too little attention.
In Eastport, it is difficult to rise before the fishermen do; they are often out by dawn, returning with a catch before most of us see the sun, and then they head to the local Waco Diner, which is ready for them with bacon and coffee.
Close in to shore this morning, seagulls cry back and forth to each other. Winches lower lobster traps onto boats for setting in the bay. A few townspeople arrive at the new town pier in pickups stocked with their fishing gear. They cast their lines some six feet down from the pier to the water at high tide, and as much as 25 at low tide. The tidal difference is greatest when the moon is full, as it is now. I watched the fishermen catching mackerel, smelt, and herring for their dinner tables.
The port's pilot boat glides silently offshore; I know a big ship is scheduled to arrive at the port this week, maybe like the Industrial Ruby, which came and went last week, loaded up with wood pulp for China. It's a Dutch-built and -owned ship, registered in Liberia, with Russian and Ukrainian officers and a Filipino crew.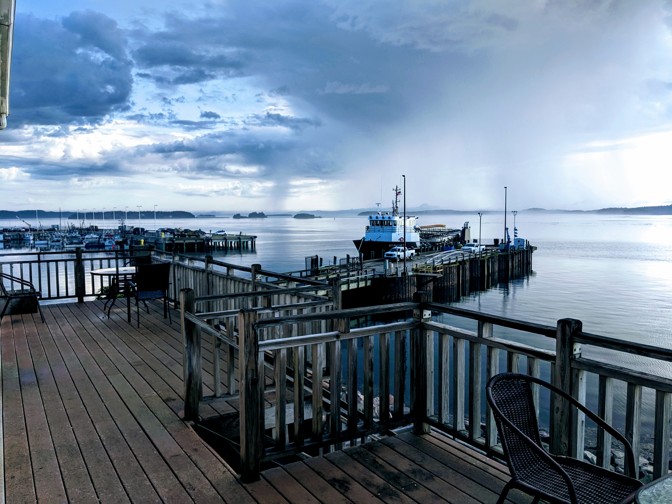 Many elements in Eastport help you touch the whole world, in a hugely romantic way rather than the fearing and dark way in which many elements in our hometown touch the world. Ships heading for China; evening flights departing the east coast for early arrivals in London or maybe Paris, their lights flickering and their huge jet engines barely whispering in our ears.
Canada is right across the water; from Eastport, you see the island of Campobello, where Franklin and Eleanor Roosevelt spent summers with their family. Within a few days in August of 1921, FDR contracted a sudden series of symptoms that were finally diagnosed as polio. Eventually, he was ferried across the water to Eastport, and taken by train to New York. His dark-red house with the dark-green roof, surprisingly comfortably rambling, still stands at the top of lawns that slope down to the water. His small sailboat sits dry on the lawn. The trains have long since gone away.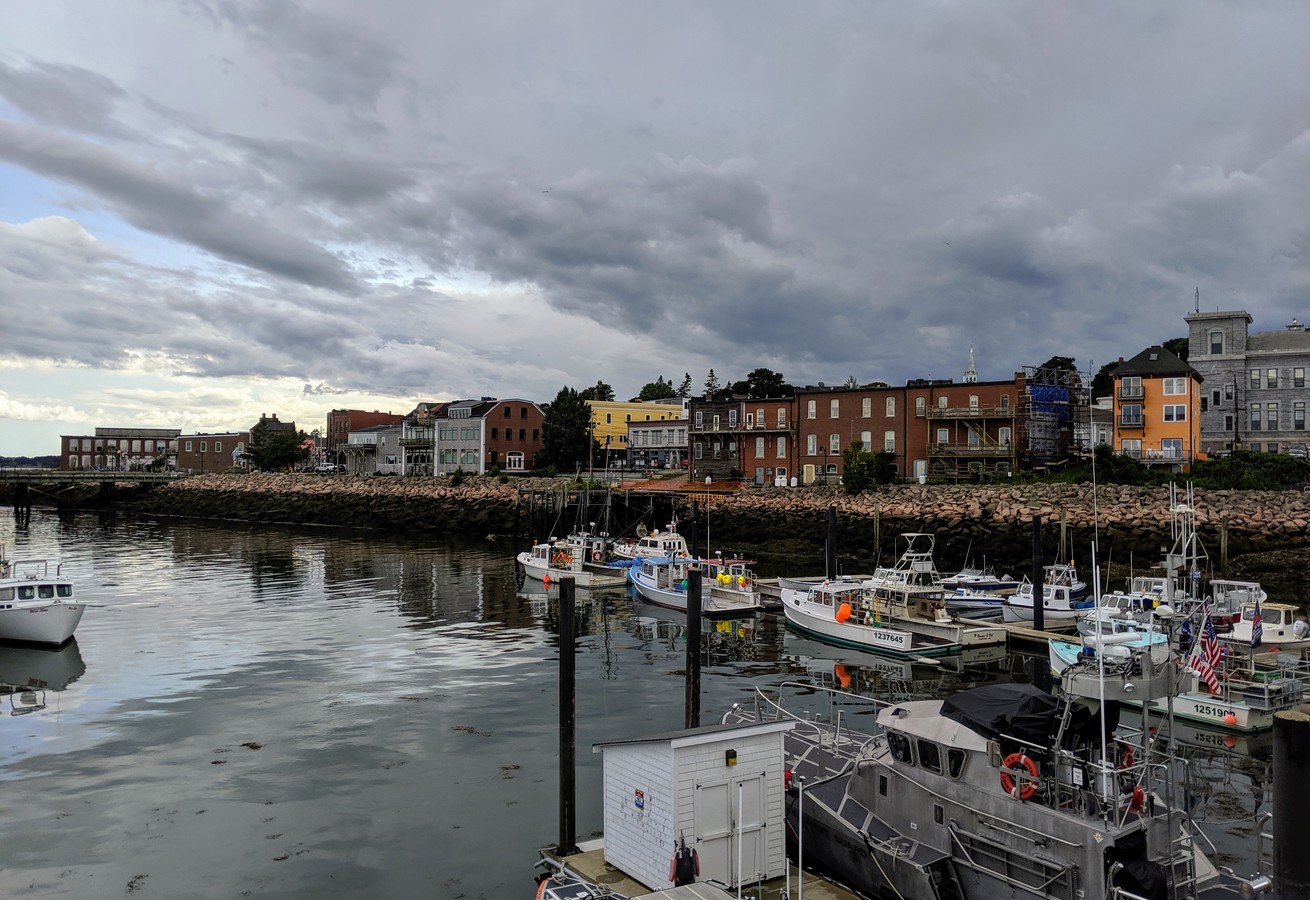 On land, workers are hammering at Eastport's 1887 Masonic Block, owned by the Tides Institute, replacing the crumbling wood beams with monstrous steel ones to keep the building standing for two centuries more, at least. It's worth the trouble to be sure that the west side of Water Street remains solid with its row of red brick buildings.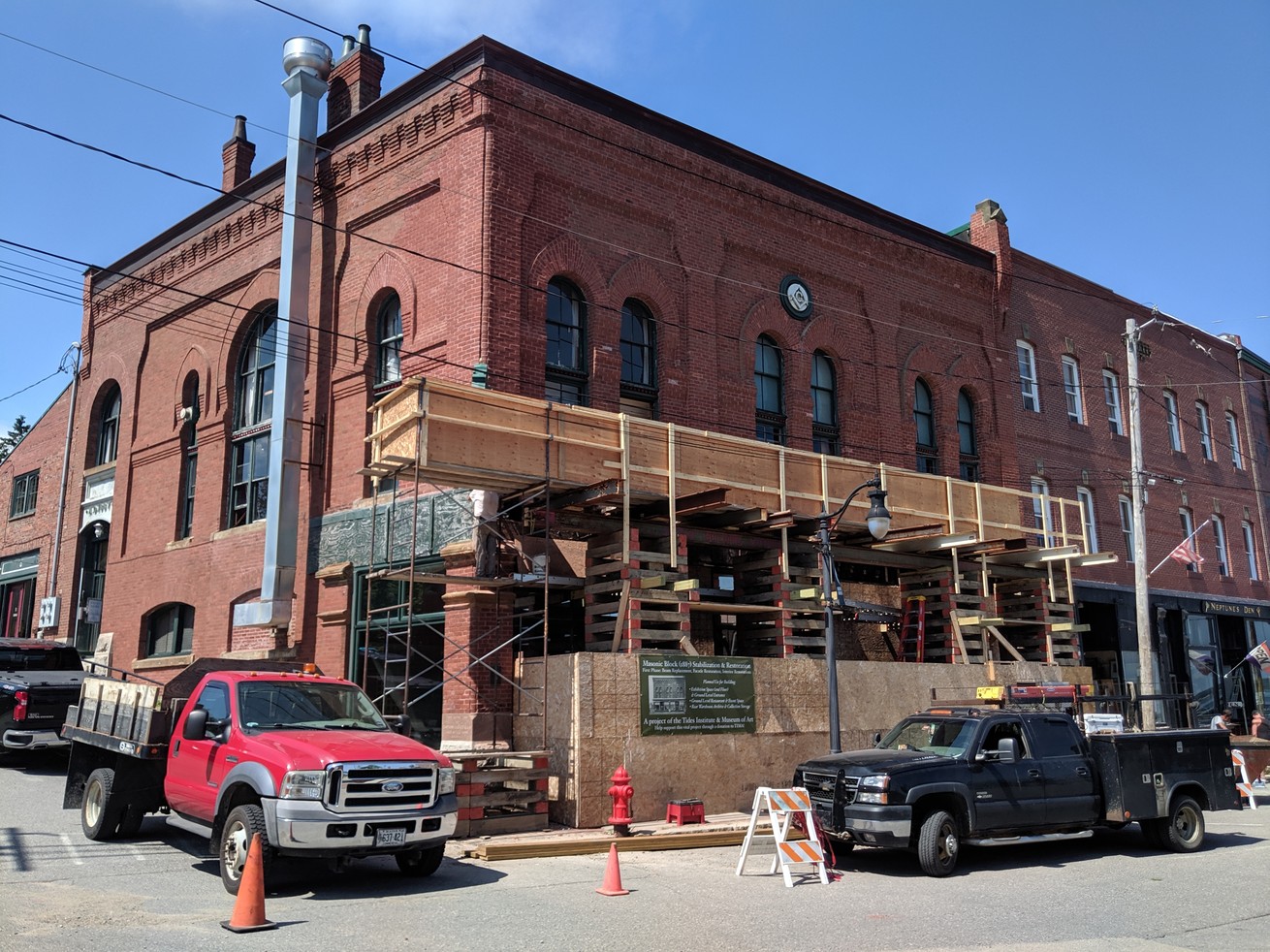 Just uphill is the Peavey Memorial Library, which desperately needs some attention like the Masonic Block is getting so that more of Peavey's bricks don't crumble. Like many other public libraries, they are looking every which way to find the funds for this. There was a music festival behind the library all weekend, free but for library donations. There's a thermometer drawn on a poster out front marking donations rising like degrees, and according to the Quoddy Tides, Eastport's biweekly paper, a grant writer from Bangor, Maine, has been hired to seek money from outside Eastport.
Getting to Eastport from just about anywhere requires some planning and purpose. For us, it was easier than for most others. In a Cirrus, it takes about three and a half hours from D.C., which seems miraculous compared with some 14 hours of driving. We are immensely grateful for this plane.
It was a very warm and beautiful Friday afternoon to fly. From a view of 2,500 feet above the ground, everyone along the East Coast seemed to be out enjoying life in America. Through Maryland and Pennsylvania, swimming pools were swarming with clusters of tiny dots of swimmers. On inland lakes, small boats buzzed about. The mighty Susquehanna and Hudson were fairly quiet; maybe weekend boaters were not yet on the water. Beaches along the Maine coast, where the water is very, very cold, were bright with colorful umbrellas.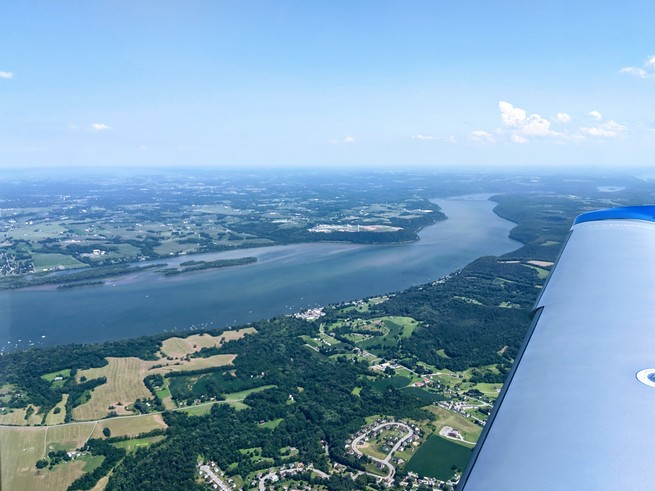 The skies were busy; some fliers enjoying the day like we were, and others trying to get somewhere for the weekend as fast as possible. For four hours along the mid-Atlantic, the air traffic controllers (ATC), my heroes of the skies, warned pilots half a dozen times of parachuters out for adventure. "Let me know when you have jumpers away," the ATC would request the pilot of the adventure trip, and then pass along the crucial information to us. The ATC would occasionally speak to us: "Vector 20 degrees to the right to avoid jumpers." I find it a little unnerving when jumpers are in the air near us. We always scour the skies, but never once have seen jumpers.
Even Air Force One was on the move that day. There was a Temporary Flight Restriction (TFR) in place that afternoon around both Bedminster, New Jersey (for golf), and Long Island (for a private fundraiser). We skirted a bit to the west to avoid the TFR, grateful that we hadn't been caught on the ground for the long delay, which has happened to us a few times before.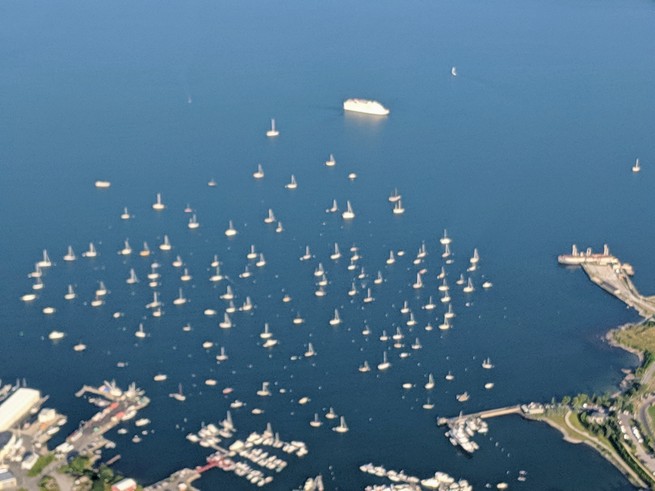 I was surprised by the affluence of the American look. Not only the recreational part of it, but also the infrastructure. We spotted so many schools; sprawling complexes with new buildings in star-shaped designs, with baseball diamonds, football and soccer fields, even some outdoor swimming pools, and spacious parking lots suggesting many kids drove their own cars rather than riding in school buses. There were many rather mysterious industrial buildings, revealing few clues of what actually went on inside. Big buildings, oddly shaped; few cars; probably public buildings of some sort, but never rusty and colorless like those we grew accustomed to seeing when we lived in China. These were often freshly painted, in shades of gentle blues and greens. Happy-looking, if impersonal, buildings were surrounded by mowed and tended lawns.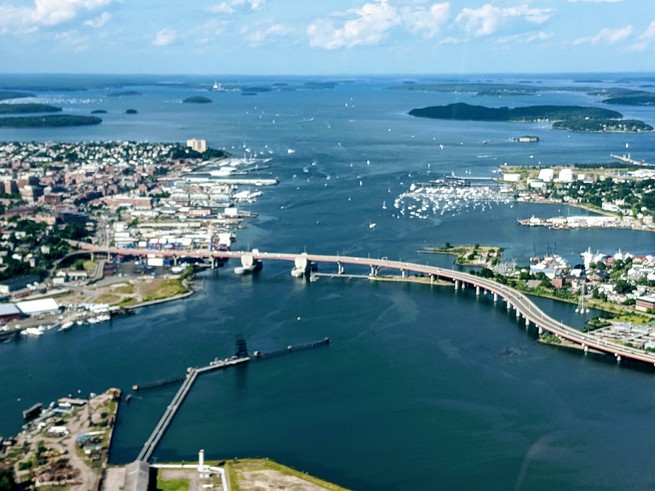 Not all was affluent, and not all was lovely. Herringbone patterns of mobile homes looked fragile and makeshift. Prisons were plentiful. And in Portland, Maine, where we stopped to refuel, we knew many frustrated passengers sat inside the commercial planes on the taxiways, in line for take-off right behind us. We listened to the ATC talk with the pilot of one flight, saying something like: "Wow, you're still here? I thought you'd be gone by the time I got back from lunch." Then followed by, "Don't shoot the messenger, but La Guardia just put on another hold. They say they'll have an update in about an hour." Even though we were only looking at the plane, I could almost hear the collective groan from the cabin full of passengers as they would receive this news from the captain.