Here's a link to Marketplace's report from Redlands, California, which ran on Friday and featured the past-and-future role of citrus in the town's culture and concept of its possibilities. Through this coming week we'll have reports in this space about the new bases of this region's economy, about the improbable emergence of a local high-tech industry, about the importance of "turning point" narratives in cities' sense of themselves, about the new trends in transportation in car-centric California, and other themes.
The Marketplace report also includes a local-knowledge quiz, which fortunately I aced, and a very nice video report on how an orange makes its journey from the field to the shipping carton and thence to wherever you might enjoy it. Most of the cartons you'll see in this report are labelled in both Japanese and Chinese and are bound for customers throughout Asia.
American Futures: The journey of an orange from Marketplace on Vimeo.

One other theme in this report is Kai Ryssdal's skepticism about Orange Wheat beer, the flagship brand and volume leader for the very-fast-expanding Hangar 24 craft brewery of Redlands. Orange wheat beer is locally significant, since the brewery very deliberately buys from the same local, often-struggling, old-growth citrus groves you heard about here. And according to Ben Cook, the young founder and owner of Hangar 24, it accounts for nearly two-thirds of the brewery's entire sales.
For whatever that means: here I note that the four best-selling brands across our country are Bud Light, Bud, Coors Light, and Miller Lite, of which to me only Bud qualifies as "beer." (When I asked one of my Redlands friends about the Hangar 24 lineup, he said, "Well, I'm not really a beer drinker, but I do like that Orange Wheat.") But as fruit-flavored brews go, Hangar 24's Orange Wheat is pretty good, and by any standards its Columbus IPA, Amarillo Pale Ale, and many others are excellent. (Label images from this very interesting printing-related site.)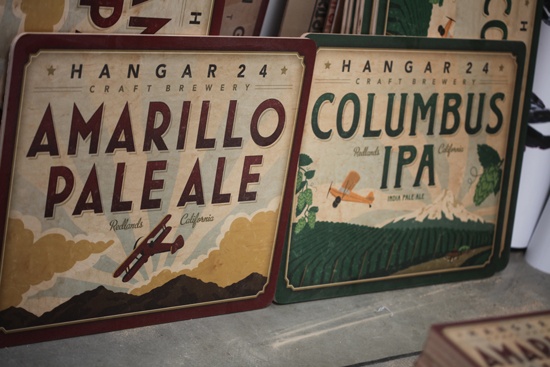 And if you're in the vicinity, Hangar 24 is offering free cab rides home from now through New Year's Day, so drink up. More "serious" matters soon.