The public school complex in Ajo, Arizona, sits just behind the historic plaza in the center of town. The walk is fewer than five minutes if you take a shortcut through a gap in the chain link fence and then cross over the old, weedy railroad tracks. (Previous accounts of Ajo—the town, the plaza, the overall challenges, and the responses underway—can be read here.)
The high school, which opened in 1956, and the elementary school, which opened 35 years later, are new by Ajo standards.
They replaced the old Curley School, which was built in 1919 for Ajo's then-growing population of copper miners' children and is now home to the International Sonoran Desert Alliance, the non-profit organization driving Ajo's development.
Today's Ajo school is a series of low-slung single-story buildings. Each classroom has a doorway to the outside walkways, protected by overhangs should it ever rain here in the desert. Across the road and dominating the landscape, you can see the looming shape of the mine's waste product, the tailings. The classrooms seemed dark to me, perhaps as protection against the heat and sun, which were welcome in February, but probably not as much in September or May.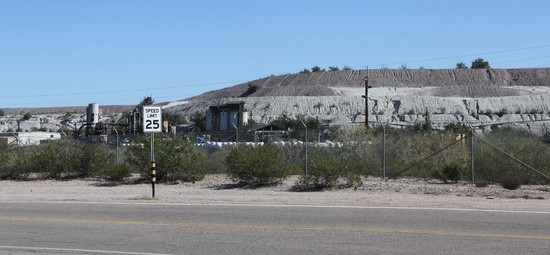 There are a total of 480 students in Ajo's pre-K through 12th grade schools, including the 25 seniors who will graduate this May. It's not a highly-privileged school population. Over half the students, 56 percent, are Hispanic. About 15 percent are white. Another 25 percent are Native American. (Over 25 percent of Arizona is Native American reservation land; 20 different tribes are members of Arizona's Intertribal Council.) About 80 percent of students in Ajo qualify for free or reduced lunch, a proxy for poverty, compared with 55 percent of students in Arizona overall.
Like the town itself, Ajo's schools are fighting economic and cultural headwinds, but their recent progress has been impressive. Ajo High School's four-year graduation rate has grown from 50 percent in 2003, to 79 percent in 2010, to 87 percent in 2014. The Arizona state average is about 75 percent. In 2011, not a single Ajo senior applied to a 4-year college. For the class of 2014, only three years later, more than half of the 27 students who graduated applied to, and were admitted to, 4-year colleges.
The Superintendent of the Ajo Unified School District, Bob Dooley, told me that Ajo High School grads are returning from college with positive reports to give their high school friends. "The kids who go to college are making it there now," Dooley said. And this is a big change from recent times when the reaction to challenges of college life used to be "What do you expect? You're from Ajo. You're wasting your time!"
* * *
It takes time to build a college-going culture, says Lauren Carriere, the director of schools, who came to Ajo from Seattle in 2011. She described the stages of the college application and admissions process that students and their families go through.
The process begins with following the 36-page document called "Focus on the Future," which details step-by-step academic planning for college or for trade and apprenticeship programs, the military, or community and technical colleges.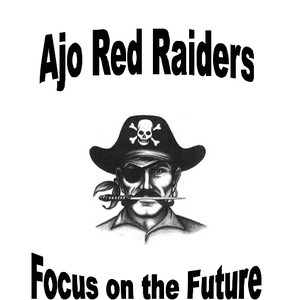 Then, when the kids are admitted, reality hits. Families are excited, but some are very reticent when they realize that their children would actually be leaving, a sensibility that echoes what we have heard in other communities with deep ties to Hispanic culture. Sometimes, Carriere says, the family will follow their student-child all the way to Phoenix.
Getting Ajo students into college obviously increases their own range of opportunities. One further ambition—creating an environment and economy in Ajo that would allow some of them to return and live successful business or professional lives—would come next, and is still a hope. "We want the kids to have opportunities," says Carriere, "but so far, there is nothing here for them." In the longer run that is what Carriere and others would like to change. They hope the school can nurture a nucleus of students who might make a change for themselves and the town by going to college, and then coming back.
Ajo needs a lot of things, she said, and mused, "Can someone open a vet clinic? Can someone be a lawyer? Can they make an entrepreneurial spirit?"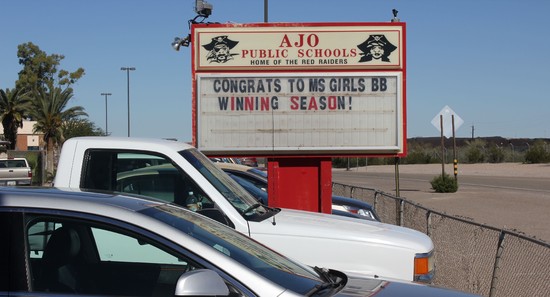 The school has its work cut out just to keep the place thriving. Economic downturns and budget cutbacks have hit hard. The students also told me that when the mine left, the school lost a lot. (This must have been from stories they heard, as these kids weren't even alive—and even their parents were still young—when the mine closed in 1985.) One boy said they used to have auto-shop and welding. A few girls mentioned dance, cheerleading, and gymnastics. Superintendent Dooley said that next year's school budget requires a 10 percent cut in operating funds. It could get even worse if they don't receive additional funding for the following year. In that case, Dooley predicts they will lose all their sports. "Career suicide for rural superintendents," said Dooley.
* * *
A handful of electives and extracurriculars have staged a comeback. Amanda Good teaches band as well as fourth grade. This is the second year that band is back at school, and the kids have come a long way.
Good, whose husband is head of the local Border Patrol station, has taught her students how to read music and play their instruments. When I visited, they were working on the more sophisticated points of blending as a group, following Good's impressive conducting and mastering a variety of music. I listened to them practice "Celtic Air," "Royals," "Blast from the Past," and "The Lion Sleeps Tonight." You can have a listen to their rendition of the Game of Thrones-theme below, while bearing in mind that this is part way into the second year of the band's existence for these young students.
I also spent some time in Katy Wilkins's second-year child development class. The class is part of one of the four career and technical tracks at Ajo High School, including culinary, marketing, and web design. There were 16 students, 10 of them boys, in the class. The students were practicing being parents with 10-pound flour-sack babies they had made.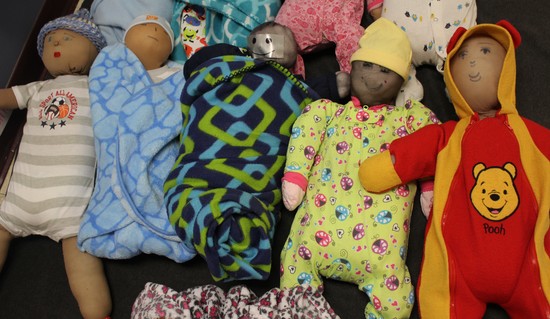 Wilkins said that there are fancy "reality babies" on the market—dolls that cost $5,000 apiece. Ajo couldn't begin to afford those babies, but the local Olsen's IGA grocery store, which also employs a number of the high schoolers part-time, came through with the substitute of sacks and flour. The "parents" made birth certificates, naming themselves as the mother or father, and making up the name of the other parent. A popular choice for the father's name on the certificates was "some hot guy."
One requirement for the parenting class was to wake up with the baby in the middle of the night, call in to Wilkins's line at school to prove they were awake, then call back 15 minutes later to report the baby was "back to sleep." The system worked pretty well, Wilkins reported, except when one girl called her cell phone at 2:15 a.m. by mistake.
* * *
So what is life like for Ajo high schoolers? I met with a handful of them to ask.
A number had ended up in Ajo from elsewhere: a few from suburban Maryland, one from Phoenix, another from the state of Washington. Some have aged quickly in 17 years. One boy who was born in the U.S. left his parents in Mexico and came to live in Ajo with his uncle. He thought his chances for college would be better here. And since he would be paying his own way, he said he was hoping for a full ride to college.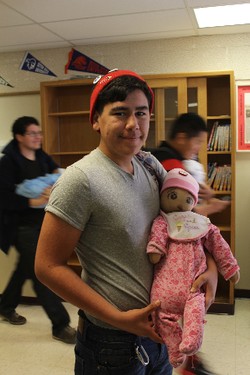 Others came to Ajo with parents looking for jobs. Their arrivals in Ajo contrasted remarkably with those of Ajo's seasonal sunbirds, who came to Ajo looking for affordable retirement and very often, engagement in Ajo's thriving arts community. One girl's single mom worked with the Border Patrol, which has stepped up its presence just outside Ajo, mostly tracking drugs through the desert. One boy's dad had piled the family in the car and was driving south through Arizona looking for work. In Ajo, a tire went flat. With no place to purchase a new one, they scoured the yard sales until finally finding a used one. On their way again and a few miles out, another flat. At that point, the boy recounted, his father realized that a tire shop could be a going business. So he turned the family car around, drove back to Ajo and opened a tire shop, where it is still in business several years later.
Others have spent their whole lives so far in Ajo. One girl, a sweet and confident sophomore, described her household: Mom works in an office, dad not sure, grandma makes tortillas, grandpa is disabled. Then, when I asked what she did when not in school, she dropped what to me was the bombshell: She takes care of her own one-year-old son. So far it's working; she has a 4-point grade average and is aiming for the University of Arizona. "How can it be working?" I asked. "I'm good at multi-tasking," she answered, as though it was just that simple.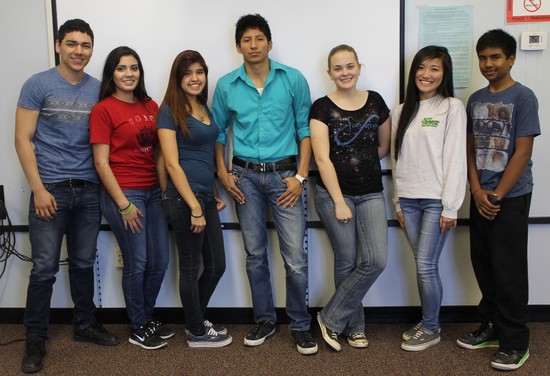 The kids told me their favorite hanging out time is in the desert, although they worry a little that they take its beauty for granted. They drive around in their cars or "quads" and go camping. They watch javelinas and deer. They go to church. There is a rec center in town. They do school sports. Several work part time; I ran into some at the grocery store and the Pizza Hut. One boy is in Border Patrol Explorers, which sounds something like Boys Scouts. They are trained in everything from tracking in the desert, to handcuffing procedures, the relevant laws, and how to work the radios.
The kids have all kinds of dreams: to have a track team, to be an accountant, join the Marines, go to the University of Arizona, go to Arizona State, study environmental science. I am rooting for these kids, for this school, and for this town.