This is the story of a man, and a region, and of the tradeoffs that go into the modern movement of industries. What did it take to bring an advanced-tech steel mill, a helicopter factory, a drone plant, and a major new tire works to a corner of the country where the unemployment rate is very high and many educational and sociological indicators are very low? And how much better off is the region for the arrival of these new enterprises? What did it give up, and what did it gain?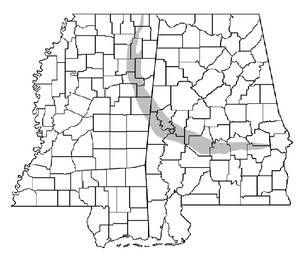 The region in question is part of the so-called "Black Prairie" of Mississippi and Alabama. That name refers to its soil type, as shown by the sweep of this map from the Mississippi Entomological Museum at Mississippi State University (which is in the region).
The Black Prairie also coincides with the "Black Belt" of these two states in the historical and sociological sense of the term, a region with a high concentration of slave-labor plantations before the Civil War and of African-American population ever since then. One part of this Black Prairie has renamed itself the "Golden Triangle," as shown below and as reported in our previous dispatches. It's the area between the cities of Columbus, West Point, and Starkville, and it is where these new factories have come.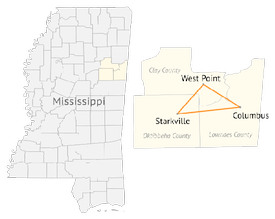 The background on our story starts here, with a roundup of some of the industries that have come to the Golden Triangle. It continues here, on the near-impossibility of untangling the influences of history, international economic trends, institutional and corporate culture, and individual mistakes or insights in understanding why things "succeed" or "fail" in a given area. It continues here, about the particular burden of race in explaining American events in general and Mississippi developments in particular. It is complemented here and here, with reports by Deb Fallows on the ambitious educational efforts underway at a public school in the Golden Triangle. And it will continue this afternoon in a broadcast version on Marketplace and later with at least one more installment by me, about Mississippi's version of "career technical" education.
On Marketplace today you'll hear about, and from, a Golden Triangle figure named Joe Max Higgins, along with his colleague Brenda Lathan and others. This is more about what they have done, and how, and to what effect.