Two previous reports, first here and then here, described the bittersweet heritage of old tobacco and textile buildings in the former mill town of Danville, Virginia.
The bitter was obviously the loss of what had been the city's economic mainstays. The potentially sweet was that Danville never got around to demolishing the old structures—and now is beginning to turn them to new use.
A reader who used to live in Omaha rues the different decision that city made:
I am a historian generally by inclination, and an architectural historian by profession, and so I heartily agree with any and nearly all efforts to adapt old, historic buildings to new purposes …. This make sense both in the place-making and the economic sense. I thought I'd share with you, although you probably already know [JF note: I didn't], the unfortunate case of Omaha—the opposite, in some ways, as the experience of Danville. Omaha had a large group of buildings downtown in what they call "Jobbers Canyon." The area was full of warehouses for the many wholesale and provision companies that were headquartered in Omaha, which (along with Council Bluffs) was a rail hub for Union Pacific Railroad.
What is perhaps most infuriating about Omaha's case is that the Jobbers Canyon area survived the worst excesses of Omaha's version of urban renewal, and was listed in the National Register of Historic Places in 1986. I wasn't there at the time to know whether the National Register nomination was written as an independent act, or was in response to noises that the area was under threat. Possibly both.

Jobbers Canyon Historic District was a warehouse area located in downtown Omaha, Nebraska. In 1989, all 24 buildings in Jobbers Canyon were demolished, representing the largest National Register historic district lost to date. (U.S. National Archives and Records Administration)

So the district was listed in 1986, and in the meantime, the packaged foods company based in Omaha, started looking for a new location for its headquarters. They settled on the area near the Missouri River, the site of Jobbers Canyon Historic District.

The CEO of Conagra was quoted at the time as decrying the area's "ugly, red brick buildings." He even went so far, basically, as to blackmail the city, saying that if they weren't allowed a free hand to build as they wished, Conagra might go elsewhere, perhaps Chicago.

So the city caved—and after the usual legal maneuvers, the district was essentially demolished (parts or it were retained), Conagra built its new headquarters (low, horizontal, suburban-style buildings on a campus with an artificial lake) and the Jobbers Canyon Historic District was de-listed from the National Register in 2002.

The upshot of all of that is that a few years ago, as I was leaving Omaha for a new job in suburban Washington, D.C., Conagra ended up leaving Omaha for—you guessed it—Chicago, and the Merchandise Mart to be specific.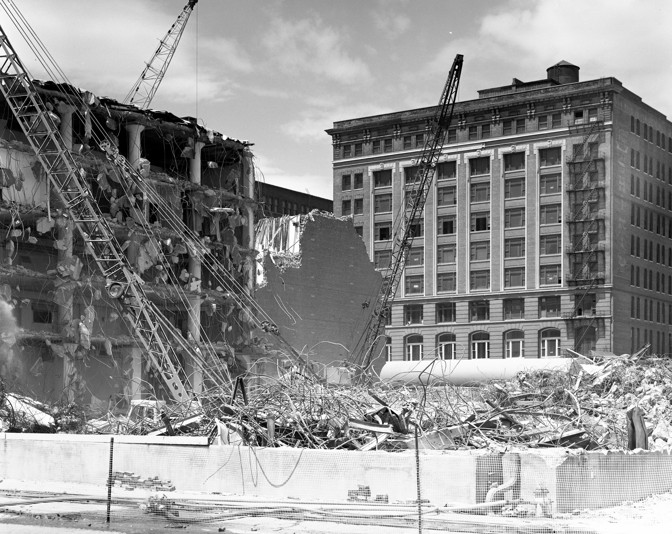 A 2015 report by Christopher Burbach in the Omaha World-Herald, confirming the reader's rueful account, is here. A sample:
Omaha made a painful sacrifice to entice ConAgra Foods to build its headquarters downtown in the late 1980s. City and business leaders agreed to tear down more than 20 historical buildings in Jobbers Canyon—the largest demolition ever of a historic district on the National Register of Historic Places. In doing so, Omaha erased six city blocks of its history as a center for distributing goods being shipped by rail to the West. And it wiped out the potential for redeveloping a unique urban canyon of warehouse buildings into businesses and loft apartments in the manner of Omaha's Old Market.
Omaha is obviously much bigger and more bustling than Danville. But on this particular point, the lesson for other cities would be: Learn in a positive way from Danville, and in a cautionary way from Omaha.