Oregon, on the West Coast, and New Jersey, on the East, are the two states that don't allow self-service gas pumps. Let's not get into all the arguments pro and con right now.
Instead let's talk about the regional variations. The picture at the top is how part of the team at the Shell station on the east side of Bend, Oregon looked this morning, as my wife Deb and I were filling up the rental car on the way to Bend Municipal Airport for the flight north. Maybe you can find the same kind of Rosie-the-Riveter era panache at gas stops in Secaucus or along the Garden State Parkway. But somehow I don't remember it.
Also, the Kwik-E-Mart behind the station turned out to be no normal Kwik-E-Mart. Instead it was a Growler Guys outlet, with a big sign over the door (that I didn't have the heart to photograph) announcing that some 52 different brewswere on tap right inside. Jeesh.
Since, cruelly, I was about to fly the little airplane—and since we had no weight to spare even for a filled-up growler—all I could do was give the store a respectful nod. Here's what I decided not to go see, inside. Remember, this is a gas station convenience stop.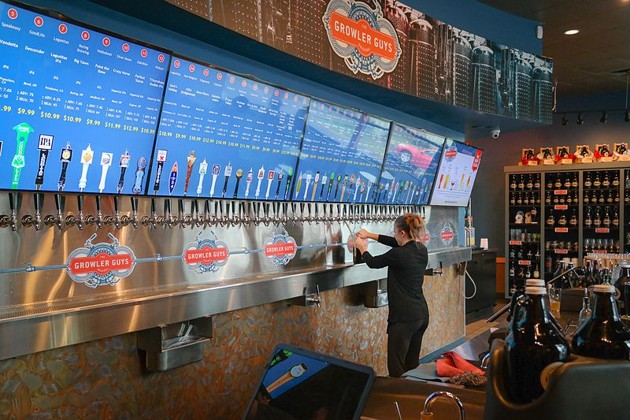 I love New Jersey, site of my own beloved mother's birth (in Camden). But try to find the likes of this at the Joyce Kilmer Rest Area on the Turnpike.
Although I spent too much of the past week-plus in Central Oregon just lying around moaning with the flu, the rest of the time was as deeply interesting—and surprising, and overall encouraging—as the time we've spent in Mississippi, or South Dakota, or Maine, or other parts of the country. Those installments starting up tomorrow. For now, a respectful thought back to a Kwik-E-Mart like no other, and to the stylishly peppy Shell crew. Some times there are extra points for style.