Recently I mentioned one of the business surprises of the greater Burlington, Vermont area: a newspaper, called Seven Days, that has larger in-print circulation, a bigger staff, and higher revenues (including from classified ads) than ever before. Now here's another oddity of the north: a commercial airport whose stated goal is to take the stress, anxiety, hassle, and overall misery out of the modern air-travel experience.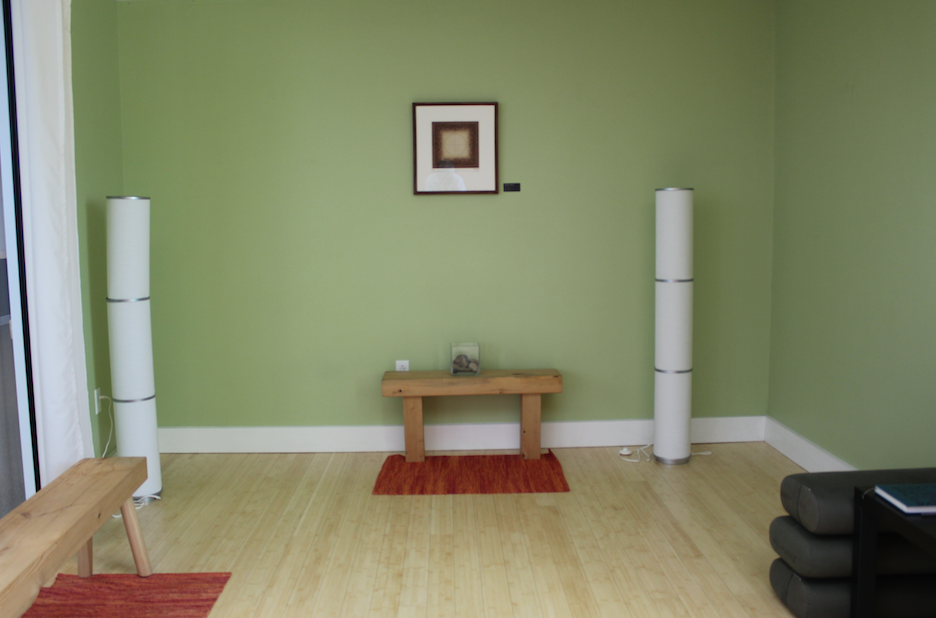 True, the Burlington International Airport — international because of flights to Canada — has its share of challenges. A recent story in this same Seven Days pointed out the main ones. Previous expansion projects have left a big debt load to pay off; traffic has suffered in Burlington as in many other non-hub cities as airlines boil down their route maps; Burlington is in a constant fight with Plattsburgh, New York, on the other side of Lake Champlain, to attract travelers from across the border in Canada. And the commercial air terminal relies on an Air National Guard unit at the same airport to underwrite the several-million-dollar annual cost of fire and emergency-rescue services — which matters because of a controversy about the future of that unit. (This turns on whether the city will allow the ANG's current F-16s to be replaced by F-35s. More anon.)
But recently Burlington's traffic has been going up, along with its revenues, and last Friday the airport's new director, Gene Richards, showed us some features I wish other airports had.

For instance, a yoga room, whose insides are shown in the picture at the top of this post. Like most of the other amenities at the airport — Wi-fi, luggage carts, computer work stations — it's offered free to travelers, with costs underwritten by local sponsors. Here is an AP photo of a special concourse yoga class held to celebrate the grand opening of the room a few months ago: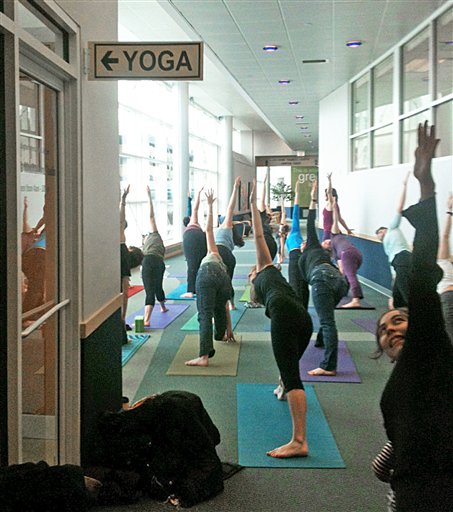 Richards said that to the best of his knowledge, Burlington, known as BTV, was one of three airports in the U.S. to have a yoga room. The others were SFO (natch) and DFW. "I even go in there to make my stressful phone calls," Richards said. "You feel calmer just by stepping inside."
One of the nursing / breast pumping facilities for mothers:
A glimpse inside: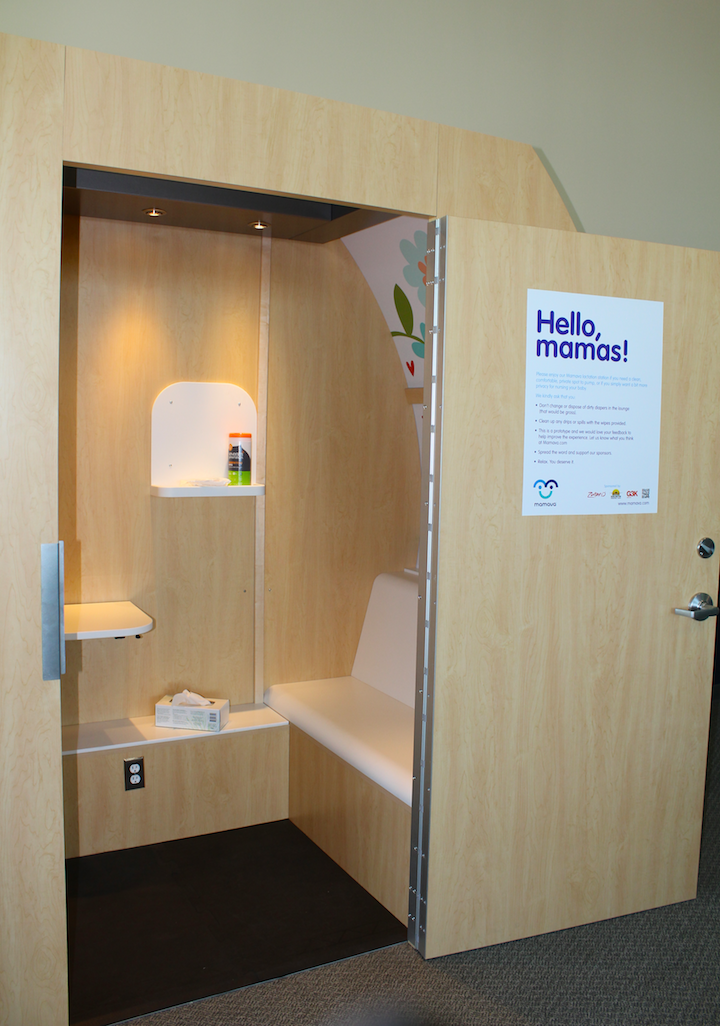 "One mother broke down and cried, out of gratitude, when she saw this," Richards said. "She said I couldn't imagine what this meant. And I guess I couldn't, fully, but it is one more thing to reduce stress."
Here is a source of stress I can fully imagine: the maddeningly cheapo / cattle-herder attitude of so many major airports in making it all but impossible to find electric sockets (and capping or disabling the few that are there). And hey I am talking about you, whoever is responsible for making Dulles Airport such a feedlot-like experience. And your evil twins in charge at LAX.
At BTV, there are sockets wherever you look — normal AC outlets, and USB connectors too. "We know this is another huge source of stress in travel, so we've tried to minimize it too," Richards said. For instance: at the bar, which features local brews (sockets outlined in red):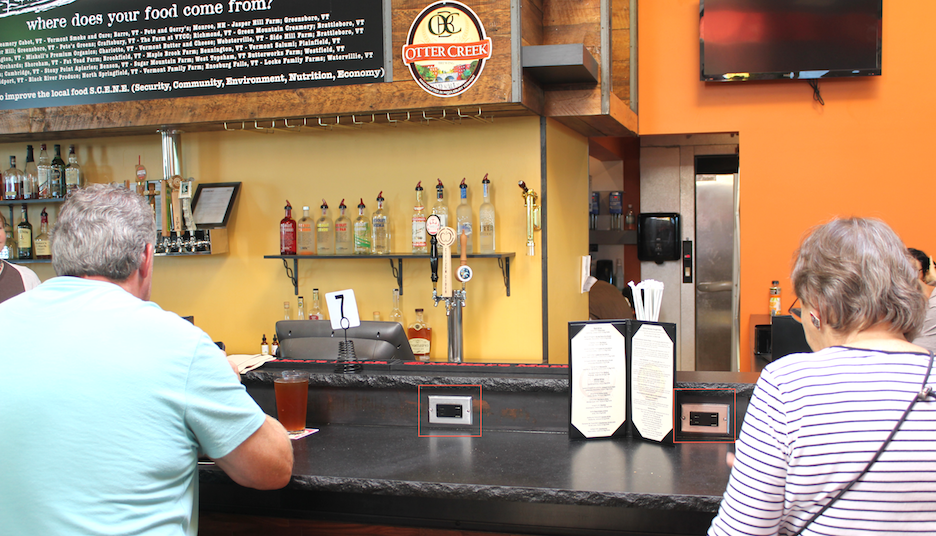 At the nearby cafe, a double-socket underneath each seat.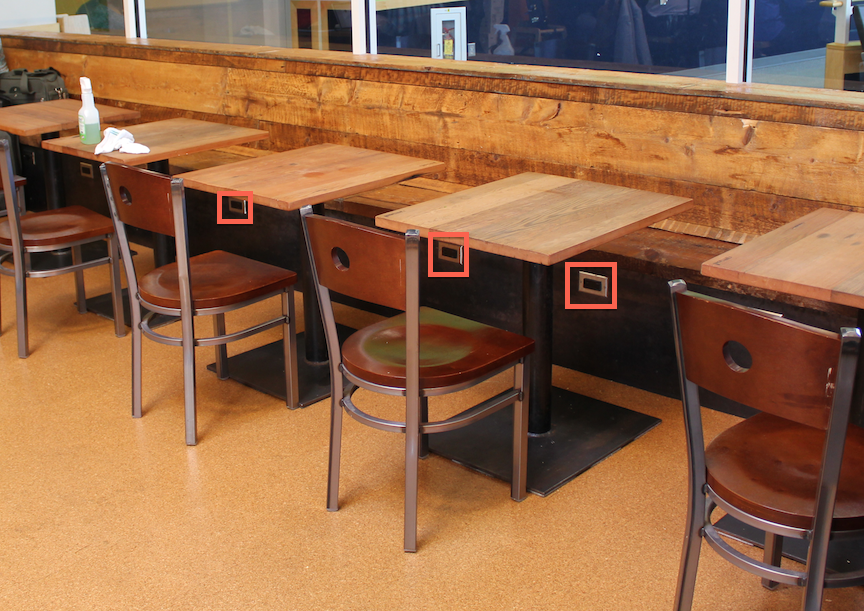 Sockets are everywhere.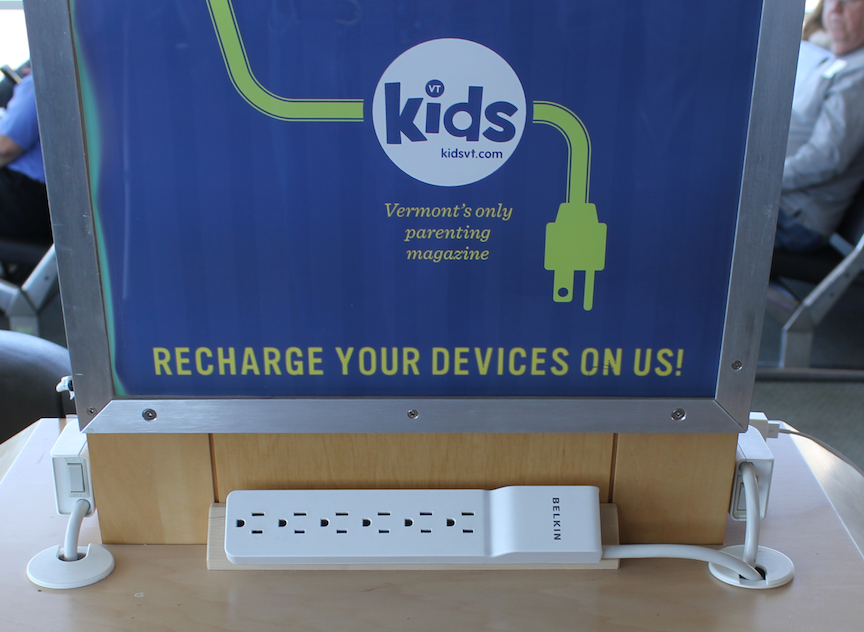 Also, rocking chairs (sponsored by local companies), in this concourse offering a view of the runways: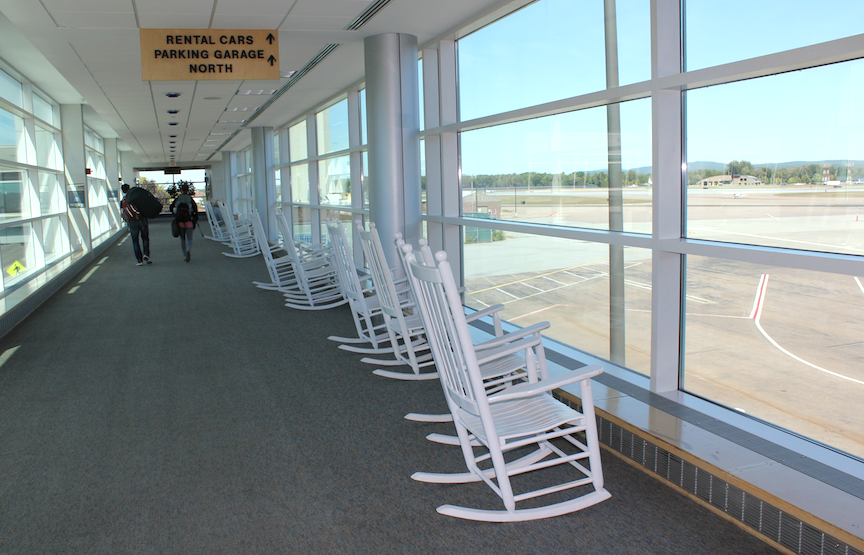 Gene Richards in a different part of the airport: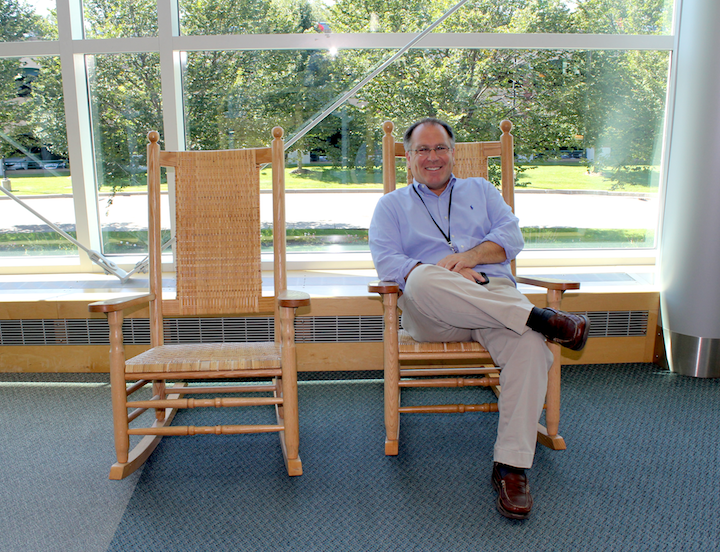 Another sitting area, with aviation-themed decor. "We're trying to create the sense of a lot of separate spaces where people can go," Richards said. "Anything to make the experience seem more relaxed."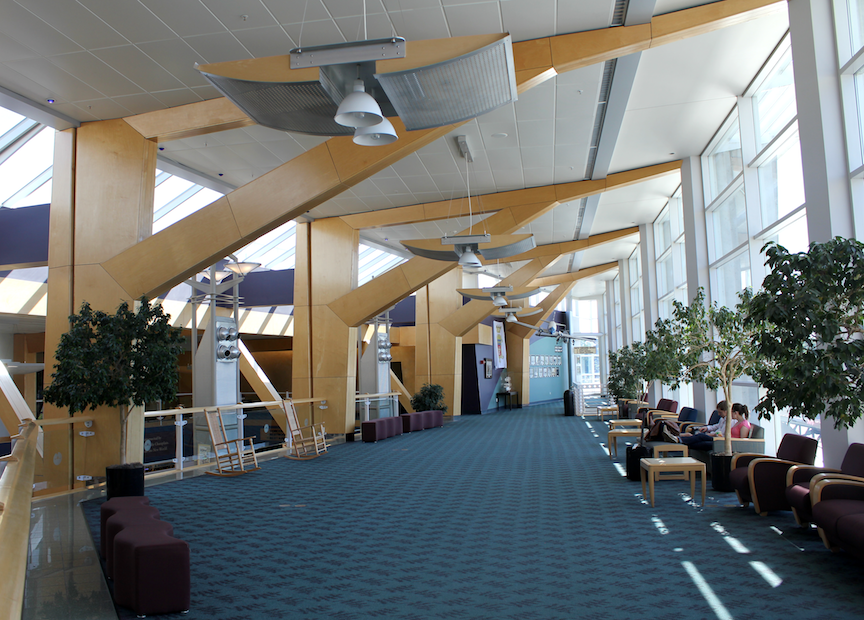 The use-for-free business work center, with printers and computers available: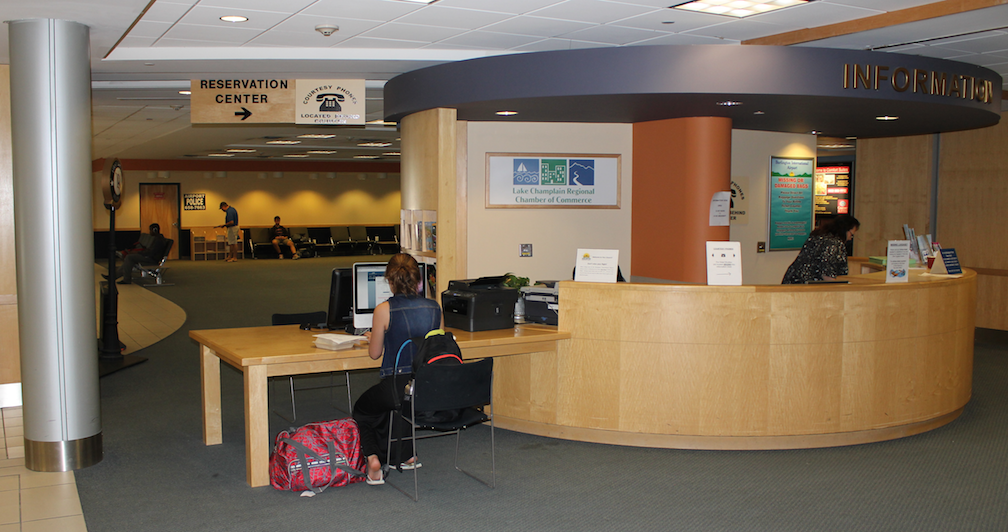 Instead of chain outlets, branches of Burlington's locavore restaurants: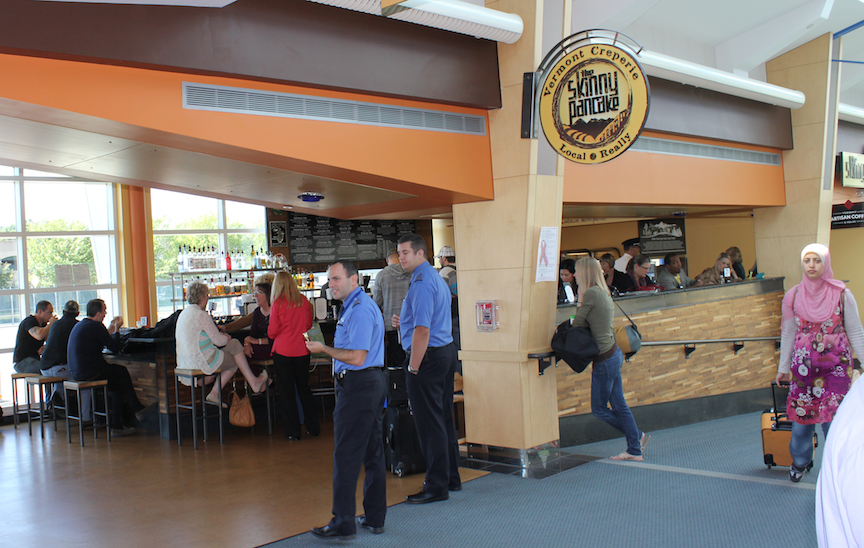 Also, local drink offerings — including (note the arrow) the elusive Heady Topper on tap.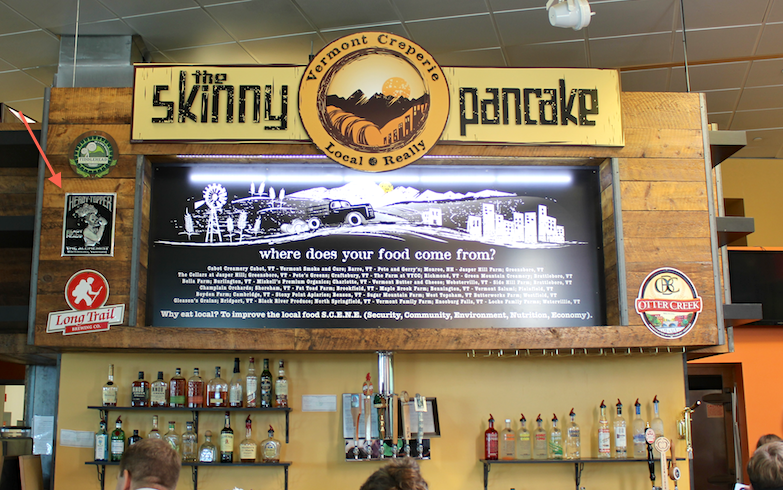 An open-to-the-public roof observation deck and garden, which Richards was showing to my wife: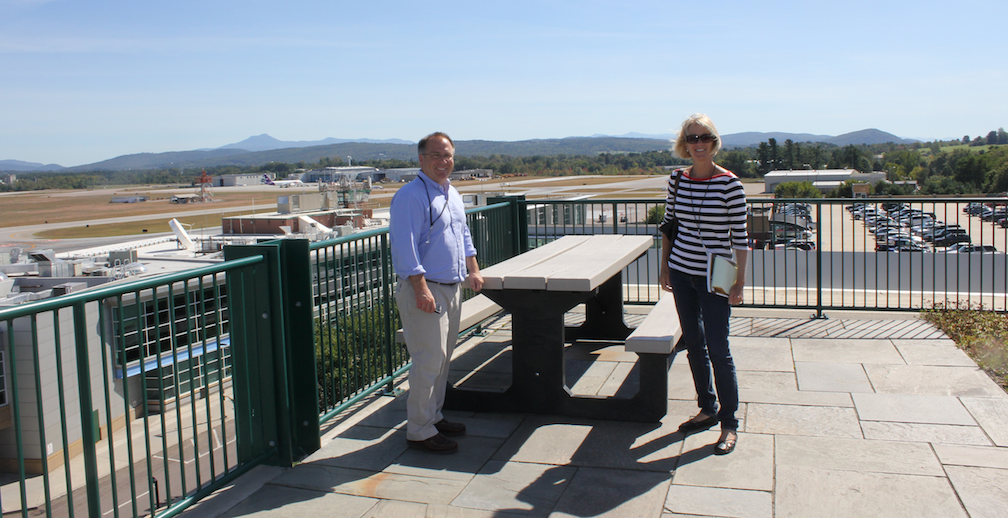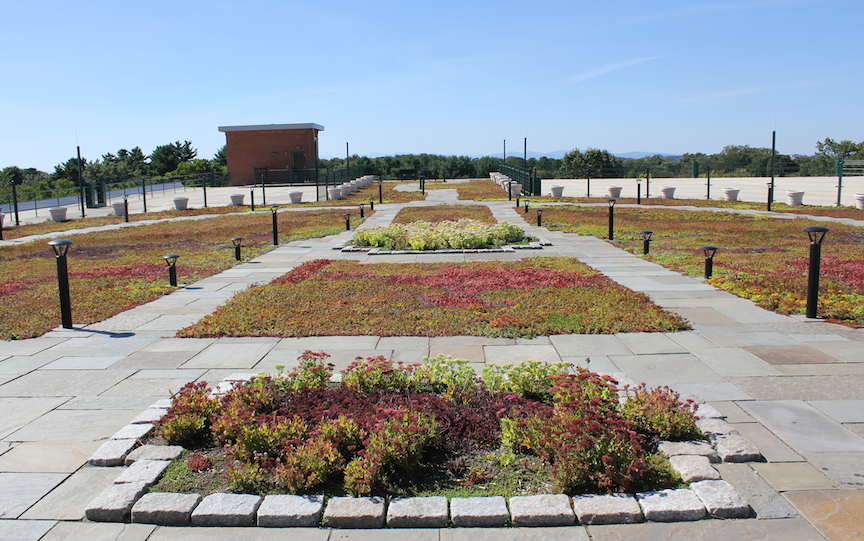 I couldn't help comparing this with my normal experience going in and out of Dulles: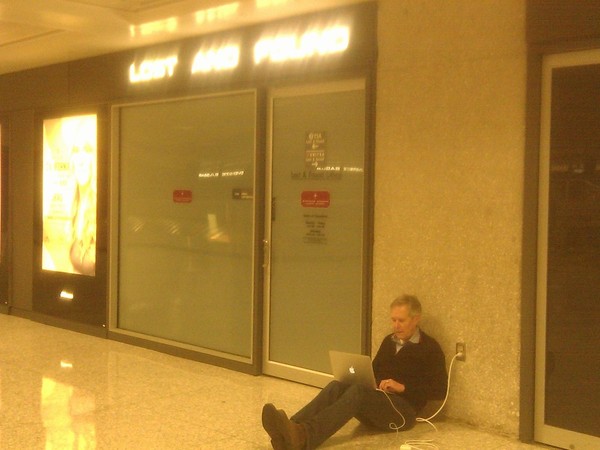 Yes, I know, I would probably dislike some other airport as much as I dislike Dulles if I were exposed to it as much. And I know that the contained scale of Vermont in general, and of this airport in particular, makes things feasible that you just couldn't do on a mass-volume basis.
Still, it is remarkable the top-to-bottom difference it can make, if managers seem to have asked themselves what the experience is like from the traveler's point of view. I hope some of our big-airport managers make time for a trip up north.