It turns out that the Lehigh Valley Iron Pigs aren't really that good at baseball, at least this year. They lost two of the three games we saw at Coca-Cola Stadium last month—a day-night doubleheader on a Saturday, and a night game the following Monday, all against the Syracuse Chiefs and all in idyllic, clear high-sky conditions. A few weeks later at the end of the season, the Chiefs were at the top of the triple-A International League Northern division, and the poor Iron Pigs were 15.5 games back in last place.

Maybe we're not good-luck omens for plucky minor-league teams. Earlier in the summer, our Duluth Huskies, of the Northwoods league, took a 9-7 lead over the Eau Claire Express into the bottom of the 8th, only to lose by the improbable 11-inning score of 16-9.  (That is what giving up 7 runs in the top of the 11th will do to a team.) Happily, the Huskies ended up tied for first in their league.

But we couldn't feel too bad about the Iron Pigs' loss. Although we loyally cheered for them, the visiting Chiefs are the AAA-farm team of our local rampaging Washington Nationals, so from our perspective it was a win either way.*

(The Iron Pigs are part of the Phillies organization.) And we got to take part in one of the civic institutions meant to be part of a revived Allentown and greater Lehigh Valley.)

Deb Fallows describes the game, the team, the stadium, and the idea behind all of them in a new post in our American Futures series. You can read it here. Below you can see that post's author, in the white skirt, looking on from the centerfield lawn/stands as Kai Ryssdal (green shirt) and his Marketplace team interview Lee Butz (white shirt) who built the stadium.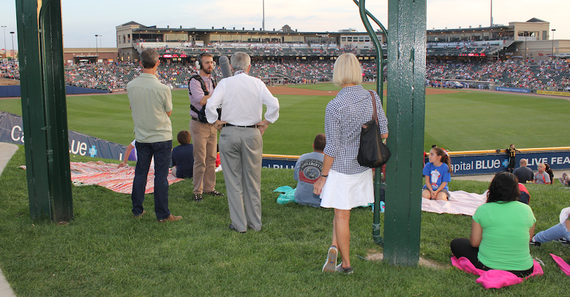 And if you're still wondering about the Allentown spirit, please check out this city video, produced earlier this year and featuring many of the people you've heard about in our dispatches so far, and a few more to come.
Personal note: for the past ten days, and the ten+ days to come, I have been and will be heavily preoccupied with a big print-magazine project. Look forward to returning to this beat.
* Similarly: From my parochial perspective, this is the most satisfying baseball season in a long time. The Eastern division leaders are the Nationals and the Os, for whom my kids grew up cheering in the pre-Nationals era. In the West, it's the LA Dodgers with whom I grew up, and the Angels. The Central people can fight it out. Only imperfection is that the As, who we cheered on when living in Berkeley, haven't yet made it.