We could use a little positive news at the moment, right? Here you go:
Over the past three years we're written a lot about Fresno in general, one of the unglamorous cities of California's Central Valley that is fighting its way back as a tech and cultural center, and about Bitwise Industries in particular. Bitwise, which we wrote about here, here, and here, is one of several organizations around the country (like the Iron Yard in Greenville, S.C., and Radius and Epic and others in Erie, Pa.) that are pioneering the ideas of creating opportunities in left-behind areas; of expanding those opportunities to left-behind people; and meanwhile helping redevelop downtowns and bring a sense of pizzazz and possibility to their cities.
Yesterday in Fresno, Bitwise made another big announcement, of a physical expansion combined with a social and civic goal. The physical expansion was the steady growth of its business to several more historic downtown structures, including the Hotel Virginia and old warehouses.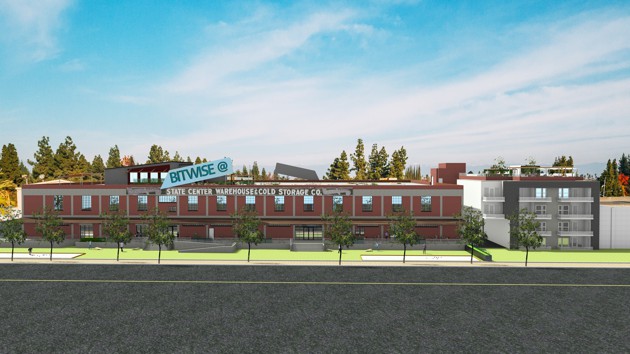 Tim Sheehan's story in the Fresno Bee about the announcement said:
Bitwise, the self-proclaimed "mothership of technological education, collaboration and innovation" in Fresno, announced Wednesday that it will grow … into three additional sites….

And for the first time, Bitwise is including a residential component in its plans – a four-story, 28-unit apartment building next to the State Center building.

"It's great. I like the fact that they are getting into real estate – the residential side of things," Aaron Blair, president of Downtown Fresno Partnership, said at a news conference where the project was announced. .. The expansion will make a dent in, but not completely satisfy, a Bitwise waiting list of software and technology companies for as much as 500,000 square feet of office space.
---
As for the social and civic aspirations behind the expansion, it's worth reading the open-letter manifesto by Bitwise's founders, Irma Olguin and Jake Soberal. They don't directly address the national politics of the moment, but they don't need to:
By any objective standard, Bitwise is working. But Bitwise isn't nearly enough. Though it may lift our region's economy to new heights, it won't mean anything unless we also choose to be good. Should we build an economic engine that prolifically creates jobs and opportunity? Absolutely. Bitwise can be that. But to really heal our city we–all of us–must also rise to be a people that lives out a different sort of virtue.

It won't be enough if Bitwise does just what technology has done in other cities…  To us, if all of the hubbub we create isn't coupled with a culture of acceptance, inclusiveness, and heart, then we haven't created the best version of ourselves.

But the story doesn't have to end that way. Fresno, and Bitwise, can be different. We've been different before….

That's America. That's our identity. And lest the world forget, we etched it there, at the foot of the Statute of Liberty:

Give me your tired, your poor,

Your huddled masses yearning to breathe free,

The wretched refuse of your teeming shore.

Send these, the homeless, temptest-tost to me…

Translation: "Dear World, We are the humans that you've cast out as junk, and from us we're creating a great nation. Please send more of your 'junk.'"

These ideals are ours. We can live out these ideals. We can swell a courage big enough to create something different and better in Fresno. Bitwise can help us to be economically prosperous, and the history we share can help us to be radically good.

Let's show up to someone else's thing.

Let's care about someone who does not belong to our tribe.
Let's care about someone who does not belong to our tribe. A useful thought for this moment, from successful tech entrepreneurs building the next Fresno, and the next America.