We landed in Dodge City, Kansas, just before the summer solstice. Temperatures hovered in the 90s, and hot wind blew across the prairies keeping the immense wind turbines that populate this land churning day and night. We had flown in our little Cirrus airplane from the south, over the mid-late harvest of the wheat fields, the occasional oil wells, and finally toward the small city (population about 30,000) materializing in the distance.

The real sign that we had arrived in the "beef triangle" of Southwest Kansas came as we taxied to park the plane. I cracked opened the Cirrus door to draw a breeze into the broiling cockpit. The breeze blew in the pungent and unmistakable odor of cattle from the feedlots. "The smell of money," as one Dodge City resident later remarked.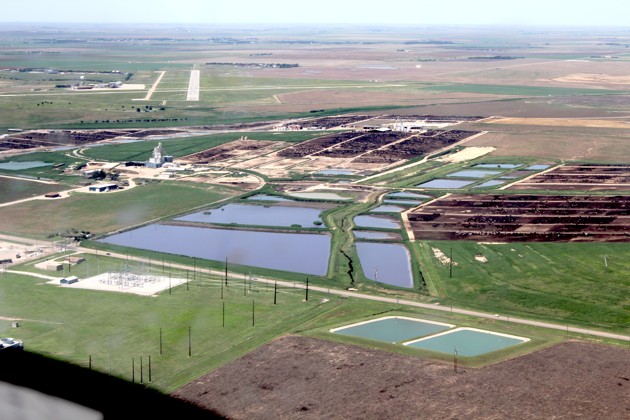 We were definitely in Kansas, with some learning to do about wild-west history, the beef industry, the majority-Hispanic population, and life on the remote prairie. The nice folks at Crotts Aircraft, the family-owned fixed base operator (FBO) with whom we parked our plane, called us a few mornings later to say that it looked like some weather was coming, and that they had a spot in the hangar if we'd like the plane moved indoors from the tarmac. That sounded like a good idea.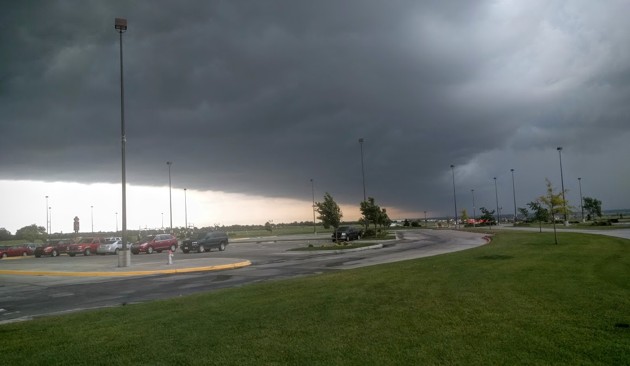 Sure enough, around mid-day something fierce blew toward Dodge. We watched it approach as we entered the new United Wireless Arena on the far west edge of the city, where the outskirts of the town's development stopped and seven bison, including three new spring calves, grazed on the land. We had come to lunch on chicken-fried steak and listen the State of the City address by Mayor Joyce Warshaw, who itemized for an hour the many improvements and changes in Dodge City, from the arrival of new commercial air service to Denver to the city's 100 percent reuse of wastewater. She had married into the Warshaw family of Dodge, early clothiers who left their telltale imprint on one of the retail buildings still standing on 2nd Avenue in town.
* * *

The three towns of the beef triangle are Dodge City, Garden City, and Liberal, Kansas. Dodge envies Garden its big box stores; Garden envies Dodge its impressive development and buildings, like the arena, the Boot Hill Casino, the Long Branch Lagoon water park, the raceway, and the classy athletic fields. Neither seem to envy Liberal.
On our first morning, we headed to Garden City, about 50 miles west of Dodge, driving past farms, feedlots, and a wind-turbine blade distribution center. On U.S. 50, we routinely slowed behind trucks hauling cattle or harvested wheat. Also, small convoys trailed the transporter of a single 120 foot wind turbine blade like a presidential motorcade. When one of those trucks gets to an intersection, traffic stops in all directions as it navigates the turn.
There was only one big and critical road between Dodge City and Garden City (U.S. 50/U.S. 400), and we learned later from worried residents that the Kansas state budget was projecting the next money available for road maintenance might be decades away.
We were meeting up with Sister Roserita Weber and Sister Janice Thome, nuns of the Dominican Order of Peace, who serve the poor in Garden City, to accompany them on their delivery rounds from the town's food pantry. The two sisters were sympathetic but no-nonsense. Like doctors, they dealt with tough cases daily, as they taught folks to drive, or helped them negotiate medical bills, or drove families the seven hour round trip to Wichita for necessary services found only in the big city. They lived modestly in a mid-century split-level in the center of town, comfortable yet basic. A large statue of the Blessed Virgin presided in a corner of the dining room.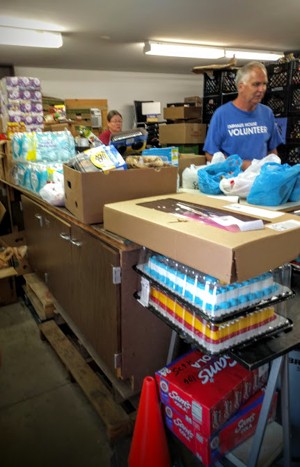 The food pantry was set up in a small warehouse. We waited our turn to sign in and assemble our shares to distribute. A line of others waited behind us, showing the documentation entitling them to free food.
The pickings surprised me. I was expecting fresh foods, similar to those in Ajo's food bank, which included at least some potatoes, broccoli, and citrus, and which I wrote about here. But in the absence of a thriving local garden-to-table food movement like Ajo's, Garden City's donated goods came from some of their big box stores or chains. A typical delivery that day would include a few frozen entrees, bags of rolls, a pizza, a pair or two of brightly-colored socks, a pack of cookies, maybe a roll of frozen venison (although Sister Janice worried that none of her recipients—all Hispanic—would be familiar with venison or how to cook it). One lucky family received a frozen chicken.
---
Garden City, like Dodge and Liberal, is now a majority-minority city. Its population is already mostly Hispanic (estimates range from 50 to 60 percent), and trending upward as new employees find a better-than-minimum wage yet very difficult jobs at the meatpacking plants. The unemployment rate in the cities is about 3 percent, or even less. People told us that the plant workers make a financially solid living there. See Jim's post here.
We each delivered to five or six families, those whose plans for a new life built around the meatpacking plants had slipped off the rails. Jim and Sister Roserita went in one direction, and Sister Janice and I started in the other, at the bungalow of a woman named Hilda. Her house was meticulously kept, with heavy wooden furniture, photos, and décor clearly from Mexico. She was badly injured in a car accident in 1989, which killed her only son and left her able to manage herself and her housekeeping, but little more. Her husband recently left her for another woman, leaving house debts on his way out. She fell between financial cracks, receiving a monthly settlement from her accident that was too little to do more than scrape by and too much to qualify for other benefits or move forward in her life. I asked if I could take a few photos, and she asked me, rhetorically, if I would like to see her bedroom. She posed proudly next to the bed, her piece de resistance.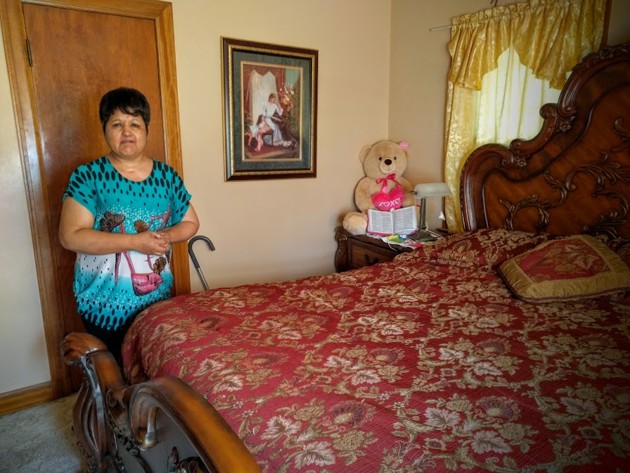 We continued to another Hispanic family with a single mother. At the door, we met the teen-age daughter, who cared for her epileptic brother while her mom was at work, and she chatted with us about her summer. She said she wasn't doing much, except reading. Right now, she said, she was reading a book called Bad Boy Next Door. Amazon showed me that there are two books with that title, and a third more emphatically named So Bad: Bad Boy Next Door. Two are free with Kindle Unlimited, and all three have impossible-looking male torsos on their covers. She declined the venison, as she didn't know how to cook it.
As we raced through the next stops, which were all at trailers, everything began to blur. Their stories in short, and doing my level best with the details:
A woman from Guatemala fled with her husband from the guerillas; they gained temporary political asylum in the U.S.; the husband lost his status and was repatriated; the woman moved quickly with the children when neighbors told her the INS was also looking for her. She has a number of kids (five or six, I wasn't sure), raises some chickens, and earns $100 a week babysitting. Then she started bleeding, the source of which turned out to be a tumor, which led to a hysterectomy, followed by a diagnosis of uterine cancer. No one was home when we stopped by, so we left the box on the trailer steps, piling the frozen items together and hoping some family member would arrive home soon.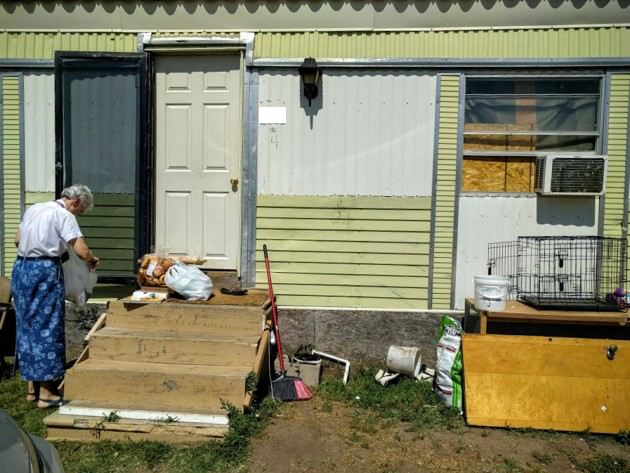 Another Hispanic woman lived in a small, neat trailer, with flowers and a carefully groomed bit of outdoor landscaping. She said she had been serially beaten by her husband, who then started in on their 8-year-old daughter. One day, after the husband inadvertently left the family's only cell phone behind, the woman managed to call the police. They arrived and so did the husband, who persuaded the woman not to press charges. He has left her alone, she said, but without a chance for a non-immigrant U visa (for those who have suffered substantial physical or mental abuse), since she didn't press charges. In hopes of a route to moving on, she is working on a U visa for her daughter, also abused, but who as a minor could apply for the visa, and thereby piggyback her mother along as sole guardian of a minor.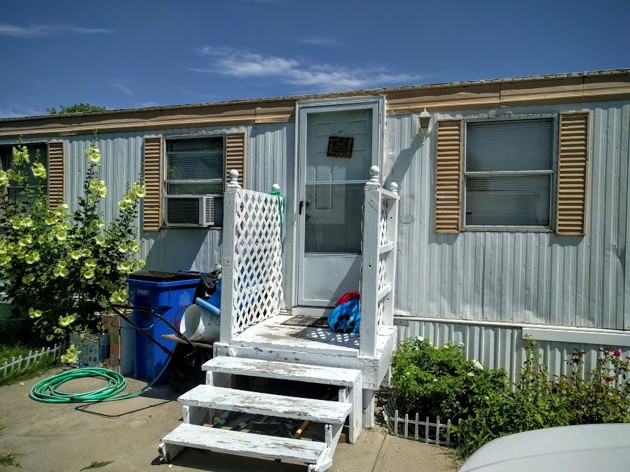 Sister Janice's cell phone continued to ring during our rounds. People were asking her for all manner of help, like gas money to get to Dodge City or help filling out a job application. Sister Janice says she gets 20 or 30 calls a week, and more when at the time of the month when utilities get disconnected.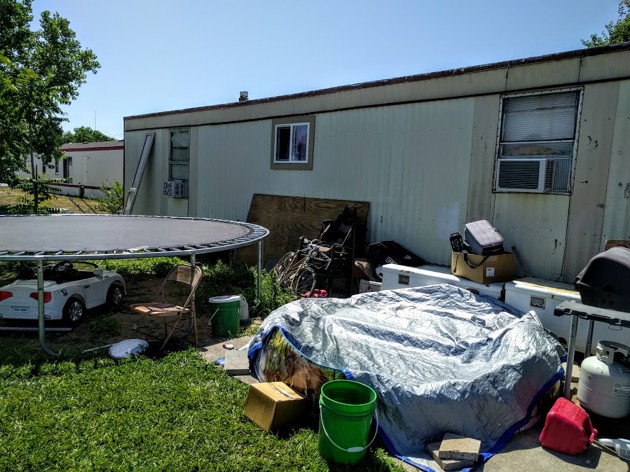 We went to another trailer park, more dismal since a lot of the occupants abandoned it after a fire in the ConAgra Beef Company on Christmas night of 2000, after which 2,300 workers lost their jobs. Some abandoned trailers were dressed in graffiti and blown-out windows. Sister Janice told me that initiation rituals from gangs included this kind of derring-do. The stories from the families who remained in this park were equally entwined and twisted, more and less hopeful.
We charged ahead, as I tried to absorb the plights and probable destinies for families like these. The indefatigable Sister Janice dropped me off at her house while she continued on to transport a family from a school's free lunch to their trailer. By then, I had only one recurring, cliched thought: They are all one accident or illness away from disaster.

That was our introduction to Garden City and the beef triangle of Kansas. There are many more stories to come, and most of them are heartening, positive, or hopeful. But please don't forget these.