For our latest American Futures town of Redlands, California, a very important part of the local narrative was awareness of the Founding Fathers and Mothers who had set up the small-town counterparts to the National Mall or Central Park. How many small Sunbelt towns have whole histories written about their philanthropic heritage, like the one above? (Which I have with me at home, and will quote from further soon.) Or a promotional documentary like the one Redlands produced for its 125th anniversary last year, which was as earnest as anything from the Frank Capra era in drawing connections between the wisdom of our forebears and real-world choices today?
Two reader reactions on the larger implications of this local story. First, from a resident of Claremont, California, which is only half as far from Los Angeles as Redlands is, and is at least twice as well known:
I think more than just "forefather foresight," generally, must be acknowledged as a reason why Redlands does not resemble most of the south-of-San Gabriel-Mountains sprawl: the presence of the University of Redlands, and the consequent effect on income, education, citizen participation, desire for amenities, willingness to spend public funds on unselfish things like preserve orange groves, or buy up hillsides, or build more high schools, etc.

The other city in this range that uniquely does not resemble the others is Claremont. I don't think it's coincidental to this uniqueness that the Claremont Colleges are located there.
Yes, I agree. Claremont is a "university town" in a way few other places in the West can match, because not one but eight colleges and graduate institutes are based within its small borders. These include Pomona (where I almost went to college), Scripps (where my sister did), Harvey Mudd, and on through the list. Redlands has never been university-centric in the way Claremont is, but it has always been university-influenced, by its small, liberal-arts-oriented University of Redlands.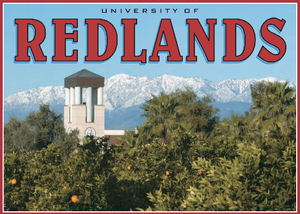 There is no surprise in saying this, but the more we've traveled the more we've been reminded of the economic and cultural throw-weight of local colleges and universities. (As John Tierney has often discussed in this space, for instance about communities in Vermont and Maine.) Their short-run effect, in bringing in students to boost local demand, matters much less than the long-term changes they can work in the character of a community. That is, attracting a different kind of person to live there and change the kind of place it is.
That effect is obvious when we're talking about big, famous university centers — Cambridge, the Bay Area sweep of Berkeley through Palo Alto, Pasadena with Caltech. It has made a crucial difference even in little Redlands. Half a century ago, in the 25,000-population town I remember from school days, Redlands tried to be more than just a sunbelt boom town by bolstering its still-strong orange-growing industry with a mix of higher-end industries and jobs:
It had the university, which because it was especially strong in music, drama, speech, and performing arts, bolstered the local cultural community;

It was the nicest nearby bedroom community for giant Norton Air Force Base, and many of the colonels' (etc) families who lived for a few years in Redlands had broader international experience;

In much the way Sioux Falls is increasingly the retail and medical center for the rest of South Dakota, Redlands, on the edge of the Mojave, was a medical center for vast desert communities. This was what drew my parents to the city when my dad finished his time as a Navy doctor; some of his patients came from 100 miles away.

It had a high-tech defense-contractor community, in the form of Grand Central Rocket which later became part Lockheed Propulsion. Thus some of my school teachers had come to the area as Okies during the Dust Bowl and Depression. And some were scientists, or their spouses, who had come from the East Coast or Europe to work at Grand Central.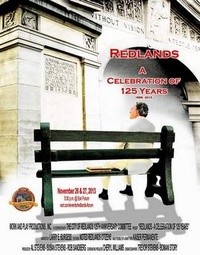 These days Norton is closed and long gone; neighboring Loma Linda has an enormous Veterans' hospital and university medical system to compete with Redlands doctors (though many of those families live in Redlands); Grand Central Rocket is no more, and the Lockheed site has been the subject of a drawn out toxic-waste lawsuit; and the University has faced the challenges of other small non-famous liberal-arts colleges.
Now what helps the city retain its character — and live out what it considers its local narrative — is the software company Esri, which is our partner in this project. Even 20 years ago, few people would have imagined that a locally owned, privately held, globally dominant software company could bring thousands of engineers and designers from around the world and work in this small city, but that is what has occurred. We asked about the causes and ramifications, and will go into them soon.
But the look-and-feel implications are already obvious. About a week ago my wife stepped into a Redlands coffee shop that would have fit in perfectly in Brooklyn, Berkeley, or West LA. "Those people over there are from the university," another local shop owner told her, pointing to one group of customers. "And the ones over here are from Esri."
---
Now, on the policy implications, from our old friend Mike Lofgren. As a reminder, he is a long time Republican Congressional aide, and author of The Party is Over. He says this about the turning-points narrative:
On the development, infrastructure, and the process of community growth and decay: It has something to do, as you say, with "stories we tell ourselves," but I think in a more direct and ideological fashion than that phrase implies.

It is remarkable that much of our present infrastructure – or perhaps it is better to describe it as the mental image of what we think a city should be – dates back well over a century. Some of it, like streetcars and interurbans, is no longer with us precisely because of business decisions that were partly ideological. But think of all that remains – urban parks like Central Park or Boston Common, the stately campuses of long-established public universities, public buildings like those surrounding the Mall in Washington, the Brooklyn Bridge, the New York subway – all were constructed long ago as collective enterprises that transcended the now-sacrosanct goal of immediate private profit.

The free-market fundamentalist ideology that has dominated public debate for the last 35 years has attempted to obscure all of this by projecting onto the past a fantasy vision of the United States as a sort of Ayn Rand utopia before it was spoiled (depending on the point the ideologue is making) by the New Deal, the Great Society, or the 2009 Stimulus. Much of this is historical distortion owing to ignorance compounded by partisan bias, but public purpose in development goes all the way back to George Washington and the Chesapeake & Ohio Canal and the National Road.

We actually fought the battle over the Stimulus before, on a tragic scale: politicians in what eventually became the Confederacy were  opposed to "internal improvements," because they intuitively understood it would hasten the end of their system of feudal slavery.

I suspect, however, that some of this false projection is not just ignorance, but rather a mendacious attempt at dominating the present by changing our collective perception of the past, in the manner of Stalin airbrushing Trotsky from photographs.

A particularly egregious example is Amity Schlaes' The Forgotten Man, a cherry-picking polemic which "proves" the New Deal was a failure that prolonged the Great Depression. Quite apart from the overriding fact that the United States survived the depression with its institutions intact while many  democracies did not, it is hard to think of America as a better place if it were to lack projects like TVA or the Grand Coulee Dam, not to mention the hundreds of post offices and other public buildings such as the National Gallery, as well as jewels like Shenandoah National Park.
To tie this all together — the WPA, historical architecture, local consciousness, purposeful narratives — here is a snapshot of an etching on our dining-room wall by the Redlands artist Fred Edwards. It shows the WPA-built local post office, now of course up for impending sale.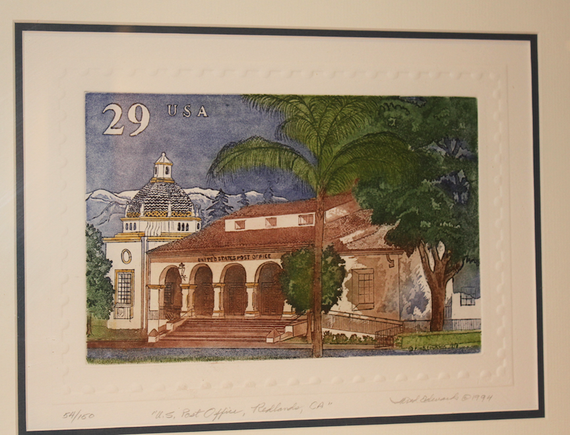 The inscription inside (where I once worked as a mail sorter and letter carrier) said that the building was dedicated only a few months after FDR took office. Things moved quickly in those days. More on the power of personal, local, and national narrative soon — in fact, next year. New Year's greetings to all.