What's the beer-producing capital of Pennsylvania's Lehigh Valley? The city of Easton has the Weyerbacher Brewing Company with its line-up of fine beers and its impressive output of 30,000 barrels a year. Bethlehem has its cherished Brew Works. But on volume alone, the crown has to go to Allentown, which is, conveniently, the "Queen City" of the Lehigh Valley.
This is because the city has, attached to its hip, the borough of Upper Macungie, where there is a huge Samuel Adams brewery, employing hundreds and producing almost every kind of beer on the company's brew list. There's nothing else beer-related of that size anywhere nearby. (A tip of the hat, though, to Pennsylvania coal country's Yuengling, the oldest operating brewing company in the United States—since 1829—and at 2.5 million barrels annually, one of the largest breweries by volume in the country. Alas, it is outside the Lehigh Valley, 45 miles to Allentown's west, in Pottsville.)
For the past month or so, Deb and Jim Fallows and I have been reporting here for the American Futures project about Allentown's recent efforts at economic redevelopment. We were in Allentown for about six days in August. On our first afternoon in town, we encountered two small craft breweries—Allentown Brew Works and the HiJinx Brewing Company—that boost Allentown's claim to the Lehigh Valley brewing crown. Each of them is an important part of Allentown's contemporary beer story, which I'll explore below. But first, a brief word about Allentown's past brewing glory.
This northeastern part of Pennsylvania was settled by German and Dutch immigrants, famous for their brewing prowess. The first brewery in Allentown was founded in 1845 by William Oberly. His brewery eventually morphed, under various owners, into the Lieberman Brewing Company, which lasted until 1915. Other great beer empires in the Allentown area were established by the Horlacher family and by Louis Neuweiler, who in 1900 bought out longtime local brewer Benedict Nuding and, 11 years later, built a large brewing complex at the corner of North Front Street and Liberty Street. The Neuweiler Brewery produced many kinds of beer there until 1968, when it finally ceased operations.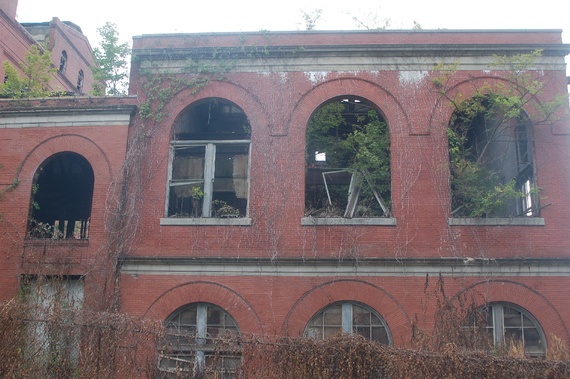 Though long abandoned, the Neuweiler Brewery appears to have a future. Earlier this year, the Ruckus Brewing Company of Brooklyn, New York, finalized its purchase of the Neuweiler property, where it plans to rehabilitate the historic brewing complex in a two-stage $30-million development. Ruckus is primarily a contract brewer (that is, it makes beer for other companies that don't have their own brewing equipment), but it also has its own small line of beers. Estimates of the eventual production capacity at the 400,000 square-foot site range from 100,000 to 150,000 barrels a year.
It's quite true that all of that is in Allentown's pie-in-the-sky future. It's true, as well, that Allentown has had its share of beer failures, such as the Old Lehigh Brewing Company, which lasted only a few years in the late 1990s. But even apart from the presence of Samuel Adams, the current beer-in-Allentown reality is strong, thanks to smaller craft brewers.
Beer lovers in the Lehigh Valley owe a debt of gratitude to Peg and Dick Fegley, who decided in the 1990s to invest in their sons' craft-brewing interest. At a time when Bethlehem had been hit hard by the collapse of the Bethlehem steel works, the Fegleys in 1998 took over the abandoned Orr's department store at the corner of Main and Broad streets and established the Bethlehem Brew Works in that location. Locals credit the Fegleys' bold and risky move with marking the beginning of downtown Bethlehem's post-industrial turnaround.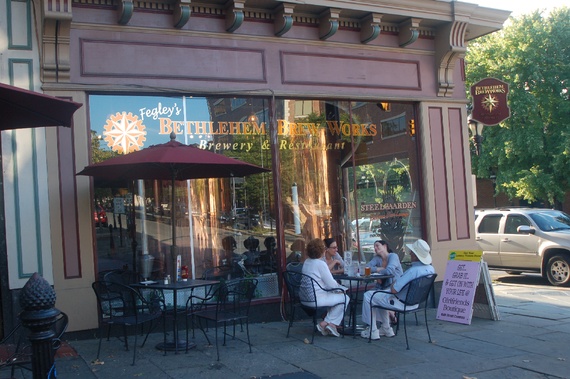 Seven years later, the Fegleys decided to expand their operation to nearby Allentown. Also hard-hit economically over the years, Allentown's downtown had declined as well after the closing of Hess's department store and the loss of retail business to suburban sprawl-malls, as Jim Fallows describes here. The city center had become a warren of pawn shops, porn palaces, tattoo parlors, and the like.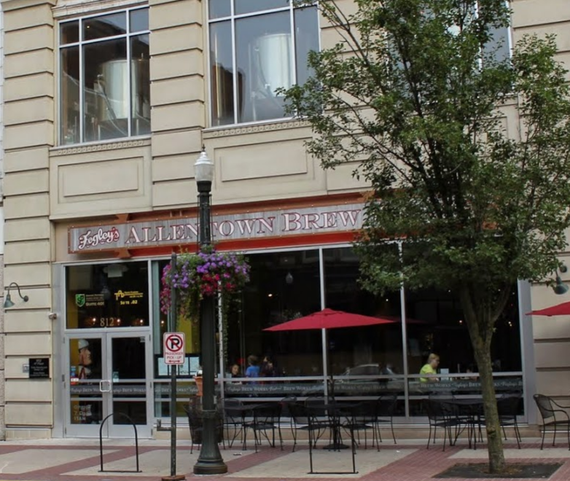 But the Fegleys found a space they liked at 812 West Hamilton Street—the historic Harold's Furniture building. It took them two years to refurbish the space, which opened in 2007 as Allentown Brew Works, a 400-seat restaurant and brew pub, that also has space for banquets and weddings. With its two locations, the Fegleys' brew works produce 6,000 barrels annually. And just as the Fegleys' Bethlehem operation helped spearhead that downtown's revival, their Allentown location was an early shot in the arm for its city-center redevelopment.
There are other small craft brewing operations in the Lehigh Valley that are worthy of note, including Porter's Pub and Restaurant in Easton, and the Funk Brewing Company in Emmaus.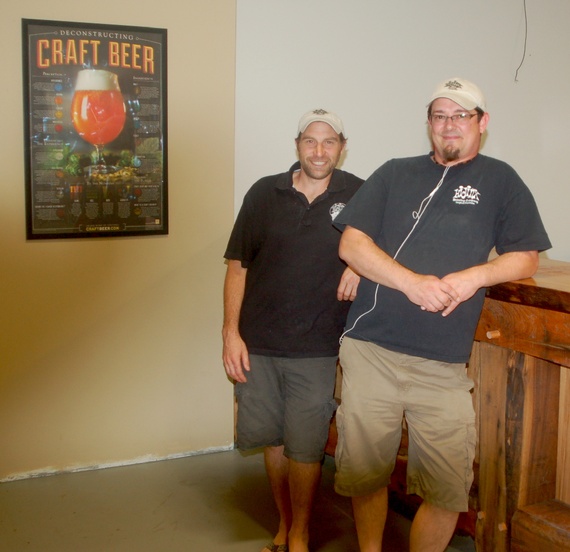 But in Allentown these days, the buzz in the craft-beer community is all about HiJinx Brewing Company. In August, I went to their new brewery to interview the two guys who started HiJinx—Curt Keck and Chris Becker. Here's what I found out.
Curt Keck started homebrewing beer back in 1995 and quickly discovered a passion for beer and brewing. Over the next few years, he worked as a brewer at the Old Lehigh Brewing Company and at Weyerbacher Brewing Company before taking a job in IT to support his growing family. But he kept on brewing beer at home and in 2006 started entering his brews in competitions. (He would later win a Gold Medal at the Masters Championship of Amateur Brewing with a porter he perfected.)
It was in 2007 that Keck met Chris Becker through the Lehigh Valley Homebrew Club. They discovered over the following years that they had complementary skills: Keck is a brewer, but also has a good head for business; Becker is mechanically inclined—good with machinery, carpentry, etc. They eventually decided to join forces and launch a commercial brewery, getting their official registration in 2011 and their official license the following year.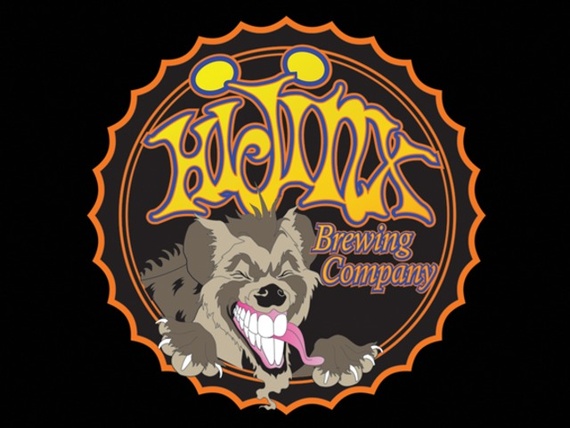 They were still brewing their beer in Keck's stand-alone garage in a residential area of South Whitehall Township, using a one-barrel brewing system and producing 52 barrels per year. Keck and Becker produced a variety of beers, including stouts, bitters, and blonde ales. Within months of starting, they were able to get six of their beers into Tavern on Liberty, an Allentown bar at 23rd and Liberty.
At the 2012 Allentown Brewfest, a local craft-beer festival, Anthony Durante of the Allentown Economic Development Corporation met them, tasted their beers, and found out that they were making it out of a garage. He encouraged them to consider growing their company at the AEDC's Bridgeworks incubator.
Keck and Becker realized that at Bridgeworks they would be able to have access to experienced business advisors and other economic-development aid, assistance with fit-out costs, and use of shared things like a forklift and conference room. They knew it was a great opportunity.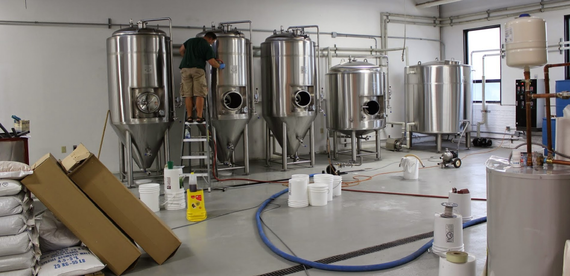 Late this past August, Keck and Becker were in the final stages of getting their operations set up. With their fancy new brewing equipment, they expect to be producing 1,000 barrels a year by the end of 2015. They've expanded their distribution to other local restaurants and bars such as Jack Callaghan's Ale House and Strange Brew Tavern. They've been asked to create house beers for Grille 3501 as well as for The Hamilton Kitchen & Bar, a new establishment that opened in July across the street from Allentown's new PPL Center.
Keck and Becker told me that they're "not interested in getting 'too big,'" but hope that their output will eventually be 2,500 barrels a year. They expect to have about ten to twenty employees by the time they move out of Bridgeworks, five to seven years from now. Pausing to reflect on that anticipated outcome, Keck said, "People should know that craft beer is a big part of the economic growth of small cities. And we put out a product that people love."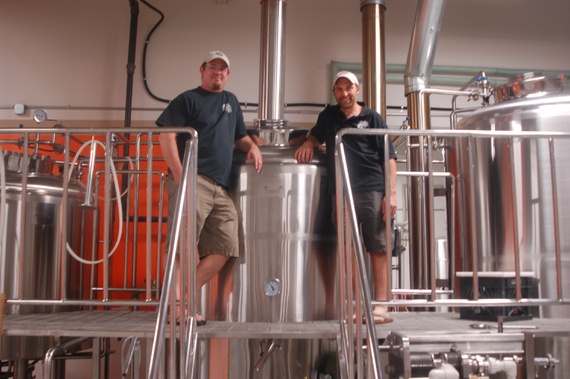 The success of Allentown's efforts at revitalization won't be determined by its beer prowess. There are much more powerful activities going on there that will shape the city's future (see here and here, for example). But, just as beer was an important component of Allentown's past, it will also be important to its future.
And, in the next installments in this series, we'll take a look at two other new craft-beverage enterprises that are part of Allentown's rejuvenation—a meadery and a distillery. Stay tuned.