1. More and more an axis in this campaign, and in the ongoing struggles to define what comes next for America, is a disagreement over whether America is better as a more racially and culturally diverse society, or as one that is more "traditional" homogeneous society.
Compared with most other developed societies, Americans are more pro-diversity. That is what a major Pew global survey found this year: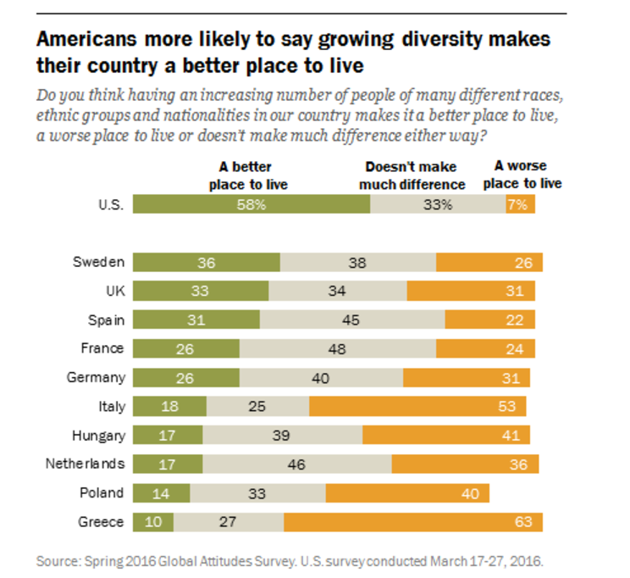 But within the United States, Democrats/Clinton supporters are dramatically more comfortable with this kind of change than Republicans and Trump supporters. From another Pew survey: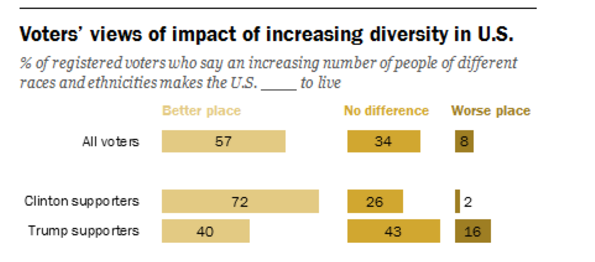 If you'd like to see those differences playing themselves out, I invite you to check out (warily) the comments section of Deb's latest post, in which some people lambaste the menace of outsiders and others welcome them.
---
2. Our experience around the country has been that the more people are exposed to immigrants and refugees, the less panicked they are about them. I won't try to give you a referenced-and-linked proof of that right now, though I will give a link to this video. I will say that it's a powerful, consistent impression—and that, for instance, you'll hear Donald Trump get lustier cheers for "Build that wall!" in New Hampshire or Iowa than you will in Texas or California.
I will also recommend this recent piece in the NYT from Garden City, Kansas, where we have also spent time. It's about the recent white-nationalist plot to attack Somali refugees and immigrants there. Its theme, similar to what we have seen, was that the community itself was incorporating its new members, but people from elsewhere decided to deal with this alien "threat."
(For the record, and for later discussion: Somalis and Sudanese are more obvious outsiders in western Kansas than the Mexican and other Latino immigrants who have been there for generations. The Somalis and Sudanese are more likely to arrive as unattached young men, rather than in families. They have much less of an established community to join. They are mainly Muslim, and thus more religiously foreign than the mainly Catholic Latino immigrants. The linguistic and cultural gap is wider. Still: it wasn't people in Garden City itself who decided to plot against them.)
---
3. The former Wall Street figure, now photographer and writer (including for The Atlantic) Chris Arnade has been doing a series of travels across the country that are a kind of sine-wave complement to what Deb and I have been doing. He has been dramatizing the people harmed and left out by economic polarization; we've been aware of them but also talking about the people trying to find a way forward. These are two parts of a complex modern whole. Our views on the immigration front are more directly congruent than on some other topics. You can read about it in a tweet series by him, starting here.
Short version: we're all saying that if you want to feel more encouraged about the possibilities in this country, do what has been true in most eras of our history: talk with people who have fought to make this the arena for their family's futures.
---
4. Deb and I will be discussing these issues and others tomorrow morning, October 30, live from 8:30am ET to 9:15 on C-Span's Washington Journal, with Steve Scully (who himself is from Erie). We'll be on at the same time as the Marine Corps Marathon, which I used to run in back in its early days, and just before the Redskins-Bengals game from London.
Ann Coulter, whose views of America's future and of immigration are … somewhat different, will also be on tomorrow, but not at the same time.
See you tomorrow.