This is how provincial I am: I didn't know until a few weeks ago that Columbus, Ohio—the state's capital and by far its most populous city—is a gleaming metropolis. Of course, I knew of it as home to The Ohio State University and had even been there once almost 20 years ago for a conference.
But until I was in Columbus again a few weeks ago with Deb and Jim Fallows to report for the American Futures series, I had no idea what a beautiful and interesting place it is. Until learning more about the city, I was one of those people who appended "Ohio" to any reference to Columbus, thereby unwittingly annoying the locals to no end. But I'm now reformed.
We visited Columbus to test some of what we've been finding in smaller cities against a bigger-city example. More specific observations to come over the next few weeks, but one thing we can say upfront: Columbus is in a sweet spot with respect to size. As one local business leader told us, "Columbus is big enough to have scale and small enough to do something with it."
In other words, this is a city that works. There are powerful business leaders and public officials in Columbus (and I mean"big-city" powerful), but the city is small enough that they all know each other and are able to work well together and make things happen. The particular story I want to tell here—and will follow up on in a subsequent piece—is how, through the attention of a strong mayor, public-private partnerships, and the determination of a lot of people, Columbus is making progress toward resuscitating its poorest, most blighted neighborhood.
If you're coming from Columbus's south side and driving up High Street, which is the city's main north-south axis, you see an impressive array of attractive skyscrapers, many of them headquarters to huge national corporations such as Nationwide Insurance and a large number of other big companies. The state capital building and the new Columbus Commons park are within a couple of blocks, too.

But just downhill and across the Scioto River from that prosperous, thriving, vibrant city center—not even a quarter-mile to the west—sits the most deprived and destitute part of town, a neighborhood known as Franklinton. It's an interesting (but not all that uncommon) geographic paradox: the poorest part of the city has the best, close-up views of its imposing skyline.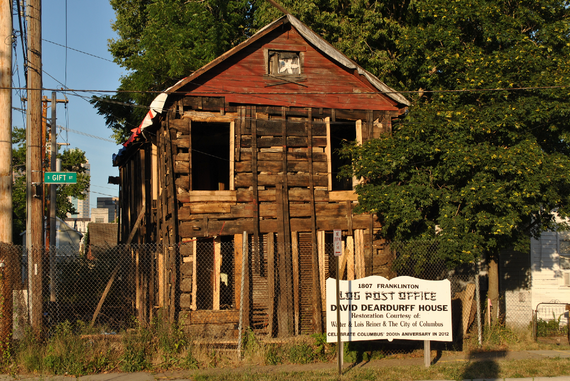 Franklinton is the site of the first settlement in Columbus, established in 1797. In fact, it's the site of the first community of settlers in the whole central-Ohio region. It goes way, way back.
Unfortunately, those early settlers built their community on the wrong side of the Scioto River—the west side, which turns out to be a floodplain. Fast-forward over time, and you get—mirabile dictu!—floods. A horrific flood in 1913 submerged the area under 22 feet of water, killed 93 people, and left 20,000 homeless in the area. Nearly five decades later, in 1959, another flood rendered 10,000 people homeless.
For decades, the Franklinton area was tagged with the derogatory nickname "The Bottoms," because it is below river level and because it long has been home to those at the bottom of the socio-economic ladder.
It wasn't until 1983 that the city and the Federal Emergency Management Agency officially declared the area a floodplain, essentially stopping all building and development in this part of Columbus, which lies directly below and across the river from the center of the city.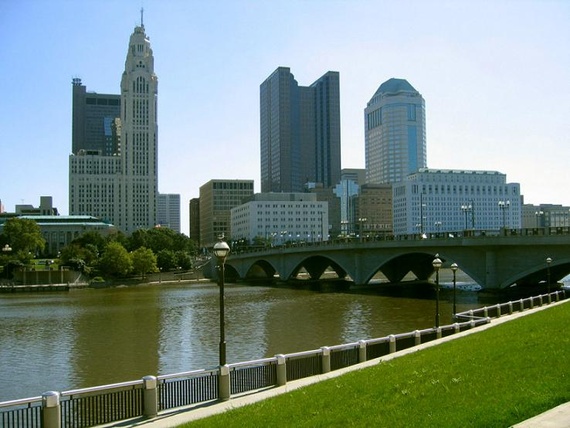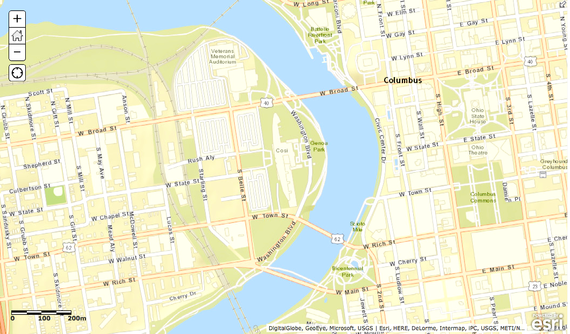 In 1993, the city of Columbus and the U.S. Army Corps of Engineers started a joint city/federal project to build a floodwall along a seven-mile stretch of the Scioto River, protecting Franklinton from future floods. It took eleven years and $129 million, but the floodwall's completion was surely the most important single step toward the revitalization and redevelopment of the Franklinton community, because it's now possible to get flood insurance and construction permits there.
Today, the neighborhood's thumb-like peninsula, around which the Scioto River bends, separating Franklinton from the heart of the city's prosperous business district, is home to the $130-million Center of Science and Industry (COSI), an educational and cultural resource in the city, and a riverfront amphitheater opened by the city's Recreation and Parks Department.
In 2011, Columbus Mayor Michael Coleman announced in his State of the City address that he intended to make the redevelopment of Franklinton a top priority. (I'll explore this more in a later installment.) Because of the mayor's initiative—along with the work of people at the Franklinton Development Association, the business community, and many others—Franklinton is starting to show some signs of life.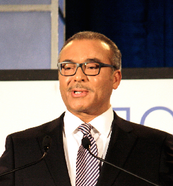 Young people I talked with in Columbus said that they believe that within a few years it will be the hip new district of Columbus where people will want to live. "It's affordable, it provides incredibly easy access to everything downtown, and it has great views of the downtown skyline," said JM Rayburn, a 27-year-old who's active on local housing issues.
In a September meeting in his city-hall office, Mayor Coleman told us "Within five years, you won't recognize Franklinton," expressing the optimism that he and others involved in the effort are feeling about it.
The day after we spoke with the mayor, I headed over to the Franklinton Development Association (FDA), a community-development corporation founded in 1993 to spearhead the redevelopment of the area. I talked with Jim Sweeney and Jeff Mohrman, the FDA's director and assistant director, respectively.
They explained the area's problematic history and the main goal of their organization: creating affordable housing by renovating the existing housing stock and building new houses.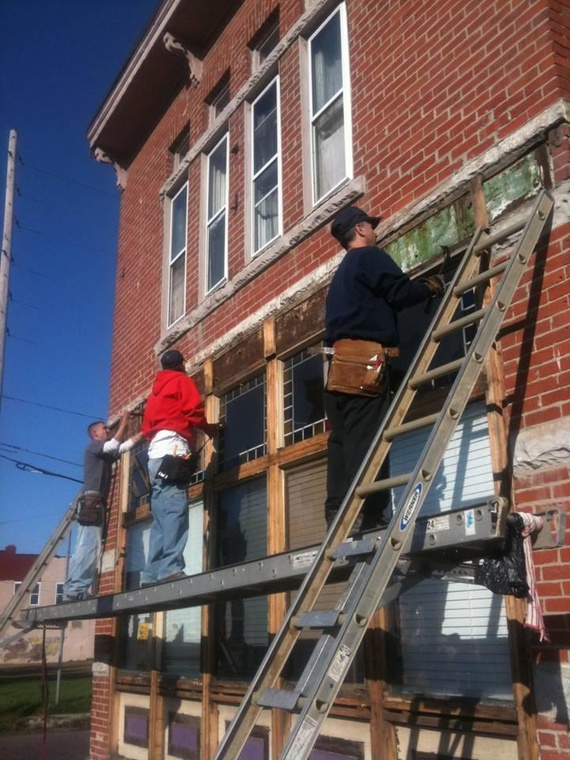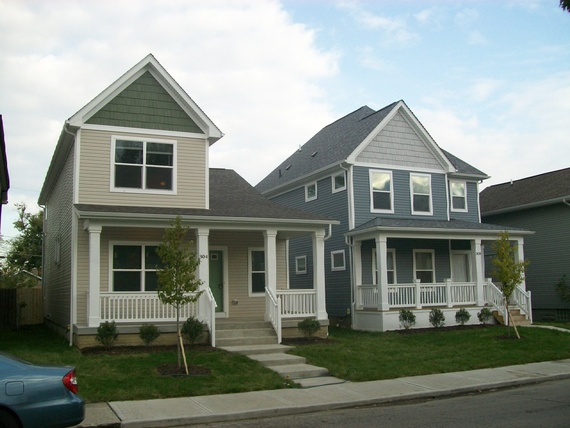 Sweeney and Mohrman believe the tides of change are on Franklinton's side. "The 'manifest destiny' of suburban sprawl is over," Sweeney said. "People—especially, younger people—want to live downtown. They want to invest in downtown, to be close to work and close to amenities."
"We're trying to be strategic," Sweeney said, "by building [first] along the Franklinton boulevards that have views of the city skyline." And it's working. The FDA already has more than 30 interested buyers for the 18 townhouses they're building as part of an infill project at the corner of State Street and McDowell Street. (Architects' rendering below.)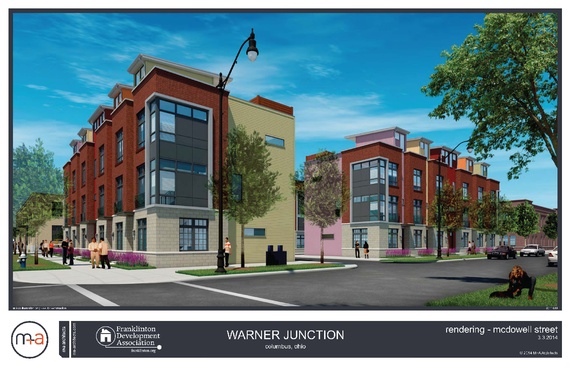 JM Rayburn told me that part of the reason the FDA is so effective is that the organization "has a 'no bullshit' undertone to its work. The attitude coming out of there is, 'Let's just get things done.'"
Jim Sweeney noted that to succeed in the long run, the FDA has to counteract the negative perceptions that many Columbus residents have about the Franklinton area. "Our job is to change the narrative, to make 'the Bottoms' cool. And it's happening. We're now seen as the up-and-coming artsy neighborhood in Columbus. We've been rebranding the eastern part as the 'Franklinton Arts District.' And we've been getting traction with that for several years now."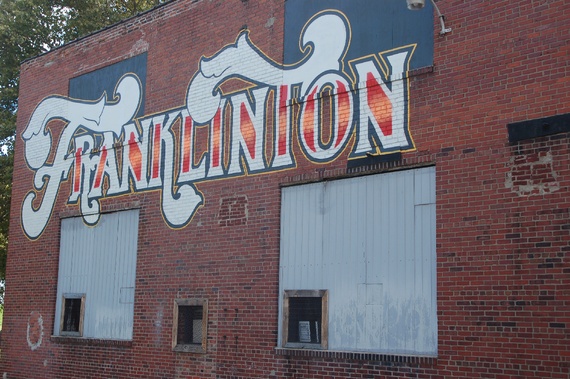 Sweeney is choosing his words with modesty when he says the rebranding is "getting traction." In fact, it's very successful, evident in two impressive facilities separated by only a few hundred feet on Lucas Street—the Columbus Idea Foundry, a "makerspace," and 400 West Rich, an artists' enclave, home to 97 studios as well as performance space.
In the next installment, I'll provide more detail on these two facilities and on the effort to hitch Franklinton's star to artists, makers, and entrepreneurs. And I'll introduce you to more of the people who are transforming this place into a creative, lively, and desirable neighborhood.