This is a Day 3 report of our Thanksgiving week cross-country trip in our Cirrus, headed for California, where we'll be based for the winter to do west-coast reporting for our American Futures project. For previous installments, please see the accounts of Day 1 and Day 2.
We left Little Rock early on Thanksgiving morning, bound for Guymon, in the heart of the Oklahoma panhandle. We planned to make the 600-mile trip in two legs, with one fuel stop in Okmulgee, Oklahoma, which promised cheap gas. The Okmulgee FBO—the "fixed base operator," aviation-talk for the business (and all its bathrooms) was locked up tight, lights out. As far as we could see, the single sign of life was a workhorse small plane, a Cessna Caravan, which the company describes as "engineered for hard work, with matchless cargo hauling capacity and industry-leading dispatch reliability."

On the way into the airport we'd traded radio calls with the Caravan, signaling each other of our locations upon approaching the airfield. The lone other flyers on Thanksgiving morning turned out to be a grizzled teaching pilot and two young students, who had sounded "foreign" over the radio and by appearance seemed to be from Africa. We were far enough apart on the big, open airport tarmac that we didn't get their attention to talk. But our guess is that they were in training to earn their commercial licenses (small airports all over America have foreign pilots-in-training, because the costs are lower and the facilities better here than anywhere else). This would probably afford them some nice employment opportunities, perhaps as commercial pilots or perhaps as "freight dogs" if they went back home.
On to Guymon, which was on my map since I first came across Caroline Henderson. The Atlantic published a series of letters Henderson had written in the 1930s to a friend back in Maryland, describing her life and experience on their rural farm as the drought unfolded and persisted. The Atlantic called these "Letters from the Dust Bowl." This stop to find her farm was a most anticipated waypoint for us on this journey. Jim wrote about finding the site of her homestead here.
We landed in Guymon, with high winds tearing across flat, flat land in the early afternoon. The FBO operator had finished his turkey already, and was back at the airport, with a (really nice!) crew car for us to borrow overnight. I don't mean to keep dwelling on crew cars at FBOs, but they loom as a large factor in our travels. In many of the small towns where we land, there are no taxis and no car rentals. (This was the case in Guymon.) And in the middle of nowhere, especially on a Sunday or holiday, you can find yourself with nowhere to go but back into your plane. So, we were particularly thankful for the generosity of the FBO operator on this Thanksgiving Day.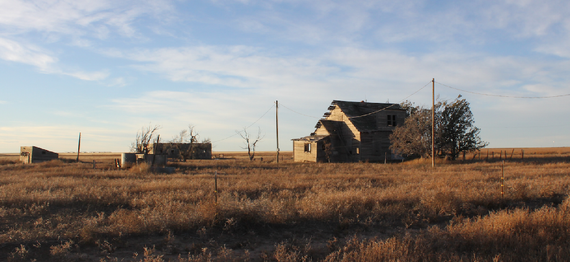 A few weeks earlier, I had finally tracked down Henderson's apparently only living relative. Caroline and Will had one daughter, Eleanor, who had one son, David Grandstaff, now a geologist and geochemist. His profession struck me as fitting somehow, related as he was to a heritage of the earth.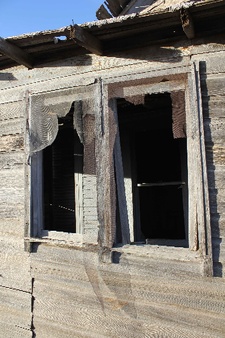 Grandstaff recounted for me his visits to his grandparents' farm in the 1950s and 60s, where he spent summers and Christmases when he was a boy. He also gave me exact location of the farm—both the lat-long measures and the road location. The farm was at the intersection of Roads N and 9, the alpha and numeric which first sounded odd, and later became comforting for being logical waypoints to keep us oriented along the straight, endless and otherwise marker-free roads in rural Oklahoma.
Grandstaff warned me that the farm would look pretty desolate, not like it used to be. We could be sure to recognize it, he described, by the barn with the fallen-down roof. Indeed, it was more than that.

The front porch of the house was gone; the doors and windows were gone or boarded up; inside the dark rooms were some ghostly remains of a sofa and some chairs, an old fridge, a fine piece of cabinetry in the dining room, which Will Henderson had surely made, since he built the whole house. We could see the steps going up to the second floor, but even from afar they didn't look trustworthy any longer.
The barn, without roof, was otherwise intact, and we found remains of out-buildings, probably a chicken coop that Henderson had written about, and the footprint of others. There was barren land as far as we could see. We unintentionally disturbed flocks of quail from the scrubby turf, and saw an elegant hawk cruising aloft, and a bird that Jim swore was a Great Horned Owl. There was no sign of the schoolhouse across the road, where Henderson had first taught when she moved to Oklahoma after college at Mt. Holyoke.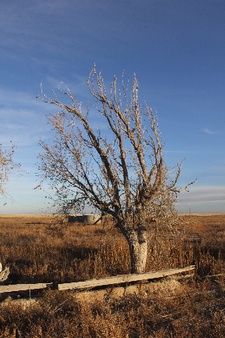 In my conversation with Grandstaff, I had commented on what seemed to me such tragic timing, that his grandmother's dream of farming the land had coincided with the years of drought and dust. He quickly said something interesting, which was to be sure to remember the decades of successful farming and pleasure Caroline and Will had enjoyed on their farm, before the dark years of the Dust Bowl descended. Indeed, they had farmed since about 1908.
When I asked him why he thought they stuck out the drought for so long, he said he imagined they had no real alternative, everything they had was in that land. And who ever would guess that the drought would persist so long? Indeed, Caroline's ongoing letters showed a kind of bitter and even sour surprise, as each year became worse than the last.
March 13, 1936

We must try to get this mailed tomorrow. It has been a terrible week, with one day of almost complete obscurity, and others when only a part of the sun's rays struggled through the gloom with a strange bluish luminance. On such days each little wave of the troubled water in the stock tank glitters with a blue phosphorescent light. When I dip out a pail of water to carry to the hen-house, it looks almost as if it were covered with a film of oil. On days like this, when William Vaughn Moody's expression 'dust to eat' suggests a literal danger, we can't help questioning whether the traits we would rather think of as courage and perseverance are not actually recklessness and inertia. Who shall say?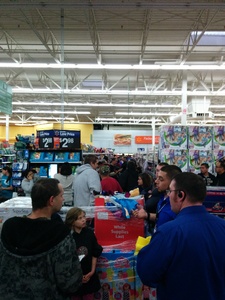 We drove back some 20 miles and what felt like most of a century from Hendersons' farm at the crossroads of Eva to Guymon, where we searched with dwindling hope for some remnants of a turkey dinner. Nope, every restaurant was closed, we were told by the clerk at the Comfort Inn, the owner of a Mexican grocery, and the minder of the gas station, which had a few leftover chicken sandwiches in its cooler.
We raced to the Walmart, and were met at 5:30 pm by residents from miles around, who were lined up with carts along every small aisle, with store employees standing guard to observe the yellow taped thoroughfare aisles. They were all standing ready for the 6:00 pm official start of Black Friday sales; we were warned to move out quickly. We grabbed a six-pack of Tecate. We found a lone quick food shop open, and purchased two frozen burritos to microwave back at the Comfort Inn.