One ongoing theme in our American Futures travels has been the presence, or absence, of the informal social-organization ties that analysts from de Tocqueville onward have viewed as distinctively American, and as fundamental to America's civic and political health. More recent analysts from Robert Putnam onward have warned that these ties have been severed by economic dislocations, are withering because of technology or stratified residential patterns, or generally are dying out.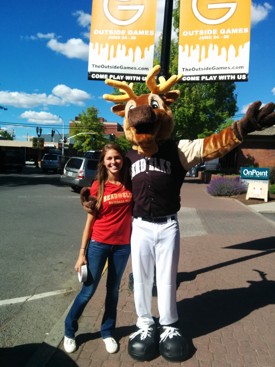 Mascot Vinnie the Elk (right) and friend handing out opening-day tickets in downtown Bend two days ago. (Deborah Fallows)
My wife Deb Fallows has a report today on one informal civic institution in the inland Oregon city of Bend: the amateur Bend Elks baseball team, of the West Coast League. The Elks operate on a similar principal to the Duluth Huskies of the Northwoods League, who we cheered on and wrote about a year ago. That is, the players are from college teams, and to preserve their sacred NCAA amateur status they can't be paid. They lodge during the season with local families, who take them in on a volunteer basis. (Though host families can qualify for free barbecue on certain game days.) The Allentown Iron Pigs, whom we wrote about last fall, are by contrast a normal Triple-A minor league team, part of the Phillies' system.
For the college players summer play is a chance to keep up their skills, possibly to be noticed by scouts (Jacoby Ellsbury, of the Bosox and now the Yankees, once played for the Elks), and to use MLB-style wooden bats rather than the aluminum bats of college competition. For the communities it's one more civic event, as the team hosts regional rivals—in the Elks' case, from around the Pacific Northwest:

Divisions of the West Coast League. "Go, Pippins!"
One baseball team does not a whole community make. But amateur/volunteer efforts of this sort are part of the indicators we're tracking around the country. Deb explains more about the whole scene at Vince Genna stadium. I will note that in this, perhaps the actual world's capital of microbrewing, the normal beer-and-wienie stand had at least six local microbrews on tap. I had the Deschutes Fresh Squeezed IPA; Deb had the Crux Fermentation Project's Parkway Pilsner, both of these beers brewed right in town. Who says America is in decline?
Deb also explains why we're dedicating our sports-and-society coverage to Casey Shearer, a promising young sports-and-society writer who died suddenly just before he was to graduate from Brown. You can read more in her post.