We have stayed in dozens of different hotels, motels, and B&Bs during our nearly two years our with American Futures adventure. One of my jobs is handling ground support: finding places to stay and rental cars, for starters.
For rental cars, my system sometimes fails. Many of the smallest towns in America where we land don't have rental cars. And they don't have taxis. Uber? Dream on. Airport managers at the small plane terminals, the "fixed based operators," (FBOs) have bailed us out a number of times with their loaner "crew cars." I will be forever grateful to the FBO in Guymon, Oklahoma, for loaning us theirs for a few days last Thanksgiving, when we stopped to find the homestead of Caroline Henderson, whose "Letters from the Dust Bowl" were published by The Atlantic back in the Depression era.
For hotels, my system is simple: I start by looking for anything with "suites" in the name, because it holds promise of an extra room to spread out in, and if we hit the jackpot, a small kitchenette and a coin laundry. That becomes priceless after weeks on the road and a fading infatuation with even the best beer-and-burger joints in town.
Occasionally, if I have time for a lot of sleuthing, I'll branch out and take a chance on a one-off place. We have won some and lost some. Two favorites so far are the Adoba Hotel in Rapid City, and the Sonoran Desert Conference Center in Ajo, Arizona, which I wrote about here and here. A bonus for careful readers and adventuresome travelers is the Great Northern B&B in tiny Chester, Montana. Full disclosure, the Great Northern is owned by longtime friends of ours, but you will have the same amazing experience that we did if you stay there. As for the worst places we've stayed? Oh, let me run and get my list..
---
Looking for a place in Bend, Oregon, earlier this month, my interest was piqued by a place I found online called the Wall Street Suites. Not that Wall Street, but another, local Wall Street, which parallels Bond Street and is one of the main streets in the old part of Bend. The old Tower Theater is on Wall Street. So is the library.
As we pulled into Bend after a quick drive from KBND, the Bend Municipal Airport, we spotted our Wall Street Suites (WSS), and for a moment, my heart sank. I swallowed, thinking: No, this could be a mistake. My first glance at the backside approach to the WSS looked a little too much like an original 1950s motel. But as we drove around to the entrance, I saw something much, much better.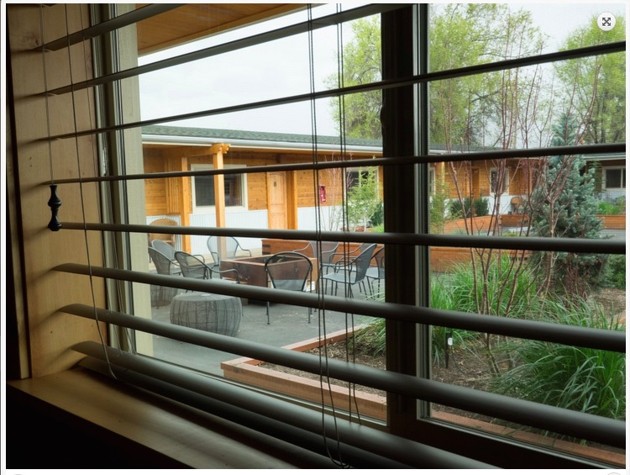 Looking out toward the camouflaged parking lot (WSS)
The motel is built in a U-shape, with a central parking space for cars to pull up conveniently to the units. But between the cars and the doors are strategically-placed big wooden planters, with tall grasses and evergreens that block the sight of the cars from the suites' windows.
I spoke about the evolution of the building from its existence as a mid-century motel, or motor hotel, to today with Wendy Kelley, one of the founders of the WSS. Originally the Plaza Motel, as it was called, was a well-known anchor lodging spot in town, standing right across the street from the then-offices of the Bend Bulletin, then and now Bend's fine hometown daily. The motel was a favorite of visiting journalists. Destiny, I thought, that we should end up there.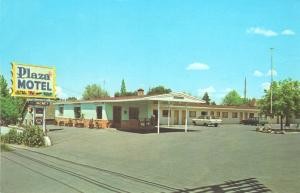 By 2007, the hotel became low-income housing. It deteriorated, and fast. It gained the nickname "Felony Flats." Its notoriety grew with its deterioration, and it fell into bankruptcy in 2010. The site was announced for auction on a Tuesday in 2012. Two couples, Wendy and Pat Kelley, and Gretchen and Vernon Palmer, scrambled to put together a bid for Thursday's auction, two days away. They won, and were suddenly owners of a questionable former crack haven. The couples' understandable reaction: What have we done?
The couples had actually done plenty in this kind of business: the Kelleys owned another motel already and the Palmers were experienced builders.
They took the building down to the studs and found they had a lot to work with: "It has good bones," said Wendy Kelley. She described the process of designing and assembling the two room suites, each one unique.
Pat Kelley was a collector of old wood, and they built out the interiors of each suite with one of seven different varieties of wood. They fashioned barn-door style sliding doors between the living area and the bedroom, to maximize light and usable space. They used leftover pieces of wood to build coffee tables for the living rooms and built-in bedside book stands.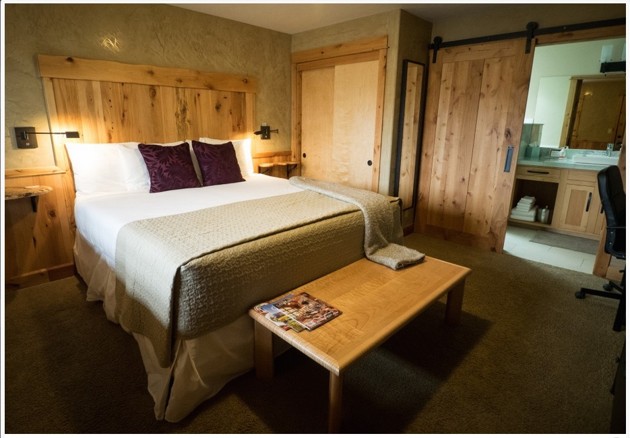 The metal coffee-table legs were welded locally, a detail that circled back to another story we heard from Bend's community college, which Jim wrote about here and where welding is one of many high-wage trades the college has emphasized.
To design compatible one-off flooring and bathroom tiles and granite for kitchen table slabs, the owners went to Craigslist to source suite-size remnants, rather than buying a large single order.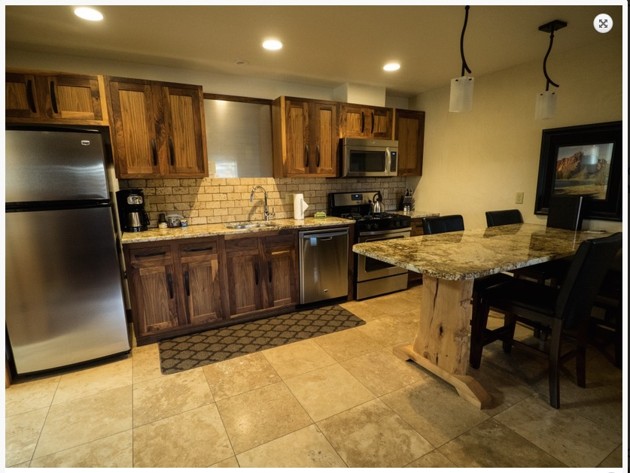 One of my personal pet peeves is the inevitable searching around for electrical outlets for our stash of laptops (3), iPads (3), cellphones (2), camera battery chargers (2), and portable ADSB/GPS receiver for the plane (1). We haul around a lot of gear. The outlets, which in most hotels are few, far between, and hidden behind chests of drawers, were in abundance at the WSS. No more iPads propped up by the hair dryer! No more rats' nests of wires.
And the absence of clutter! Instead of tippy table lamps and chunky telephones (Who ever uses hotel phones these days?) on bedside tables, there were overhead and wall-mounted reading lights and no phones at all.
After so many months on the road, I appreciated two other often-underplayed features: lighting and sound. WSS installed plenty of low-voltage eco-friendly lighting, plus a bright skylight over the shower. And lots of extra soundproofing insulation had been blown into the walls, to make even the nearby trains sound like no more than a romantic distant noise.
You can tell the motel was assembled as a "labor of love," as Wendy Kelley describes the process. She raided her own family's stock of photos of the beautiful environs of Bend, enlarged them, and mounted them in frames they bought from a friend who collected them in Southeast Asia. I may have enjoyed them more than most guests, as they recalled to me our own days in Southeast Asia, where we had assembled a similar collection.
The renovated motel has won numerous local awards. It has also attracted a stream of appreciative guests: motel-hobbyists who travel the country to visit mid-century classic motels; guests with "I remember when .." stories of stays here as children; and a local parole office who came by when they opened, who stopped by with stories of when the motel on his beat. "You have no idea," he began the stories of what he had seen during the saddest days of The Plaza Motel.
And one final note: We appreciated the WSS for the cheery, outgoing, knowledgable staff who also—unfortunately for us modern travelers—seem like a throwback to service from the 1950s.