Alcohol in Allentown. Is that the main thing going on there? You might think so, if you've been following recent posts here from our American Futures series. In the past couple of weeks, I've written here about HiJinx, a craft-beer company, and The Colony Meadery, a, um, meadery.
And now I want to take you further along the alcohol-proof spectrum to tell you about a startup company in this region that's going to distill hard liquor.
Yes, I'm aware that you might also be thinking that I'm a little too interested in alcohol. Maybe. But there's an even better reason this is now the third alcohol-related item coming out of our reporting trip to Allentown. On our first afternoon there, we ended up at Bridgeworks Enterprise Center, a business incubator of the Allentown Economic Development Corporation, that happens to have three alcohol-related companies in its current mix of nine startups. So it's not just me!
Anthony Brichta is an Allentown product. He went to high school there, earned a B.A./M.A. at Lehigh University in four years and then a law degree at Duke, heading from Durham to Manhattan in the early fall of 2008 to start a job at a New York law firm. He moved into his New York apartment the day Lehman Brothers collapsed. He spent many weeks doing very little at the law firm that had hired him; the work had simply dried up. So, Brichta wasn't all that surprised when he finally got laid off in July of 2009. He tried to stay on in New York City, but was unable to find work there. He finally ended up at a law firm in West Chester, Pennsylvania, where he is a practicing attorney.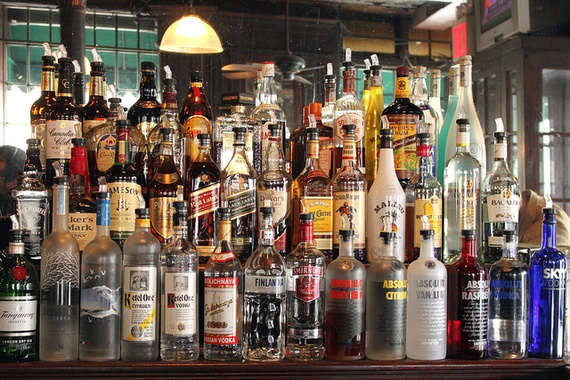 In October of 2012, he was back in New York for the surprise birthday party of a good friend from his college days. The party included a tour of a distillery in Brooklyn called King's County Distillery. Started in 2010 by two guys about his age, it only has a small amount of equipment (five 24-liter stainless steel stills), is the smallest commercial distillery in the country, and is the first operating whiskey distillery to open in New York City since Prohibition.
Brichta thought the whole thing was "really cool." So, when he got back home to Pennsylvania, he started doing all he could to research distilling—online, in libraries, and on the road. He told me he was so intent on learning about this subject that if he went to a wedding in, say, Michigan or Wisconsin, he would try to find local distilleries to visit. He learned that the distilling business is a tough one and the hurdles are higher than they are for brewing beer or making mead or wine. Laws make it easier to produce those beverages than to distill spirits.
"If you are homebrewing beer or making wine," Brichta explained to me, "you can do it on a small scale out of your house and distribute your product legally to friends, get your name out there, do homebrew festivals, tastings, and the like. But someone starting a distillery can't do any of that. You have to go through the rigors of state, local, and federal approval before legally making a drop and letting people try it."
"So with homebrewing and winemaking, you can hone your craft and test your recipes in advance; with distilling, you technically have to get all the approvals before you can even work on making a quality product and marketing it."
But all those obstacles weren't enough to put Brichta off the idea of starting his own distillery, and he found a potential partner from within his own family. John Rowe, his uncle (mother's brother), had recently retired from his work as an air-traffic controller at the Lehigh Valley Airport because he had hit the mandatory retirement age. Still young enough to have another venture in him, Rowe found his nephew's enthusiasm for the distillery idea to be contagious. They talked about how they might start a business. And by the end of 2013, the pair began seriously pursuing the goal.
They've just recently made it all the way through the incredibly complicated and time-consuming process of getting all their approvals: a federal permit to distill, a state license, and local zoning approval. Brichta told me: "The feds mostly are concerned about making sure you're going to be paying taxes. The state mostly cares about taxes and making sure you know what you're doing. And the local government mostly cares about health and safety." There's also a criminal-background check on the principals.
Finding a location for a distillery that has appropriate zoning and is economically feasible is also difficult. Brichta and Rowe found out about the Bridgeworks incubator when Brichta happened to notice a post on LinkedIn by Greg Heller-LaBelle, CEO and co-founder of the Colony Meadery. Brichta got in touch, learned about how Bridgeworks operates, and then submitted a business plan and application to AEDC/Bridgeworks. They got approved in June and have signed a four-year lease with Bridgeworks.