It has been a full and interesting day in the air, from Maryland to Mississippi, and a longer day than expected for a surprisingly touching reason.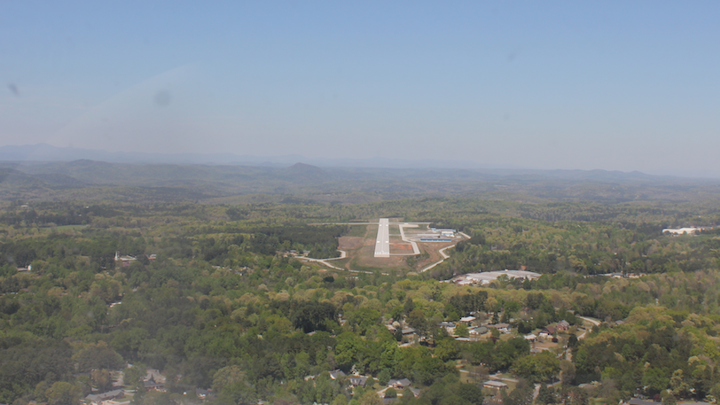 By chance, en route from KGAI, Montgomery Country Airpark outside Washington, to KUBS, the Lowndes County airport in Columbus, Mississippi, we ended up stopping for gas and a break in a place we hadn't expected. It wasn't the site I'd had in mind in Tennessee (because that would have meant going over the mountains near Asheville while the winds turned out to be stronger than I would have liked for crossing mountains). Nor the one I was thinking of in South Carolina (because the post-storm winds in the area were gustier, and not aligned with the runway, than would be convenient). Nor some other place in Alabama — but, at the last minute, KTOC, the Toccoa / Stephens County Airport in northern Georgia. At the top of the item you see the way its main runway looked as we decided to head in there.
After we landed, I taxied over to the fuel pump and gassed up the airplane, while Deb went into the FBO office to say hello. A minute later she came back out. "Timing is everything," she said, for the millionth time over the years. On entering what is usually a spartan, utilitarian area for checking weather, filing flight plans, and buy snacks out of vending machines, she was immediately charmed by the aroma of roasted ham, candied yams, creamed green beans and broccoli, and other delicacies that recalled her Midwestern childhood. (Below, a counter in one of the pilot rooms at the Toccoa FBO. You would usually expect to see surfaces covered with flight charts, headsets, and so on.)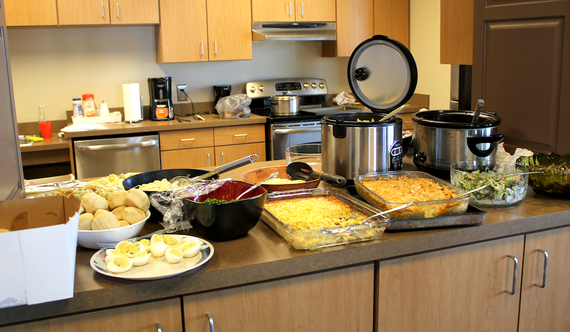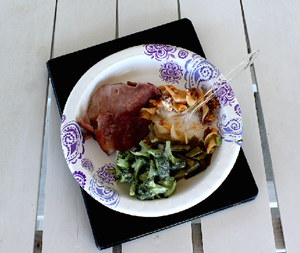 It was an extended-family potluck Easter banquet right at the FBO, and the families putting it on said: Please join us! And so we (gratefully) did, as part of a multi-generational, multi-family celebration at a little airfield in the middle of the Georgia hills. This was all the more appealing because our presumed alternative had been beef jerky inside the plane.
These people had never seen us before but made us part of the extended family celebration for the afternoon. We heard about why people liked (or didn't) Toccoa, why some people moved away, why others wanted to move there — and why its famous falls have a vertical drop higher even than Niagara's. Here is where we sat while enjoying ham and everything else.