The Boston Globe had a story over the weekend about the never-say-die small city of Eastport, Maine. As we've been chronicling online for the past few years, and in this magazine story in early 2014, Eastport balances the difficulties and the opportunities of its unusual location, at the northeastern extreme of Down East Maine across a strait from Campobello Island in Canada.
Difficulty: it is so far from anyplace else. It's two-plus hours by car from Bangor, four-plus from Portland. Opportunity: its distant setting is so pristine and beautiful, and so close to both the tidal-power potential of the Bay of Fundy and the touristic and marine-economy potential of the sea.
Difficulty: it has so few people, roughly 1,300, who are poorer-and-older than average even for a state that is overall poor and that has the highest median age of all states. Opportunity: so many of these few people have been so inventive in exploring arts-related, advanced-tech, recreational, environmental, and other possible futures for their town.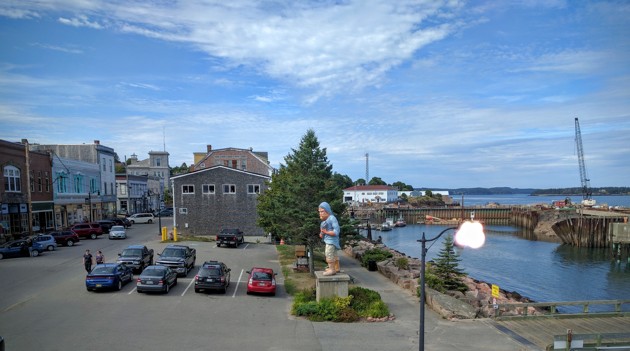 The Globe follows up on a twist in the Eastport economy I reported in early September: the way the ramifications of the warfare in Syria had reached even this seemingly insulated locale, plus how the bad luck of a collapsing breakfront has complicated the city's efforts. Worth reading, for the combination of hardship and hope, and also for the very good photos and graphic illustration of the pregnant-cow trade.
---
As part of the Eastport story, it's also worth checking out this piece by Deb in early September, about the surprisingly ambitious and large-scale arts scene in a little town. Among other characters you'll meet Jenie Smith, the nephrologist who doubles as a coffee-bar owner (and whom we first saw as stage manager at the local playhouse, at a production of The Glass Menagerie). She provides a nice closing quote in the Globe piece. Also Richelle Gribelle, shown below, part of the artist-in-residence program in town.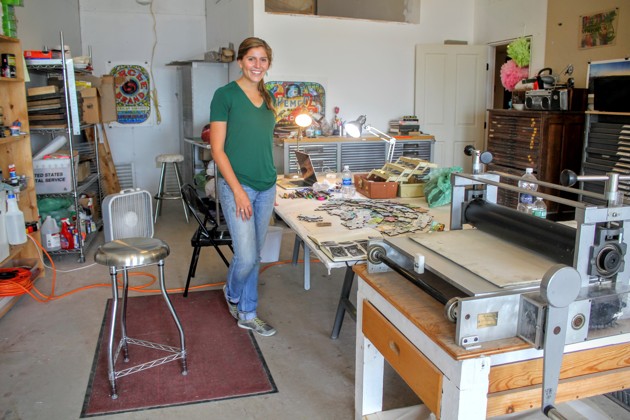 Continued good luck and better fortune to the local patriots of Eastport, especially now as another winter comes on.