My wife and I have been so busy talking with people and seeing things in Greenville and its environs in "the upstate" region of South Carolina that we haven't yet taken time to stop the interviewing and begin the chronicling. That will begin here soon.
In the economic-development world, this part of a still-generally poor state is renowned for how thoroughly it has made the transition from a textile-based economy, which was still viable even 20 years ago, to become the center of one of the country's most successful advanced-manufacturing clusters. Its most famous facility is the BMW auto works, which continues to expand and which ships most of its output to markets overseas. Michelin is also here, and a GE division, and the successful electric-bus company Proterra. The industrial turnaround of this area has become a familiar story — about which we heard some quite unexpected angles, as we will describe.
The bigger surprise is all the aspects of civic life other than major factories that have evolved here. These range from public art, to environmental and public-spaces initiatives, to a revitalized downtown that urban-planning teams from around the world visit to study, to an in-town minor league baseball stadium, to educational innovations we have not seen in other places and had not anticipated here. The photo above is from the South Carolina Governor's School for the Arts and Humanities, about which Deborah Fallows will be saying more soon. She also will report on an unusual and impressive engineering-themed public school — for kids starting in pre-K.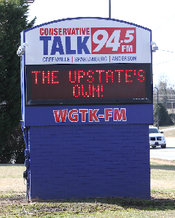 This afternoon I talked with Kai Ryssdal, of our Marketplace partners, courtesy of the engineers and studio managers at the local station known as Conservative Talk 94.5. South Carolina is of course a conservative stronghold, as are its upstate counties. Jim DeMint was born and raised in Greenville and was its congressman; Bob Jones University is based here. But one of many intriguing aspects of Greenville's economic and civic-improvement development effort is how deeply they have relied on "public-private partnerships," in which state and city governments have taken active steering roles for corporate and philanthropic efforts. More on that as the chronicles begin. The point for now is that this is the kind of public intervention that some conservatives might deplore in the abstract, but the results both in attracting industries and in creating a remarkably livable/walkable community can't be denied.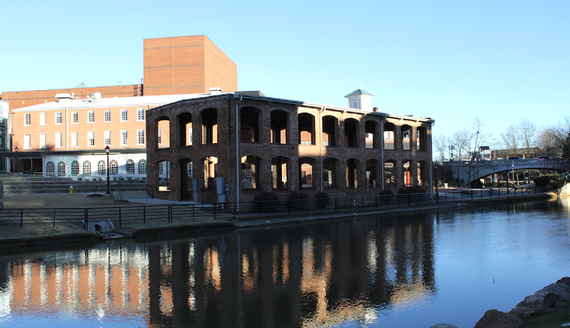 Greenville and its surroundings resemble some other "resilient" cities we have seen, and of course are unique in many other aspects. This is a placeholder note pending further dispatches. Now, off to more interviews, including at a tech-startup incubator with a "public-private" emphasis. It's not the building shown below, but it has a similar theme.