The photo above does not include any products of America's largest and best known craft brewery, the Boston Beer Company that produces Sam Adams. But it's a useful reference for several craft-beer-related points.
1) The middle beer in the shot above, in the tallest bottle, is Last Chance IPA from the excellent Weyerbacher brewery of Easton, Pennsylvania. Along with Bethlehem and some smaller cities, Easton is a Lehigh Valley neighbor of Allentown, whose downtown recovery project and long-term civic hopes (and baseball team, and champion gymnasts, and Boy Scout troops) we've discussed in our American Futures series.
Today John Tierney has a new item on the Beer Economy of Pennsylvania and the role it plays in the identity and economy of the region. I know this seems like a running gag, but quite seriously we've come to think that the locally based, strongly locally branded food-and-beverage outfits we've seen from Maine to Mississippi to South Dakota, are significant business operations and signs of civic health. John Tierney explains more about their role in the historic brewing stronghold of the Lehigh Valley.
2) In the latest issue of the magazine (subscribe!) I have a brief article about Jim Koch, the head of Sam Adams and probably the world's only craft-brewing billionaire. Koch, who comes from a long line of brewers but who originally worked as a Boston Consulting Group advisor to manufacturing firms, very strongly makes the argument that craft beer has been an important businessdevelopment, apart from its gustatory value. You can read a summary of his case in the article.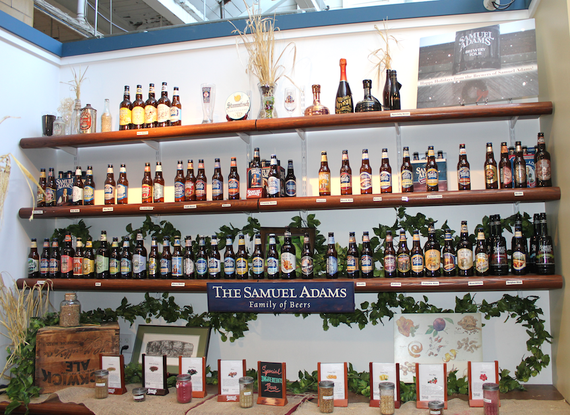 3) Because my piece about Koch is a brief, practically haiku-scale "Sketch," there's a lot it necessarily leaves out, including many points that Koch stressed to me when I talked with him in his Boston headquarters. Among those is something he was quite clear about: that the 30-year process that has made America the most interesting beer country in the world was a collaborative process, with many pioneers.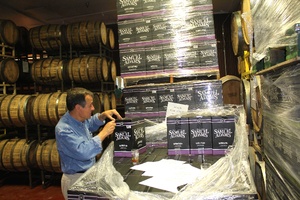 Koch talked to me at length about Jack McAuliffe, whose late-1970s New Albion brewery in Sonoma, California, was inspirational in demonstrating the possibilities of "interesting" beer but was too small-scale to survive as a business. Another of the pioneers was Fritz Maytag, who converted Anchor Brewing of San Francisco into an important microbrewer. In the photo at top that's Anchor's IPA on the right.
Another industry leader is Ken Grossman, co-founder of the second-largest craft brewery, Sierra Nevada of Chico, Ca. Sierra Nevada is best known for its original Pale Ale and its phenomenal Torpedo (named for the shape of a hop-holding container, not its supposed effect on the drinker), but it has a wide range of other products, including Ruthless Rye and the Flipside Red IPA that you see at left of the photo above. And no list of the founders of modern beer can leave off Jimmy Carter, my onetime employer, who as president de-regulated home brewing and permitted what had long existed as a gray-zone activity to become the basis of a legitimate new industry.
The craft-brewing movement coincided with the personal computing revolution of the past generation-plus, and it has some similarities in business narrative. In my article, I call Jim Koch "the Steve Jobs of beer" for one specific reason:
One [craft brewer] in Pennsylvania told me this summer, "I figure he created the business we're living in. To me, he's our Steve Jobs." Koch's differences in personality and background from Steve Jobs are obvious. Still, there is this parallel: Koch has made a very successful business out of satisfying a demand people didn't know they had.
This morning a reader in the San Francisco Bay Area whose interests span both beer and computers spelled out the comparison:
A very affirming brewing article, but it did leave an unfortunate impression that Jim Koch invented the American beer renaissance.

Of course there were multiple predecessor pioneers, but primary and essential among therm was Fritz Maytag, who rescued San Francisco's Anchor Steam Beer—both the brewery and the entire style—from certain death beginning in 1965. Fritz also revived other styles, from Porter to Barley Wine, that served as a continuing inspiration, without any interest in creating a national megabrand. (He had no outside investors to satisfy.)

That resolute and enduring locality was, perhaps, Maytag's greatest contribution, one that led directly to the brewpub revolution that took off in the 1980s.

So you could perhaps call Jim Koch the Steve Jobs of beer 2.0 (after returning to Apple to create the iMac, iPod and what followed), but Fritz was surely the Steve Jobs of beer 1.0 (Apple II and early Macintosh, even more innovative at a smaller market share). Or perhaps the Steve Wozniak of beer, the consummate egoless creator who never wanted the spotlight.

Both Fritz and Jim have had another thing in common: a great fondness for the product, and a willingness to publicly encourage their patrons to (at least occasionally) sit down and drink a lot of beer. What could be more inspiring than that?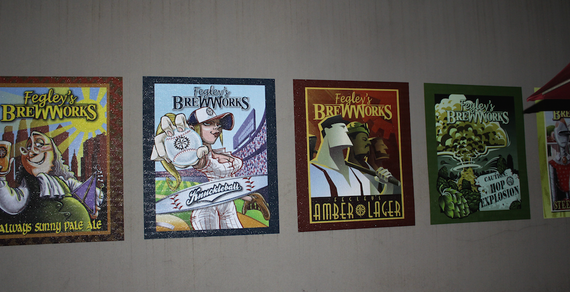 4) For more on the business culture and business significance of the craft-brewing movement—and its predecessors the craft-wineries and its progeny the craft-distillers–check out this interesting piece by Antonio Garcia inMedium last year, or one by Chris Morris of the Star-Ledger a few months ago. The latter points out that so far, the craft brewers have mainly been able to collaborate, because there was so much room for all of them to grow just by displacing the big, bland, mass brewers. It's possible that will change, as several become big enough to get in the others' way.
The main point of this post: to suggest that you read John's new dispatch, and my article, and reflect on the various economic, technological, and cultural developments changing society in unexpected ways. Then raise a glass to President Carter.
UPDATE: Two years ago the Keystone Edge had an interview with Mike Fegley, of Fegley Brew Works in Allentown, who noted an unexpected connection between computers and craft brewing. Relevant passage:
As an entrepreneurial family, the Fegleys were accustomed to driving innovation since the 1980s, when they opened one of the first 50 computer stores in America and stocked the first Apple computer. While their computer software store lasted a few years, the Fegleys wanted to start something new, something more compelling.
KE: Brew Works started in a year where many people did not have jobs or hopes for a growing economy – what change have you noticed within your customers today verses 20 years ago?

MF: Back when we first opened very few people drank craft beers. People had their one or two beers they chose to drink 99 percent of the time. Now there has been a generational change. Since the early 2000's a craft beer revival has been underway where young people do not mind going into a bar and getting a beer they have never tried. Bars offer an endless amount of hops and varieties based on the season or the location and people want to taste them, compare them and most importantly enjoy them!