f you've been attentive to the growing series of posts here under the banner of the American Futures project, you know that Deb and Jim Fallows have been examining small, resilient American cities that are home to intriguing innovations and entrepreneurship. A few days ago, as part of the project's recent focus on Burlington, Vermont, I took a look at two of the three great colleges there. Now let's look in on the third, Champlain College. You'll see why this one fits the project's ongoing "American ingenuity" theme.
If you could design your ideal college from scratch, what would it look like? Mine would look something like the following. Students would acquire training that makes them immediately employable. They'd take courses in the liberal arts that would sharpen their skills in writing, analysis, and reasoning. And they'd graduate with some real-life knowledge, such as how to interview for a job. There'd be no tenure for faculty, but instructors would be made to feel they're valued members of the enterprise. And administrators would constantly ask themselves "how can we prepare students for what the world needs of them?"
While you're busy designing your version of the ideal, I can take a nap or go fishing, because somebody has already built mine: Champlain College. It is doing everything I've described and, in the process, is gaining the attention of the higher-ed world. The words I've heard used to describe Champlain include innovative, nimble, adaptable. A professor from nearby St. Michael's College told me, with unabashed admiration, "Champlain is always asking itself What works?"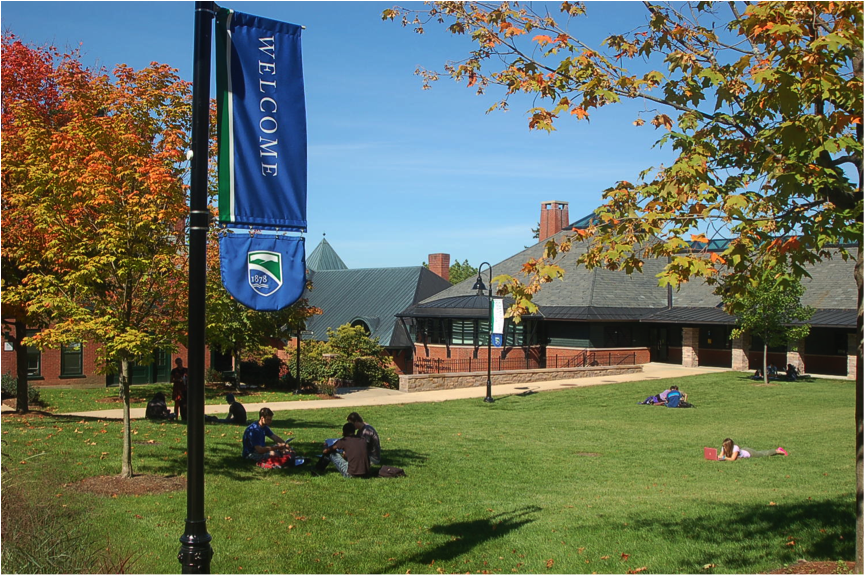 Founded in 1878 and long known as the Burlington Business College, Champlain assumed its current name in 1958, when it had only 60 students in various associate's degree programs. Starting bachelor's degree programs in 1991, the college now enrolls 2000 undergraduates – an enrollment cap it committed to several years ago in an agreement with the student-rich city of Burlington. When it launched its bachelor's programs, this college long known for training secretaries and accountants, began to reinvent itself, earning respect for its enterprising spirit.
The dominant ethos of Champlain – that "what works?" mentality – intensified when David Finney arrived from NYU in 2005 to become president. Finney quickly instituted what he calls a "three-dimensional education" program, an undergraduate curriculum consisting of interdisciplinary liberal-arts courses, a life-skills program, and training for a career.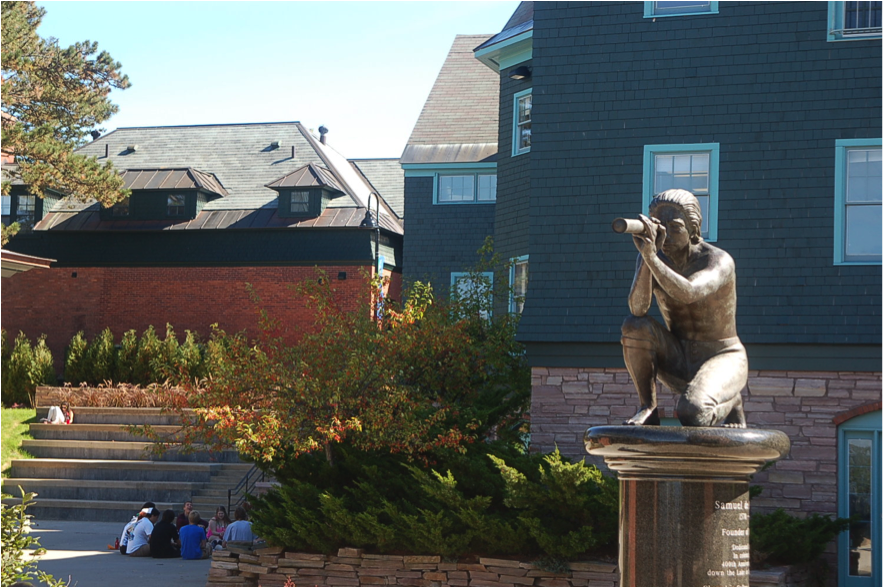 Though it's a career-focused college, Champlain requires its students to take a core curriculum of liberal-arts courses over four years to enhance intellectual discipline and critical thinking. Believing that "American higher education has really lost its way with general-education courses," Finney told me that when he arrived in his new job, he decided to spend all of his "honeymoon capital" as new president to replace the "hodge-podge of courses" that formed the liberal-arts core. He assembled a faculty task force to design a revised core aiming to build habits of mind students will need "not just as they're leaving here," Finney says, "but over their lifetime."
A painstaking process of reinvention led to new core courses designed to help students develop global awareness and strengthen their analytical and reasoning abilities, critical reading skills, and writing proficiency. These courses have no tests. The work is heavily oriented toward writing. Classes consist mainly of discussion and project teamwork rather than lectures. Students and faculty are active learners together.
A second component of Champlain's undergraduate education comes through its required "Life Experience and Action Dimension" program, which has two parts: (1) some real-world education, emphasizing financial literacy and sophistication (developing a budget, making sense of credit cards, understanding how employee benefits work and why they're important, etc.) and job skills (marketing oneself, negotiating business contracts, and developing skills in interviewing, networking, etc.); and (2) a community-service element that puts students to work helping Burlington's needy and simultaneously broadening cultural awareness and a sense of engaged citizenship.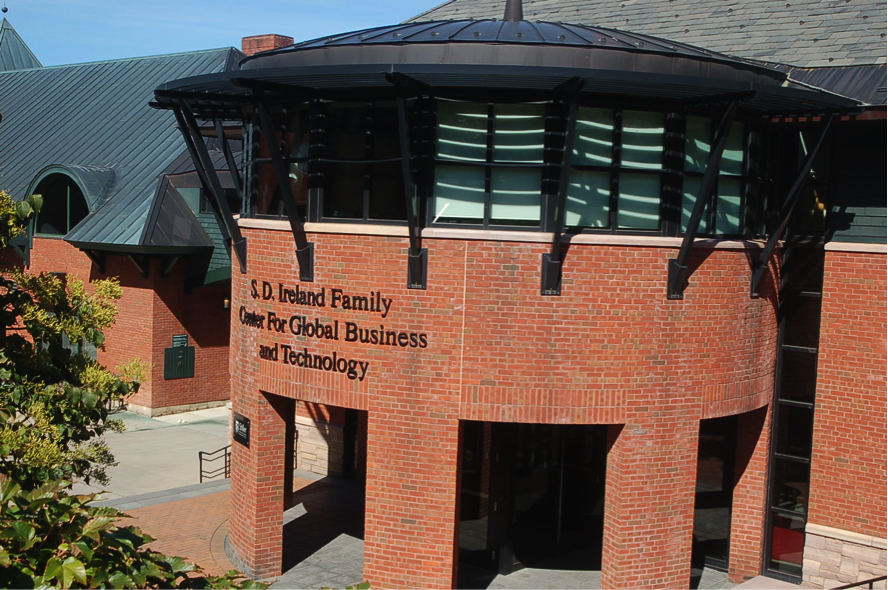 The third element of a Champlain education, and the part for which the college is probably best known, is its career-oriented training. At Champlain, "professional education" doesn't just mean traditional majors like marketing or accounting, but an array of innovative concentrations such as computer and digital forensics, computer networking and cybersecurity, computer-game art design and animation, digital and streaming media.
Moreover, Champlain inaugurated an inventive "upside-down curriculum," allowing first-year students to take up to six classes in their major. Consequently, students get hands-on-learning experiences right off the bat, with theory saved for later. This helps students get internships and early job offers. According to an article in Seven Days – the successful print newspaper in Burlington that Jim profiled last month – Champlain students in majors like cybersecurity (recently recognized as the top such program in the country) "are now so highly sought after that many are being recruited while still in their junior year, and sometimes even earlier."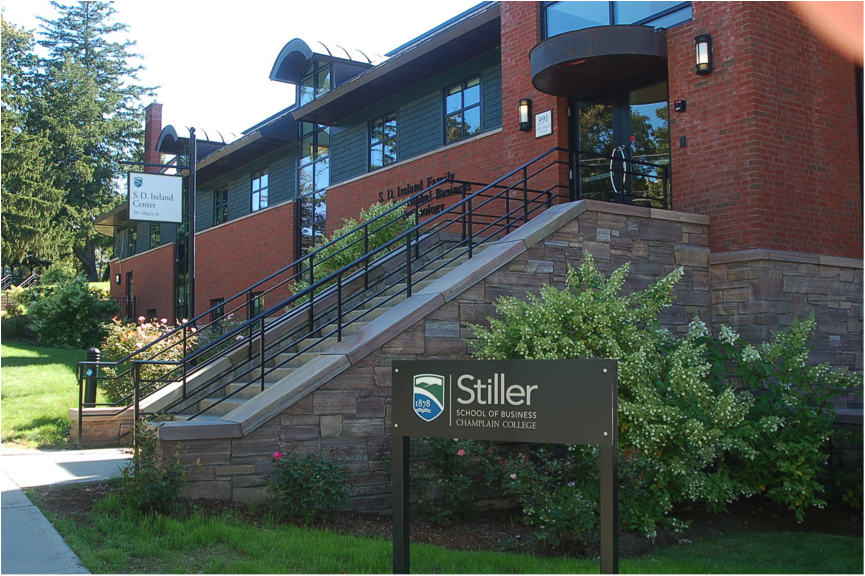 Champlain wants to be an economic engine for Vermont and tries to stay in front of the curve, especially on tech-driven career training. Finney explained one of the ways the college does that: "Most of our programs have affiliated advisory boards with people from Vermont businesses. We ask these people 'what are you going to need?' Not 'what do you need now,' but 'what are you going to need in the future?' And we try to meet those needs. So people in companies here have the sense that Champlain is their partner. And we're very future-oriented." Little wonder, then, that Champlain has become, as one reporter put it, "a training ground for Vermont software development firms and other high-tech employers" [like the ones Jim described here and here].
Internally, the college seems healthy, too. There's palpable energy and enthusiasm on this campus. You might expect the faculty to be angry or resentful about the no-tenure policy. They're not. Several people, including Finney, told me the absence of tenure "has never been an issue," a claim the Faculty Senate's President, Laurel Bongiorno, affirms. Faculty members work under individual, multi-year contracts – a good arrangement most American workers would love to have.
As I walked around campus, talking with students, I was struck by a common theme: many spoke of Champlain's congeniality, its spirit of collaborative learning, and the absence of barriers separating students from faculty. Addressing that theme, Finney told me, "Yes, our DNA is very unusual. The vast majority of our faculty prefer that students address them by their first name. People see themselves as part of learning teams. It's an intensely personal place."
I got one small indicator of Champlain's specialness when visiting in mid-September. I went into the beautiful library (photo above) on consecutive afternoons, a Thursday and Friday. If you're familiar with contemporary college life, you know that on many campuses, students typically treat these like weekend days. Not at Champlain. I was astonished (and I don't use that word lightly here) to see nearly every seat filled, students working. When I told Finney about this, he chuckled knowingly. "I've noticed the same thing. Encouraging, isn't it?"
Finney's right about Champlain's unusual DNA. American higher education would be better off if more colleges tried to replicate what's going on here.
---
All photos by John Tierney.
Photo 1: Champlain campus green
Photo 2: Campus sculpture of Samuel de Champlain
Photo 3: S.D. Ireland Family Center for Global Business and Technology
Photo 4: Stiller School of Business, Champlain College
Photo 5: Students working together in gazebo on Champlain campus
Photo 6: Library building, Champlain College