First, a word about the roadmap for the series I have in mind here. Last week, in
installment No. 1
, I tried to put California's proposed north-south high-speed rail (HSR) system in perspective, and preview why I've become a supporter. Then,
in No. 2
, I summarized and quoted some of the critics and opposition, including an article pointing out in loving detail my (alleged) naiveté.
Why give so much space to the topic in the first place, in those installments and some through this coming week?
Because California is our most populous, most productive, and (depending on the measure) both our most environmentally progressive and our most polluted state. Whatever it does on the transportation front matters.

Because this initiative is the most expensive and ambitious, and as best I can tell the most important, infrastructure project under consideration in the country as a whole. If it were happening on the East Coast, I promise you it would be in the NYT and the national TV news all the time. If someone has a nominee for a more ambitious/important U.S. infrastructure project, please let me know about it.
Because HSR is the signature and now politically embattled project of Jerry Brown, who is in the middle of his bid for an unmatchable fourth term as governor of California. (Last year he passed Earl Warren to become the longest-serving governor in California history. No successor will have a chance to beat his record, because they will be subject to a two-term limit enacted in 1990, after Brown had served his first two terms.) And …

Because, in my view, the decision-process about this project will show a lot about the way our prosperous-but-unequal, environmentally-concerned-but-skeptical-of-spending American society can undertake big public endeavors.
***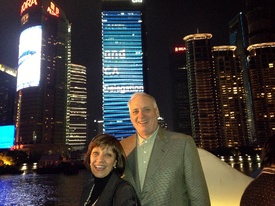 More from me later on. Today, as installment No. 3, I give you Dan Richard, who as chairman of the California High-Speed Rail Authority is Jerry Brown's designate to oversee the project. He has a long backgroundin finance, utilities, and public works. He started at NASA, served in the first Jerry Brown administration, was an official at PG&E, co-founded an energy consulting firm called MRW & Associates, and was twice the president of the board overseeing BART, the SF-area transit system. For the record, I had not known him until we met in Merced this spring so I could interview him about HSR. Also for the record, he turns out to be a fellow active Cirrus pilot, and flew himself to Merced in his four-seat SR22.
We'll hear again from Richard in at least one more upcoming installment. For the moment, if you'd like to get a sense of how he sounds, and why he's spending his time on the project, you could listen to a podcast of his recent address at the Commonwealth Club about what the project can mean to the state. The Commonwealth Club, for those who don't know, is (along with the newer and fast-growing Zócalo) California's functional equivalent to C-SPAN plus the D.C. think tanks.
For the rest of this installment, here is Richard's response, via email, to the critical letter I posted from a reader who liked the idea of high-speed rail but had soured on the specifics of this project. Passages from the reader's message are in itals, followed by Richard's response. In this installment I'm giving Richard his uninterrupted say, as I did with the opponents previously.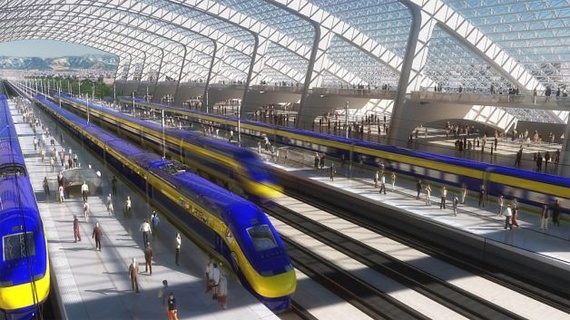 [Reader]: First off, I am very supportive of a high speed rail network in theory; very few people I have talked to are not….

However, the actual execution of the high-speed rail plan is what has gone and lost my support. While a high speed land connection between Los Angeles and San Francisco would certainly make money, the high initial investment is obvious. Shorter segments between San Francisco and Sacramento, Los Angeles and Las Vegas, or even Los Angeles and San Diego would make money almost immediately. However, none of those things is what they are building. Instead, they are building the line between Bakersfield and Merced, with the further extensions only in later phases at undetermined dates.

[Dan Richard of HSR] I can understand this frustration. To a certain extent, we're playing cards we were dealt. The bond act established a first phase of the project between LA/Anaheim and San Francisco. It put San Diego and Sacramento into a Phase II, which we cannot fund until we complete Phase 1. If someone asked whether it would have been better to build the first leg between LA and San Diego, I'd be hard pressed to dispute that.

However, having said that, I do believe that as difficult as it is, there are ample reasons to begin in the Central Valley. Here are several:

We can lay the most track-miles per dollar there, which means we can get a good jump on the project.
It's one of the only places where we can test the trains at their maximum speeds of up to 250 mph. You can't do that between SF and San Jose or between LA and Anaheim.
There is no existing corridor there. Securing transportation corridors should be one of the earliest things done.
The Central Valley is growing at the fastest rate in the state. Already, we may have to buy and tear down a four year old apartment complex in Bakersfield that wasn't there when project planning started.
The economic stimulus effect in the Valley would be very great, given poverty and unemployment. The Valley is left behind economically and needs to be connected to the great urban areas.

Politically, I've seen over the last two years, that urban lawmakers—of either party—simply don't want to spend money in the Valley. There will always be an insatiable need for local transportation projects and without forcing the construction of the project spine, I fear it would be a long time before anyone wanted to actually try to connect the whole state.

The line between these two cities [Bakersfield and Merced] would be, basically, useless; to attempt a simile to another part of the country, this would be as if the Acela didn't go between DC and Boston, just between Trenton and Newark…

Even though our first construction segment will not be full high speed rail, it will not be useless. The bond act says we must build useable segments and this segment will be.

Right now, the Amtrak route down the Central Valley is the fifth busiest in the nation. California has three of the top five Amtrak routes. Sacramento is the 7th busiest Amtrak station in the U.S.! The ridership on that line tops 1 million trips per year and is growing at double-digit rates. The trip takes five hours to Bakersfield from Sacramento or Oakland, over a lousy rail bed much of the way, etc. The track is shared with freight, which means that it is subject to speed restrictions of passenger trains, constraining them to 79 mph.

We will be building 130 miles of brand new, passenger-only track. While we will not begin high speed service on that immediately, the current Amtrak trains, rolling onto our track at Madera, will be able to open their throttles and go 110-120 mph with existing equipment, shaving 75-90 minutes off the trip. Moreover, we will be tying in the very popular ACE train service that currently goes from Stockton to San Jose. The point is that we will be building up a network of improved rail service as we "vertically" improve to full HSR levels. I wish we had the money to build everything at once but without a national commitment, what we are doing is building a foundation, using the structure for immediate good purposes and preparing for full HSR.

Building this section first, without connecting any major population center to any other, therefore seems like an investment with no hope of a return. In the meantime, the people already opposed to the system (which are particularly numerous in the Central Valley) will be joined by those opposed to government waste in general, who will point to a train that has already cost billions of dollars and still connects nowhere to nowhere, and say, "enough, pull the plug, this has been a waste of money." Once that happens, the political realist in me has to acknowledge that there is no way promises of "but if we extended it further, it would actually work" would get any traction, and the idea would be dead.

As I have remarked with my friends, only half-jokingly, if they wanted to kill the idea of high speed rail in California forever, they couldn't have gone about it much better than this.

The federal GAO looked at our project at the behest of Congressional Republicans. They concluded that our biggest risk is the lack of full funding—a widely quoted statement in their report. I have been prone to quote their next sentence which was that we have developed a reasonable risk mitigation plan by building the project in segments, with each segment having immediate value. Would it be better to build everything at once? Yes. You have to start somewhere. This is a beachhead.

To this pessimistic political outlook, I could also add the accusations of mismanagement of the funds already spent, and the compromises that are watering down the project as it moves along (portions of the line are now not even going to be high-speed), but those are already documented by actual journalists. My main feeling, though, is that if they wanted this to work, they should have gone about it any other way than what they have.

I have to simply reject these statements. Most importantly, we have not made compromises to water down the project. It's an unfortunate myth. We are maintaining fidelity to the bond act requirements of a 200+ mph electric train designed to get from Los Angeles to downtown San Francisco in less than 2 hours 40 minutes. Ninety percent of the track will be new, dedicated high speed rail track. For the other ten percent, in the urban areas where trains don't operate at line speeds anyway, we will share the track. The passengers won't see any significant difference.

Ultimately, someone may upgrade those last sections, but in the meantime we save billions of dollars, provide early investments to upgrade popular commuter systems on those lines and still meet our performance standards and ridership projections.

Maybe the program was mismanaged, but it is not now. Maybe it was a clown show for a number of years. Not now. Not at all. In fact, the the GAO report found that our cost estimates and ridership estimates largely complied with best practice.

When Jerry Brown came in, the HSR program was rife with problems. The organization was at half-strength, the board was dysfunctional, there was a high level of criticism from independent groups evaluating ridership and plans.

All of that has turned around. The board is highly cohesive and professional. The staff is now at full strength with a highly capable day-to-day CEO, top flight engineering, risk management and program leadership. We have the most sophisticated risk management program likely to be found in any public infrastructure program. Our cost data and risk assessments are now presented publicly on a regular basis at our board meetings and are in accessible form on our website. Our CEO put in excellent local project leaders and former critics have lauded the openness and responsiveness of that team.

Here's a quote from the Independent Peer Review Group, established by the California Legislature. The PRG was highly critical of past plans. No more:

"We believe that the Authority has made manifest progress in all areas of planning and management since the Revised 2012 Business Plan. This assessment applies to risk management, demand forecasting, operating and maintenance (O&M) cost modeling and the analysis of the impact ofHSR on California's greenhouse gas emissions.

"We particularly compliment the inclusion in all of the upcoming financial and economic analyses of probabilistic assessments based on Monte Carlo simulation techniques so that future reports will more accurately report the range and likelihood of potential outcomes. The Authority also expects to incorporate their cost experience in real time at every stage so that future plans will more and more be based on results rather than expectations. As noted by the U.S. GAO, the Authority'S steps to take uncertainty into account are appropriate for this stage in the project. With this said, we also emphasize that essentially all of the Authority's plans and budgets so far necessarily remain based on estimates rather than experience, causing all of the plans to have a wider range of uncertainty than might be the case 5 to 10 years from now. "
It's a big decision, that matters. Watch this space for more.